CLICK HERE for all of Jon's interviews, and the rest of our extensive and continuous preseason coverage
The good news for Iowa State is that they were only a few points away from reaching the Sweet 16 last March. The bad news is that they lost a ton of senior starters but the cupboard is not totally bare thanks to guys like SR G Donovan Jackson.  He played in all 35 games during his 1st year with the Cyclones and shot 45.4 3P%/80.5 FT%.  Winning the Big 12 tourney may have been the cherry on top, but 1 of his sweetest moments was a game-clinching 3-PT shot in OT to end Kansas' 51-game winning streak at Allen Fieldhouse.  HoopsHD's Jon Teitel got to chat with Donovan about winning the conference tourney and trying to replace all of those seniors.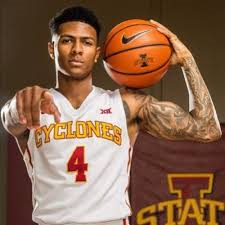 You began your career at Iowa Western CC and had offers from Illinois/Miami/Oklahoma: what made you choose Iowa State? At the time assistant coach TJ Otzelberger (now the head coach at South Dakota State) was a good family friend and I had developed a nice relationship with him.  Iowa State was just the best fit for me.
You play for Coach Steve Prohm: what makes him such a good coach, and what is the most important thing that you have learned from him? He has taught me a lot both on/off the court. He has a great track record of developing very successful guards including Cameron Payne/Isaiah Canaan/Monte Morris.
On 2/4/17 you scored 10 PTS including the game-clinching 3-PT shot in a 3-PT OT win over Kansas to end the Jayhawks' 51-game win streak at Allen Fieldhouse: did you think the shot was going in, and where does that rank among the highlights of your career? I actually called that shot because I am a pretty confident player: I think it was the best shot of my career so far.
Last year your 45.4 3P% was 4th-best in school history: what is your secret for making shots from behind the arc? Repetition, repetition. I put up 500 shots a night in the gym and try to make all of them, which carries over into the game.
In the 2017 Big 12 tourney title game you scored 6 PTS in a 6-PT win over West Virginia: how hard is it to win 3 games in 3 days, and what was the feeling like in your locker room afterward? It is tough because there is not a lot of time to recuperate but our whole team was on a mission. Everyone was excited after the win because the Mountaineers had swept us during the regular season.
In the 2017 NCAA tourney you had a perfect shooting night (4-4 FG/4-4 FT) in a win over Nevada: was it just 1 of those scenarios where every shot you put up seemed to go in because you were "in the zone"? I felt at home during that game because it was in my hometown of Milwaukee and I had a lot of family there.
Your non-conference schedule includes games against Missouri/Iowa/Tennessee: which of these games do you feel will present your biggest test? The very 1st game will show everyone where we are at: I think we are looking good.
You are the leading returning scorer after losing each of your top-4 scorers from last season (Monte Morris/Nazareth Mitrou-Long/Deonte Burton/Matt Thomas): how much pressure is there on you to be a leader this season, and how are you going to try to replace all of that offense? All of the new guys are looking up to me/Solomon Young/Nick Weiler-Babb. We have a lot of talented players on our team including some aggressive freshmen who can shoot the ball very well.
You have several graduate transfers including Hans Brase/Jeff Beverly/Zoran Talley: how hard is it to get everyone on the same page when you are bringing in so many new people? It is tough at 1st but everyone has bought in to what is going on. We are known for winning so everyone is comfortable with taking a role to help us win as many games as possible.
What are your goals for the upcoming season, and what are your expectations for the upcoming season? My goal is to win as many games as possible and prove to everyone in the country that I am 1 of the best players. I am not settling for anything less than winning another championship and making the NCAA tourney.