CLICK HERE for all of Jon's interviews, and the rest of our extensive and continuous preseason coverage
Even if Mississippi State coach Ben Howland goes undefeated in non-conference play this fall he has already achieved his highlight for 2017: back in January he helped lead a rescue effort to save a woman from an overturned car on the side of the highway.  He has had plenty of on-court success as well over the past 2 decades: back-to-back Big Sky regular season titles at Northern Arizona, 2002 national COY at Pitt, and 3 straight Final Fours at UCLA from 2006-2008.  Hired by the Bulldogs in 2015, he is hoping to make the leap during year #3 in Starkville as he tries to ascend the SEC standings.  HoopsHD's Jon Teitel got to chat with Coach Howland about guarding John Stockton and coaching Russell Westbrook.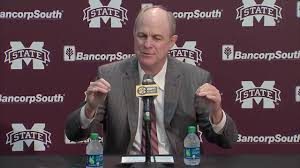 In the 1979 NCAA tourney as a player at Weber State you scored 16 PTS off the bench in a 3-PT OT win over New Mexico State: where does that game rank among the highlights of your playing career? That is up there because it was a great win for our program. We had played them earlier in the year and lost a close game by 5 PTS so it was nice to beat them in the rematch. The Aggies were a really good team: that February they missed a shot at the buzzer that would have beaten Larry Bird's Indiana State team (the eventual NCAA tourney runner-up).
As an assistant to childhood friend Jay Hillock at Gonzaga you got to test your defensive skills against some of the players during practice: what was it like to guard future Hall of Famer John Stockton? I got to play against him every day so looking back it was a real thrill. All I did was foul him and grab him but fortunately Jay used a half-court offense! Jay and I grew up together in Santa Barbara and he was the 1 to get me into this business.
In 2002 you were named national COY at Pitt: what did it mean to you to receive such an outstanding honor? That was an incredible honor for a kid who grew up on the West Coast and got his 1st head coaching job at NAU. Having the chance to coach in the Big East was unbelievable and we had good players including All-American Brandin Knight. I obviously had a great staff including current TCU coach Jamie Dixon.
In the 2006 NCAA tourney as coach at UCLA you had a 2-PT win over Gonzaga: how were you able to overcome a 9-PT deficit with just over 3 minutes to go by scoring the final 11 PTS of the game? I think it was about a 17-PT deficit with 12 minutes to go. Our players had the mindset to never quit and just play as hard as they could.  Gonzaga had the national POY in Adam Morrison but we had 5-6 future NBA guys on our own roster.
You lost to eventual champion Florida in both the 2006 NCAA title game and the 2007 Final 4: you obviously had great teams both years so was it just a situation where you kept running into a team that just happened to be a little bit better? They were really good: their front line of Al Horford/Joakim Noah were very special and have had nice long careers in the NBA.  They were also very well coached by Billy Donovan (who now coaches Russell Westbrook in Oklahoma City).
You are 1 of just 4 active college coaches who had a player eventually become an NBA MVP (Bob McKillop/Rick Barnes/John Calipari): how good was Russell Westbrook in college, and how proud are you of all his success? He was an incredible player who just blossomed into a force during his sophomore year through his hard work. He has 1 of the best work ethics in the entire sport, which is a great lesson to younger players. He has had an incredible career and I think that the best is yet to come.
You started 14-8 last year before a 7-game losing streak (with 6 of the 7 losses coming by 7 PTS or less) put you back under 500: did it make you feel discouraged (because you were not playing your best basketball down the stretch) or encouraged (because you remained competitive against good teams)? The bottom line is that the schedule gets tougher as the season progresses and this year will be no different. We had the youngest team in the entire nation last year but we have a lot more experience this year and have added some new players who will give us strength/size/toughness.
You only had 1 senior on the roster last year and only have 1 again this year: how do you find your team's leaders when everyone is so young? We are actually devoid of seniors this year but that does not mean we cannot have leadership. I feel good about the fact that we finally have some players beginning their 3rd season with us.
Your non-conference schedule includes games against Dayton/Cincinnati: which of these games do you feel will present your biggest test? We are only focused on the very 1st game of the season and will move ahead from there.
What are your goals for the upcoming season, and what are your expectations for the upcoming season? Our #1 goal is to stay healthy (which is hard to control) but if we can then I think we can be a really competitive team. We want to finish really strong and I think we will play well down the stretch and be the best team that we can be.