CLICK HERE for all of Jon's interviews, and the rest of our extensive and continuous preseason coverage
College basketball lost most of its great PGs to the NBA draft last June (Markelle Fultz/Lonzo Ball/De'Aaron Fox/Dennis Smith) but if you are a fan of AST then allow me to direct your attention to Nashville, TN.  Belmont SR PG Austin Luke led the OVC with 6.3 APG as a sophomore in 2016, then followed that up with 7.1 APG in 2017 to finish 2nd in the nation.  The Bruins went 15-1 in conference play last year before being upset by Jacksonville State in the OVC tourney, but they will do their best to get back to the NCAA tourney this season for the 1st time since 2015.  HoopsHD's Jon Teitel got to chat with Austin about what makes a good PG and how he makes so many shots from behind the arc.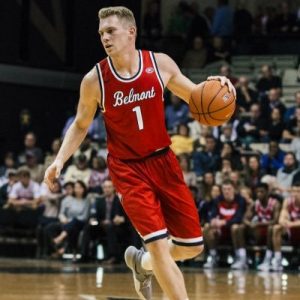 You grew up in Texas: what made you choose Belmont? I first got into contact with Belmont after a tournament in Orlando. I got really lucky and had a good game in front of a few college coaches: Belmont assistant coach Mark Price happened to be one of those coaches in attendance. They started to send me letters and eventually Coach Price and I started to talk on a regular basis via phone. One thing led to another and I went on a visit to Nashville. I met the players/coaches and walked around campus. I fell in love instantly and I guess the rest is history. They offered me that same weekend and I committed the moment that they offered me because I knew there was no place better for me.
You play for Coach Rick Byrd: what makes him such a great coach, and what is the most important thing that you have learned from him? I think his attention to detail is what sets him apart from others. It can be frustrating at times as a player because his expectations are so high but I think that is part of what makes him so good at what he does. He also is the most competitive person I have ever met no mater what sport is being played. He hates losing and that kind of attitude is contagious to the teams that I have been a part of. It does not matter who we are playing: we go into the game expecting to win and I think that is a direct reflection of Coach Byrd's mindset.
As a sophomore you shot 47.7 3P% during conference play: what is the key to making shots from behind the arc? The biggest keys for me are simply staying confident in myself and living in the gym. I feel like confidence is such a big part of shooting: you have to think the ball is going in anytime you shoot it and I cannot think of a time that I was more confident in my shot than during my sophomore year. The other part of that is being in the gym and working on certain things. I feel like I worked harder this summer than I ever have before so I am excited to see how that work pays off this season.
In the 2015 OVC tourney title game Taylor Barnette scored 9 PTS including an off-balance 3-PT shot despite a man in his face with 3.2 seconds left in a 1-PT upset win over Murray State to snap the Racers 25-game winning streak: did you think the shot was going in, and what was the feeling like in your locker room afterward? I knew that shot was going in from the moment it left his hands. Taylor is known for hitting huge shots whether it is in pick-up games, practice, or actual games during the season. He always seems to hit the right shot at the right time so when I saw the play was going to Taylor I knew that if he got a good look it was going down. That win was enormous for our program. The atmosphere in the locker room was like nothing I will ever forget. Murray State was the best team we had played the whole year and it was great seeing us finally put it all together, especially on the offensive end. We really got things going on offense and were so confident after that game going forward. We were so excited that we were getting a chance to play in the NCAA tournament because that is something we had dreamed of doing ever since we started playing the game.
In the 2016 OVC tourney semifinal you had 8 AST but missed a 3-PT shot in the final second of a 1-PT OT loss to Austin Peay: where does that rank among the most devastating losses of your career? It is definitely up there. We get so used to success and winning big games that when we drop one like that it always hurts and leaves a bitter taste in our mouths. It hurts even worse because the last two years we felt like we were the best team in the conference for 5 months of the season…and then one bad game cost us a spot in the NCAA Tournament. Personally, I have not played my best in OVC Tournament games. Missing that shot was big and it will probably be something I remember for the rest of my life…but at the same time it was just one shot and as a basketball player you have to have a short memory. Hopefully this year we can turn the corner and be at our best during the OVC Tournament because winning the tournament is always our main goal at the beginning of the season and we have fallen short two years in a row.
In the 2016 NIT you scored 16 PTS in a loss to Georgia and in the 2017 NIT you scored 7 PTS in a win over Georgia and then scored 8 PTS in a loss to Georgia Tech: is there some unwritten rule that you are required to play postseason games within the state of Georgia?! I guess so! I am not really sure what that is about but it seems that every year that we make the NIT we play somebody in Georgia. I guess it was just written in the stars but regardless we were just excited for the chance to play more basketball.
You have led the conference in APG during each of the past 2 years: what is the secret to being a good PG? I get asked this question a lot from a variety of people but I never really know how to answer it. We are a team whose culture is so focused on team accomplishments that individual statistics are not really emphasized, and we like it like that. As long as we win games we do not care about who is putting up big numbers or getting the attention. We all just do what we are asked to do, which is whatever will put us in the best position to win every game, and what I can do to help the team is pass the ball and get people good shots. The only thing I can really do is give credit to the amazing coaches/teammates I have around me. The coaches do so much for me like help me work on my weaknesses during the off-season, break down film for me to help me improve on the things I do wrong during games, and most importantly put me in the right spots for me to be successful on the court. My teammates are another obvious reason for the assist numbers that I have been lucky enough to put up the last two years. They hit all of the shots: there is no assist without the made shot so I have the easy job.  I just get guys the ball where they like it and then they do the rest so I cannot take credit for any of that: it is really the people around me who enable me to do that and I could not do it without them.
You have a 20-day stretch in November featuring several good non-conference opponents including Washington/Vanderbilt/Middle Tennessee/Providence/TCU: how are you preparing to face such a gauntlet? That is an incredibly tough stretch against some amazing teams. Other programs might shy away from opponents like that in a span of 20 days but we embrace the challenge. We enjoy going into hostile environments and playing talented teams because we know that we will get better as a result and become better in March because of the strength of schedule that we face in November. We go into every game with the mindset that we are going to win so I think that those games are the most fun. We really look forward to playing those teams that are going to make us better. My best memories of my time in a Belmont uniform have come from wins against the likes of North Carolina, Marquette, Georgia, and a top-25 Murray State team two years ago. It gives us a few chances to get a few really big wins for our program.
You are 1 of 4 seniors on the roster: how much pressure is there on you to be a leader this year? I do not think any of us feel pressure to lead at all because those skills come naturally, but at the same time the seniors as a whole are ready to step up and make up for the leadership that we lost in Evan Bradds/Taylor Barnette/Nick Smith. We definitely will miss the leadership they brought to the table but it is an exciting opportunity for guys to lead that have not had a chance to do so in the past. We do not see it as a pressure situation: we are excited about it, along with the other guys who are younger but ready for the chance to lead as well.
What are your goals for the upcoming season, and what are your expectations for the upcoming season? Our team goals are to be the best team we can possibly be by the time the postseason rolls around, win the OVC Tournament, and get back to the NCAA Tournament. We have fallen short of this two years in a row and it has left a bitter taste in our mouths. We are extremely hungry to achieve this goal and are ready to work as hard as we possibly can to get there. Setting our sights on something even greater, we want to win our program's 1st-ever NCAA Tournament game. Individually, I just want to do whatever I can to help achieve these team goals. Like I said, our team takes pride in an unselfish culture so each person is willing to do whatever they need to do individually in order to reach our common team goals.