CLICK HERE for all of Jon's interviews, and the rest of our extensive and continuous preseason coverage
A lot of teams preach the importance of non-conference scheduling in November/December because it helps prepare them for conference/postseason play.  If you are not a believer in such a philosophy then  you should review Texas Southern's schedule last season: after losing 8 straight road games early in the year to teams including Arizona/Louisville/Cincinnati/LSU/TCU/Baylor, they went 16-2 in SWAC play and won the SWAC tourney before falling to eventual champion UNC in the NCAA tourney.  1 of the stars of the team was FR G Demontrae Jefferson, who started the season with 27 PTS vs. Louisville and finished it as conference ROY.  HoopsHD's Jon Teitel got to chat with Demontrae about being 5'7″ and preparing for another strong schedule.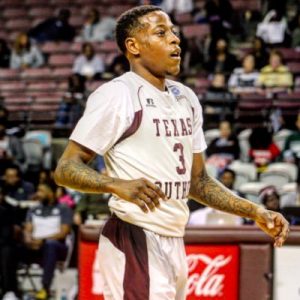 You are only 5'7": do you consider your size to be an advantage or a disadvantage on the court? I think it is an advantage because teams think I am too short to be any good. Once I get going they will realize that height does not matter.
You grew up in Milwaukee: what made you choose Texas Southern? They just stuck out for me from start to finish because they were very loyal.
You play for Coach Mike Davis: what makes him such a good coach and what is the most important thing that you have learned from him? He will push you to your limits and then past them. He thinks we can always do better and is an old-school coach who went to the 2002 NCAA title game as coach at Indiana. He has a lot of experience and a lot of knowledge both on/off the court.
You were ineligible for the 1st 8 games of last season but finished strong and were named SWAC ROY: what did it mean to you to receive such an outstanding honor? I just came in and took care of business. Nobody owed me anything and I just took it game by game.
Last December in your very 1st college game you scored a game-high 27 PTS in 40 minutes in a loss to Louisville: how were you able to play your best against the best? I just tried to take/make shots and stay confident. I stayed humble and came in with the mindset that they were just another team with just another coach.
In the 2017 NCAA tourney you scored 13 PTS in a loss to eventual champion North Carolina: what did you learn from that game that will help you this year? I could have shot more like I did at the start of the season. I slowed down a bit later in the season but when it is time to be a big time player you have to shoot.
Last March you said that being a #16-seed was a "slap in the face": what will it take to avoid being a #16-seed this year? We just need to win a few more non-conference games and get a better RPI. If we get it done early then they cannot deny us.
Your brutal non-conference schedule includes road games at Gonzaga/Washington State/Ohio State/Syracuse/Kansas/Clemson/Oregon/Baylor/TCU: how are you preparing to face such a gauntlet? I am not really worried about that: I just care about the guys on my roster and how we will defend/make shots. We have to be ready to compete at the highest level and not take any plays off.
You are the leading returning scorer on the roster: how much pressure is there on you to be a leader this season? I do not feel any pressure. We have a group of guys who are ready to win so leading will not be hard. We all have the same mindset: win.
What are your goals for the upcoming season, and what are your expectations for the upcoming season? Our team goal is to win. I want to get a better seed in the NCAA tourney, win some more non-conference games, and sweep the league.