CLICK HERE for all of Jon's interviews, and the rest of our extensive and continuous preseason coverage
Some guys are born leaders and some have to grow into it, but when you are the only senior on the roster you know that your coach will at least look your way when deciding who will be his leaders.  Marquette SR G Andrew Rowsey is ready to lead and has already shown that transferring schools can be a good thing: after being named Big South ROY as a freshman at UNC-Asheville, he joined the Golden Eagles and was named Big East 6th Man of the Year last season.  If you need someone to make a clutch FT down the stretch there are few better: his 92.6 FT% last year was #4 in the nation and his 92.1 FT% with the Bulldogs in 2015 was #3 in the nation.  HoopsHD's Jon Teitel got to chat with Andrew about switching schools and being a sensational shooter.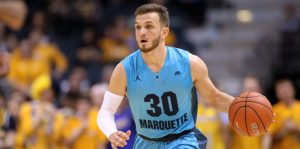 On 2/3/14 as a freshman at UNC-Asheville you scored a career-high 41 PTS in 39 minutes before fouling out in a 10-PT loss at Radford: was it just 1 of those scenarios where every shot you put up seemed to go in because you were "in the zone"? I definitely remember that game: it was my 1st game back near my hometown but I did not have any family there because there was a huge snowstorm. When it feels like that you just keep shooting.
You finished that season by being named conference ROY: what did it mean to you to receive such an outstanding honor? It meant a lot to me because I entered the season without anyone viewing me as 1 of the best freshmen in the conference: I felt that I had finally proved myself.
Why did you decide to transfer in 2015, and what made you choose the Golden Eagles? I wanted a bigger opportunity. Growing up I always saw myself playing at a higher level and while I appreciate Asheville for giving me a great opportunity I really wanted to play in 15,000-seat arenas against NCAA tourney-caliber teams. It was really hard to leave Asheville but I was finally at the level where I could make that jump. Coach Wojo was just arriving here and it was the perfect place for me.
You play for Coach Steve Wojciechowski: what makes him such a good coach, and what is the most important thing that you have learned from him? His consistency/hard work/dedication to what he does has helped turn around the program from the time he arrived a few years ago. I was a huge Duke fan growing up and went to their basketball camps every year so I knew how tough a competitor he was and that he never took no for an answer. He was willing to win and strive for greatness.
In 2017 you were named Big East 6th Man of the Year: how did you make the transition from a 20 PPG starter as a freshman/sophomore to a 12 PPG super-sub as a junior? It was a big change at 1st but I knew my role on the team. Coach told me that I would be an important part of the team and I started several games down the stretch. I knew that I would be playing the same amount of minutes, just at a different time during the game.
Last year you shot 44.7 3P% and a conference-best 92.6 FT%: what is the secret to making shots from 1-PT/3-PT land? It is something I have always done because my dad taught me to shoot at a young age. He held me accountable and I do not take short cuts or mess around with it: I take pride in being 1 of the best shooters in the country.
In the 2017 NCAA tourney you scored 13 PTS in a loss to South Carolina: what did you learn from that game that will help you this year? I learned a lot of things but 1 of my main takeaways is that you have to compete for the full 40 minutes. Once you get your feet wet in the tourney you want to get back there: it is a feeling like no other and was the reason I came here. I think we can make it back this year if we play hard.
You have a brutal 4-week stretch in November/December with games against Purdue/VCU/Cal or Wichita State/Georgia/Wisconsin: which of these games do you feel will present your biggest test? I have not looked into all of those teams yet but I know that Purdue returns a lot of players, Wichita State might be top-5 or top-10, and Wisconsin is 1 of our biggest rivals.
You are the only senior on the roster: how much pressure is there on you to be a leader this season? There is a lot of pressure because it is something that I have never done before and need to work on. It will be fun for me to get out of my comfort zone and become someone who my teammates can look to as a role model.
What are your goals for the upcoming season, and what are your expectations for the upcoming season? Our team goal is to win the Big East and make a run in the NCAA tourney, and if we can do that then all my personal goals will follow.