CLICK HERE for all of Jon's interviews, and the rest of our extensive and continuous preseason coverage
Even if Rick Pitino never coaches another game in his life he still has a pretty nice resume: 1987 national COY, 7 Final 4s, the only men's coach to ever lead 2 different schools to an NCAA championship (Kentucky/Louisville), and induction into the Hall of Fame in 2013.  His coaching tree of former players/coaches is not too shabby either, including longtime head coaches Billy Donovan/Tubby Smith/Mick Cronin.  1 of the most recent branches on the tree is Mark Pope, who won a title while playing for Coach Pitino at Kentucky in 1996 and is preparing to begin his 3rd year as head coach at Utah Valley.  HoopsHD's Jon Teitel got to chat with Coach Pope about winning a title and being part of the greatest comeback in NCAA tourney history.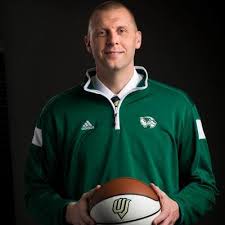 You were born on 9/11: how has that day changed for you since 2001? I think my family actually celebrates the day more now. I grew up in New York and played for the Knicks and went to medical school there (Columbia) so we have a lot of close ties. It confirms that we are all really blessed to live in this world and have the chance to spend another year here.
In 1992 you were named Pac-10 ROY at Washington: what did it mean to you to receive such an outstanding honor? It meant a lot but we were really struggling as a team so it was a double-edged sword. We knew that we had a lot of work to do to try and be successful and I felt like we made some progress as freshmen. I came in with a big class and we were all focused on changing the direction of the program.
In 1993 you transferred to Kentucky: why did you decide to transfer, and what made you choose the Wildcats? It was pretty simple: my coach Lynn Nance got fired and he was the reason I went to Washington.  I still keep in touch with him to this day. The whole thing was pretty ugly and I felt a personal responsibility that I did not help us win enough games for him to keep his job. I wanted to see if I could jump into Rupp Arena and see what it was like. I was fortunate in that I got to see the really hard part of college basketball and then go to the mecca of college basketball in so many different ways to see the opposite side. I was excited for a new challenge. Coach Nance had been an assistant at Kentucky and Coach Rick Pitino had recruited me while I was in high school.
In the 1995 SEC tourney title game you had 12 PTS/10 REB in a 2-PT OT win over Arkansas: how were you able to overcome a 19-PT 1st half deficit? At halftime Coach asked us how the hell we had fallen behind by 19! We had a great rivalry going with Arkansas because we were both good teams who played extremely fast. Our team was so explosive that a 15-point swing in only a couple of minutes was pretty common for us. In OT we were down by 7 with about 90 seconds left, which was an even more amazing comeback. Those Kentucky teams I played on were so talented and it was so fun to be a part of it. We also had a 1994 comeback win against LSU when were down 31 PTS in the 2nd half, which is still 1 of the biggest comebacks ever.
After winning 27 straight games you lost the 1996 SEC tourney title game to Mississippi State: how were you able to re-focus to win 6 straight games in the NCAA tourney, and what did it mean to you to win a title? The loss to Mississippi State was pretty surreal even though they went to the Final 4 as well that year. They did not just beat us that night: they drilled us behind guys like Dontae' Jones. We had a couple of personalities go a little sideways on us. We walked into the locker room afterward and Coach Pitino was just relentless in demanding more. We had beaten a good Georgia team at home a few weeks earlier but Coach was so mad at us that he just wrote "12AM" on the board.  At midnight we began running sprints for 3 hours…despite the fact that we had just won our 22nd straight game! Coach told us that he knew we were going to win a national title because we had lost that game to Mississippi State, which proved to be 100% right.
You spent the next decade playing in the NBA/abroad: how close did you come to beating the eventual champion Bulls when you played for Indiana in the 1998 Eastern Conference Finals? My goodness we were close, not that anyone ever beat Michael Jordan in the playoffs. It was an unbelievable series featuring some miraculous shots.  We had the lead in Game 7 when Jordan out-jumped 7'4" Rik Smits for a ball and found Steve Kerr for an open shot. Coach Larry Bird gave us the most inspiring pregame speech ever: he was really teary as he told us how bad he wanted it for our guys. He talked about the 1st title he won in Boston and how much the parade meant to him: it was such an incredible moment.
In the 2012 1st 4 as an assistant to Dave Rose at BYU your team set a record for the largest comeback in NCAA tourney history with a 6-PT win over Iona: did you think that you still had a chance to win when you trailed by 25 PTS, and what was the feeling like in your locker room afterward? It was pure ecstasy and 1 of those moments that you do not get to experience a lot in sports. It has to do with your approach to the game and is the greatest feeling in the world. The key is for your team to stay together.
In the 2017 CBI semifinal as head coach at Utah Valley you had a 6-PT loss to Wyoming: what did your team learn from that game that will help them this year? It was huge for us because we had never won a D-1 postseason tourney game before and it is a huge step for us going forward.
You return 5 of your top-6 scorers from last season: how crucial will all of that experience be to your team's success? Last year we had 13 guys who had never played for me before so we are excited this year to finally have some returning players.
What are your goals for the upcoming season, and what are your expectations for the upcoming season? Our goal is to always win every game we play even though our 1st 2 road games in November are at Kentucky and at Duke. What matters in the WAC is to win the conference tourney and then hopefully we will be primed to make a run in the NCAA tourney.