CLICK HERE for all of Jon's interviews, and the rest of our extensive and continuous preseason coverage
Quick: name the only Xavier player who started every game last season.  Edmond Sumner: no.  Trevon Bluiett: close.  The correct answer is SG JP Macura, who helped the Musketeers beat Arizona to reach the Elite 8 before losing to eventual runner-up Gonzaga.  Even though it did not count, he also made 1 of the longest shots I have ever seen against the Bulldogs at the end of the 1st half: 
http://ftw.usatoday.com/2017/03/xavier-jp-macura-buzzer-beater-march-madness-long-shot-elite-8-opposite-3-point-line-what-did-not-count-but-still-crazy
He gets it done on both ends of the court, as he was 2nd on the team with 14.4 PPG and led the team with 1.4 SPG.  HoopsHD's Jon Teitel got to chat with JP about his miraculous heave and a super-strong non-conference schedule.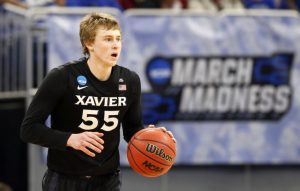 You grew up in Minnesota: what made you choose Xavier? The coaches for sure, as well as the winning history of the program making the NCAA tourney. I also liked the small classroom environment and the coaches made it feel like home during my visit.
You play for Coach Chris Mack: what makes him such a good coach, and what is the most important thing that you have learned from him? He is just a player's coach: he will get on you about certain things but is willing to help you become a better player. He has taught me that to be a good player/team you need to put in a lot of hard work.
In 2016 you were named Big East 6th Man of the Year: what did it mean to you to receive such an outstanding honor? I thought that it was pretty cool to see my hard work paying off…but it is more important for the team to make the NCAA tourney.
In the 2016 NCAA tourney Bronson Koenig scored 20 PTS including a fadeaway 3 at the buzzer in a 3-PT win by Wisconsin: did you think that his shot was going in, and where does that rank among the most devastating losses of your career? It is by far the most devastating loss of my career. He had a good look and is a good shooter so it was kind of heartbreaking, but it helped our team/coaches want to finish games better. Attack and finish were our big talking points last year and it was great to make the Elite 8, but I think we can make an even further run this year.
Last November you scored a career-high 28 PTS/6-11 3PM in a 6-PT win over Clemson: was it just 1 of those scenarios where every shot you put up seemed to go in because you were "in the zone"? My teammates did a great job of finding me and helping me get open. At halftime they told me to keep shooting and my shot felt perfect.
In the 2017 Elite 8 you scored 18 PTS in a loss to eventual runner-up Gonzaga: how on earth did you make that 75-footer before halftime that did not count, and what did you learn from that game that will help you this year? Sometimes I practice weird shots when I was in the gym but it just happened to go in. It did not bother me when they waived it off since we were losing anyway. We were short some players and a few of our guys were running out of juice, but it will help because now we know what it takes to go further in the tourney. We need some more fire/energy toward the end of the season.
You have a brutal non-conference schedule that includes games against Wisconsin/Kansas State or ASU/Baylor/Cincinnati/Colorado: which of these games do you feel will present your biggest test? I would say Wisconsin because it is on the road and will be a good early test for us to see where we are at and who will step up. We have a lot of confident players and someone will eventually step up.
You are 1 of 3 seniors on the team: how much pressure is there on you to be a leader this year? It is not really any pressure because we have been doing a good job all summer of showing the young guys the ropes and leading by example. We have already become leaders because it is just who we are and we can hopefully take these guys very far.
PF Kerem Kanter transferred in this year from Green Bay: how is he adjusting to joining the team? Great: he is a unique player who can really score and will help us in a lot of ways on the offensive end. He will be difficult for a lot of teams to guard and has picked things up quickly.
What are your goals for the upcoming season, and what are your expectations for the upcoming season? Our goal is to win the Big East and make the Final 4. I expect us to play as hard as we possibly can every single night.