CLICK HERE for all of Jon's interviews, and the rest of our extensive and continuous preseason coverage
Some teams finish the regular season knowing that they will be in the NCAA tourney in a couple of weeks, while other teams know that it will go right down to the end of the conference tourney to see if they make it.  Iona was in the latter group last spring, but thanks to a 1-PT OT win over Siena in the MAAC tourney title game they secured their spot in the dance before losing to Oregon.  1 of their biggest talents was G Deyshonee Much, who despite only starting 9 games last year was 5th in the conference with 1.4 SPG and even had a rare 4-point play against Saint Peter's in an OT win last January.  HoopsHD's Jon Teitel got to chat with Deyshonee about being a great 3-PT shooter and what he learned from the game against the Ducks.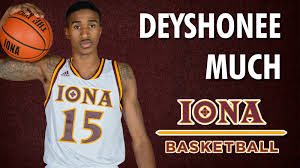 You began your college career at Buffalo but decided to transfer to Iona after your freshman year: is is true that you picked the Gaels by looking for programs with thin rosters or that would be graduating a lot of seniors, and do you have any regrets? That is true and I have no regrets.
You play for Coach Tim Cluess: what makes him such a good coach, and what is the most important thing that you have learned from him? In my eyes he makes sure that everyone is working hard. If someone comes in and can compete with you at your position then he will make sure that nothing is handed to anyone. He taught me how to have an even better work ethic, which helped build more character in myself.
On 2/5/16 you scored a career-high 30 PTS/8-12 3PM in a win at Canisius: was it just 1 of those scenarios where every shot you put up seemed to go in because you were "in the zone"? Yes, but I also worked hard in practice because coach makes us shoot a ton of shots. I had a great PG that year in AJ English who did a tremendous job of finding me since he knew I was hot.
As a sophomore your 44.7 3P% was #10 in the nation: what is your secret for making shots from behind the arc? Repetition. We have great managers who are willing to join us in the gym any time of day or night.
You started 27 games as a sophomore but only 9 as a junior: what is the biggest difference between starting a game vs. coming off the bench? Starting helps my confidence but if I am not producing or helping us win games or there is someone else who can do the job better, then that is fine.  Whatever is necessary to win is the most important thing.  I respect Coach's opinion: he is not doing it to hurt anyone's feelings.
Despite playing fewer minutes than the previous year your 1.4 SPG was #5 in the MAAC: how do you balance your offense with your defense? I was just trying to do whatever I could to help the team win by being active.
In the 2017 NCAA tourney you scored 15 PTS/5-10 3PM in a loss to Oregon: what did you learn from that game that you think will help you this year? It taught me to have confidence in myself and keep the guys going. I felt that some of our players were close to throwing in the towel but I just tried to keep encouraging them.  We actually kept it to a close margin in the 2nd half before the Ducks eventually pulled away.
Your non-conference schedule includes games against Syracuse/St. John's/Rhode Island: which of these games do you feel will present your biggest test? I cannot put 1 team above another: the worst team in D-1 can beat the best team on any given day so we will just go out and compete every night.
What are your goals for the upcoming season, and what are your expectations for the upcoming season? My goal is to go back to the NCAA tourney. This is the most talented team that I have ever played on so I expect us to get back there.