CLICK HERE for all of Jon's interviews, and the rest of our extensive and continuous preseason coverage
Gonzaga has owned the WCC ever since Mark Few took over at the start of the millennium and they seem to be peaking as they were only a few points away from winning the NCAA title last April.  However, they have faced some stiff competition recently in the form of conference rival Saint Mary's, who is coming off back-to-back 29-win seasons.  Gaels' big man Jock Landale gets most of the press but his fellow SR Calvin Hermanson has played a big part in the team's stunning success: he made a team-high 74 threes as a sophomore and was named All-WCC 1st-team as a junior.  HoopsHD's Jon Teitel got to chat with Calvin about almost winning the Little League World Series and the heated rivalry with the Bulldogs.  We also wish him a happy belated birthday last week!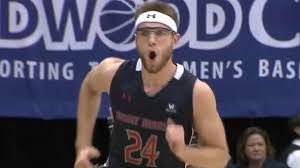 In the 2007 Little League World Series as a pitcher/outfielder you helped your Lake Oswego team reach the US semifinal game: which sport were you best at back in the day and which 1 did you enjoy the most? I think even back then I was still better at basketball. That Little League team was pretty crazy: I was only like the 6th or 7th-best kid on the team and was mostly a closer.
You have several teammates from Australia (including Emmett Naar/Jock Landale/Tanner Krebs): do you find that they are more similar to you on the court or off the court or both? The Aussies are funny guys and have definitely taught me their sense of humor. This is my 5th year here so I have gotten used to them on the court: they are good at moving the ball and are awesome guys off the court as well.
You play for Coach Randy Bennett: what makes him such a good coach, and what is the most important thing that you have learned from him? He is amazing at putting great people around him: both coaches/players who get along with each other. I have never played on a tighter team in my life so I am thankful to him for bringing us all together.
On 12/16/15 you blocked the 1st shot of your college career, which then went viral because it happened to be against UC Irvine's 7'6" center Mamadou Ndiaye: where does that rank among the highlights of your career? I do not think about single plays too much but that was a pretty cool moment: the crowd got really excited!
Your 88 3PM last year were #2 in school history and your 43.1 3P% was best in the conference: what is your secret for making shots from behind the arc? Just repetition. I try and get in the gym a lot every week and put up a lot of shots. I also try to practice my shot with guys contesting me and being in motion all the time.
In the 2017 NCAA tourney you scored 14 PTS in a 9-PT loss to Arizona: what did you learn from that game that you think will help you this year? We already knew that we could play with anyone in the country but that confirmed it. They are a great team but we were able to build a 10-PT lead on them in the 1st half.
Your team finished #2 in the nation with 57.5 PPG allowed: what is the key to playing great defense? Coach Bennett has always been a strict man-to-man guy so we work on our defensive stances and put a lot of work into it. We just put the time in during practice and then it shows on the court.
You have a new transfer this year in 5th-year G Cullen Neal: how is he adjusting to his 3rd team in 3 years? I have hung out with him quite a bit. He originally committed here verbally but then followed his dad to New Mexico after he became coach there. It feels like he is coming home and he will be a great addition to our team.
For people who do not watch a lot of WCC basketball, how intense is your rivalry with defending NCAA runner-up Gonzaga? We really do not like each other. My buddy Connor Griffin was a walk-on there. The Yankees-Red Sox rivalry has not been too intense over the past few years but I think ours is up there with an old-school rivalry like Peyton Manning vs. Tom Brady. It is pretty darn intense.
What are your goals for the upcoming season, and what are your expectations for the upcoming season? As a team our goal is to win the WCC championship and make it back to the NCAA tourney. It was a special experience last year and we felt that we belonged, but we might have left some meat on the bone and we want to win a few more games in the tourney this year.