CLICK HERE for all of Jon's interviews, and the rest of our extensive and continuous preseason coverage
When Scott Pera was hired by Rice last March to take over for Mike Rhoades (who was hired at VCU), he probably thought that his biggest challenge would be helping maintain the success of last year's 23-win season.  By the middle of the summer his focus may have shifted to finding the talent to replace a host of departed transfers including Marcus Evans (VCU)/Egor Koulechov (Florida)/Marquez Letcher-Ellis (Nevada).  Then Hurricane Harvey hit Texas in August and flooded his new house, which added yet another obstacle for him to overcome as he begins his 1st year as a D-1 head coach.  HoopsHD's Jon Teitel got to chat with Coach Pera about coaching James Harden and handling a hurricane.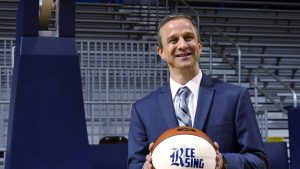 In 2006 as head coach at Artesia High School you went 33-1 and won a state title with the help of a future NBA All-Star who you later recruited to ASU: how good was James Harden back in the day, and how proud are you of all his success? He was very good but I could not have predicted that he would become 1 of the elite players in the NBA. He improved his body and had an incredible work ethic back then, and has kind of done the same thing in the pros. I am unbelievably proud to be in the same city as him and see him playing so well for the Rockets.
In the 2010 NIT as an assistant to Herb Sendek at ASU, Ben Smith scored 26 PTS including a 24-footer off the glass with 1.5 seconds left in a 1-PT win by Jacksonville: where does that rank among the most devastating losses of your career? We were extremely disappointed in not making the NCAA tourney, especially because it was Derek Glasser's last game for us.
You spent 2 years as an assistant to Jerome Allen at Penn: why was the best Quaker player who I have ever seen in person unable to translate his success to being a coach? He did have success during his 1st year with Zack Rosen but then Fran Dougherty broke his wrist and we had some other injuries/problems. He is 1 of the great human beings that I have ever met in my entire life.
As an assistant to Mike Rhoades at Rice your team went from winning 12 games in 2016 to winning 23 games (the 2nd-most in school history) in 2017: how were you able to have such a huge improvement in only 1 year? We also won 12 in 2015 and had 2 guys suffer season-ending knee injuries before the 2016 season, which crippled our depth. We had everyone back last year and they all played terrific.
In the 2017 CBI quarterfinal you had a 6-PT loss to Utah Valley: what did your team learn from that game that can help them this year? Any postseason experience is helpful whether it is winning or losing. When you play 35 games and learn the importance of being fresh/ready every night, it is tremendous.
You were hired as head coach of the Owls in March after Coach Rhoades became head coach at VCU: why did you take the job, and how is it going so far? My 3 years here with Mike were a great opportunity: he is 1 of my closest friends. My family and I love this community so it was a no-brainer to take the job.
Your non-conference schedule includes games against Mississippi or Utah as well as Texas Tech: which of these games do you feel will present your biggest test? Those are 2 of them.  We also have to play New Mexico/UNLV and Texas-Arlington will also be a very difficult place to play.
You lost 6 of your top-7 scorers from last season (Marcus Evans/Egor Koulechov/Marcus Jackson/Marquez Letcher-Ellis/Chad Lott/Corey Douglas): how will you try to replace all of that offense? It will obviously be a challenge but my staff and I have done a really good job trying to get some grad transfers/freshmen to help balance things out, and now there is an opportunity for everyone to step up.
You only have 4 players from Texas on your roster: what sort of recruiting philosophy do you have? We try to find the kids who are the best fit for our university. We recruit our state hard but also look around the nation for players from San Diego to Boston.
What are your goals for the upcoming season, and what are your expectations for the upcoming season? We want to try and maintain some level of success after winning 23 games, but right now we are just getting to know each other, which will hopefully translate to some wins.
How bad was Hurricane Harvey and how is everyone coping with the aftermath? It was like nothing that I have ever experienced in my entire life. We moved into a new house that got flooded but other people have it much worse so we want to try and help get other people up and running. We have terrific young men on the team and I am proud of all the efforts to help people get their lives back to normal: we will continue to move forward.