CLICK HERE for all of Jon's interviews, and the rest of our extensive and continuous preseason coverage
There are few true centers outside the power conferences these days but the SoCon has a legitimate 1 in Wyatt Walker. The Samford big man led the conference in rebounding last year and helped his team beat Canisius in the CIT before losing to Liberty. HoopsHD's Jon Teitel got to chat with Wyatt about his former teammate Grayson Allen and the importance of having 5 returning starters in Birmingham this year.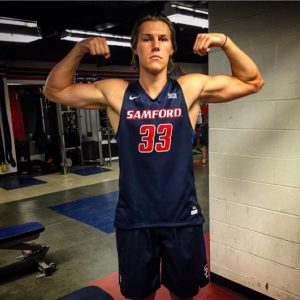 1 of your teammates at Providence High School was Grayson Allen: how good a player was he back in the day? He was phenomenal: his competitive fire was unlike anyone who I have ever played with. He went after it every day as if his life depended on it.
You grew up in Florida: what made you choose Samford? The coaching staff. I was not highly recruited out of high school so I was not worried about the size of the college.  I just wanted a good fit where I could play as soon as possible and win some games.
You play for Coach Scott Padgett: what makes him such a good coach, and what is the most important thing that you have learned from him? He is a players' coach.  He played the 4-spot in the NBA and made some good money doing it so he can teach me things that not a lot of people have done. He taught me how to see the game from every single angle. I was primarily a physical post player but he showed me how to see all the different aspects of the game.
In February of 2016 you scored a career-high 30 PTS/9-12 FG/12-14 FT in a loss at ETSU: was it just 1 of those scenarios where every shot you put up seemed to go in because you were "in the zone"? I felt that I got more touches that game than I normally do. It was frustrating to lose but it just showed that I am good enough to do good things.  I hope to have more games like that in the future.
In 2016 you were named to the SoCon All-Freshman team: how were you able to come in and contribute right from the start? I just tried to do all of the little things. I lived in the weight room that year and gained about 20 pounds of muscle. I learned the plays really quickly and was blessed to have the opportunity to come right in and play.
Last year your 9.7 RPG was #1 in the conference: what is your secret for being a great rebounder? There is no secret. I do not jump that high so it is about my will. The 1 thing you should be selfish about is rebounds: I do whatever I can to get the ball.
In the 2017 CIT you had 12 PTS/11 REB in an 8-PT loss to Liberty: what did you learn from that game that will help you this year? The biggest takeaway was to not underestimate you opponent. Liberty was a tremendous team but we were kind of looking ahead to see if we would have a rematch with our conference rival Furman. We just need to focus on every single game.
Your non-conference schedule includes games against Arkansas/LSU/Clemson: which of these games do you feel will present your biggest test? I would say Arkansas. I love that Coach Padgett is very aggressive when it comes to scheduling.  Those 3 are the caliber of teams we would see if we end up as a 13 or 14 seed in the NCAA tourney.
You only had 1 senior on the roster last year but you have 7 seniors this year: how crucial will all of that experience be to your team's success this year? All 5 starters return for us and that experience will trickle down the line. There is nothing that will scare us: we can win close games and we can win big games so we just have to play together as a team.
What are your goals for the upcoming season, and what are your expectations for the upcoming season? As a team we try to take it 1 game at a time but I hope to win the regular season title, the conference tourney, and become the 1st team in school history to win an NCAA tourney game. Anytime you can make history that is the ultimate goal. I really take pride in my rebounding and want to make the statement that I am the best post player in the league.