CLICK HERE for all of Jon's interviews, and the rest of our extensive and continuous preseason coverage
It was a case of new coach/same success for South Dakota State last year.  After making the 2016 NCAA tourney with Coach Scott Nagy, they made it again last March with Coach TJ Otzelberger.  1 of the steadying influences for the Jackrabbits was Reed Tellinghuisen: he does a little of everything including scoring, rebounding, making threes, and even leading the team in BLK as a 6'6″ SG.  HoopsHD's Jon Teitel got to chat with Reed about making the NCAA tourney and making FTs.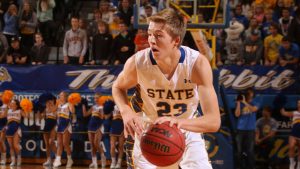 You grew up in Iowa: what made you choose South Dakota State? I grew up about 3-3 ½ hours from Brookings so it was not too far away, and my older brother went to pharmacy school here. The community is what stood out to me: everybody here cares about the school/basketball team. They did a great job of getting to know me and my family.
You got a new head coach last year in TJ Otzelberger: what makes him such a good coach and what is the most important thing that you have learned from him? What is special about him is that he is so easy to get along with and makes the family atmosphere even greater. He knew things about my personal life, which set a great tone of showing how much he cares about all of us. He is a great motivator/person.
You played in all 35 games as a freshman: how were you able to come in and contribute right from the start? I came in very undersized for a 4 at 170 pounds, but the strength and conditioning staff helped me get up to 185. I was able to shoot the ball and had the mindset to not get pushed around so I think my toughness helped me get on the floor.
Last February you scored a career-high 28 PTS/8-13 3PM in a loss at South Dakota: was it just 1 of those scenarios where every shot you put up seemed to go in because you were "in the zone"? It is always cool to play at USD because they have a ton of fans there: I like it when there are a lot of people cheering against me. It was kind of an unconscious feeling so I do not remember being on fire while it happened, but I went back and looked at the tape and it seemed like I played great.
In the 2017 NCAA tourney you lost to eventual runner-up Gonzaga: what did you learn from that game that will help you this year? It gave a bunch of our returning guys some valuable experience, which we also got from losing to Maryland the previous year. It is a big stage and you have to stay in the moment: there is nothing else like it in college basketball. We have 7 players back this year who played big minutes last year, which will be very important for us.
Last year your team's 77.1 FT% was top-15 in the nation and you improved from 61.2% as a sophomore to 80.8% as a junior: what is the key to making FTs? Just getting in the gym and improving your confidence. My 1st 2 years at the FT line were not good at all and it kind of got in my head, but the more you get to the line the more comfortable you get. It really helps us win games.
PF Mike Daum was conference ROY in 2016 and conference POY in 2017: what makes him such a great player and are there any awards left for him to win?! His versatility: he is 1 of the best shooters in the nation.  He can take big guys outside but also has a 7'4" wingspan so he can finish inside as well. He is the favorite to be POY again this year and I hope that he is named All-American: it would be great for recruiting.
Your non-conference schedule includes games against Kansas/Iowa/Mississippi/Wichita State/Colorado: which of these games do you feel will present your biggest test? Kansas will be a fun game: it will be cool to go to Allen Fieldhouse. We are just taking it game by game and start off with UC-Irvine: we are pumped up for that game since they beat us last year so our focus right now is the next practice.
You are 1 of 4 seniors on the roster: how much pressure is there on you to be a leader this season? We had 2 seniors last year who were both grad transfers. We lacked some strong leadership but are ready to lead this year and show the younger guys what Jackrabbits basketball is all about.
What are your goals for the upcoming season, and what are your expectations for the upcoming season? We want to get back to the NCAA tourney and then win some games, which is the goal every year. We have made it 4 of the last 6 years so that has become the expectation. Coach tells us to worry about the task at hand so we just want to get better every day.