CLICK HERE for all of Jon's interviews, and the rest of our extensive and continuous preseason coverage
It was a case of new coach/same success for South Dakota State last year.  After making the 2016 NCAA tourney with Coach Scott Nagy, they made it again last March with Coach TJ Otzelberger.  The players deserve a lot of the credit but do not forget about the importance of the coaching staff.  Assistant coach Eric Henderson is on quite a nice run of his own: at North Dakota State he made the NCAA tourney in 2015 and the Summit League tourney title game in 2016, then made it back to the NCAA tourney last March with the Jackrabbits.  HoopsHD's Jon Teitel got to chat with Coach Henderson about making the NCAA tourney and his recruiting philosophy.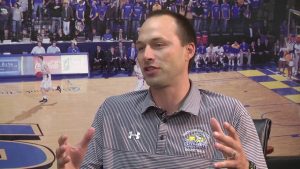 You previously spent a couple of years coaching girls' basketball: what is the biggest difference between coaching boys vs. coaching girls? The biggest difference is that the girls are more eager to learn since their skill level is not quite as high, whereas the boys think they are farther along in the process and have more of the answers.
You were a graduate manager for Coach Greg McDermott at Iowa State: did you ever get to watch his son Doug play at Ames High School, and could you have ever imagined that he would turn into 1 of the best scorers in D-1 history at Creighton? I played for Coach McDermott at Wayne State so I have known Doug since he was 2 years old. Even at an early age I recall him being our ballboy: he loved to be in the gym around the guys and always had a ball in his hand. He was never afraid of any moment. I got to watch him in high school when he was just the 6th man and it was fun to watch him progress after he got to Creighton. I am really fortunate to know their family and their work ethic.
You spent 2 years as an assistant at North Dakota State before switching to South Dakota State in 2016: why did you make the move, and how big is the rivalry between your old school and your new school? It was a tough decision because I have a lot of respect for the people at North Dakota State. I got to know TJ over the past few years and we have always talked about working together. He called me after he got the job and invited me to join him: the faith/trust he had in me trumped everything else while he developed this new program. As for the rivalry, it is pretty big.
You work for Coach TJ Otzelberger: what makes him such a good coach and what is the most important thing that you have ever learned from him? What makes him extremely special is "relationships". I look at how he pours his heart/soul into our team, which was a big reason why we turned the corner last year after starting off the season 1-6 and starting conference play 1-5. It was hard to climb out of those dumps but our players trusted him. It also goes to recruiting, which is the lifeblood of college basketball. He takes a lot of time to get to know the kids and build that relationship.
In the 2015 NCAA tourney at North Dakota State you lost to Gonzaga and in the 2017 NCAA tourney at South Dakota State you lost to the Bulldogs again: how sick are you of facing Mark Few every other March? It would be fun to play somebody else! Mark does a tremendous job.  Last March it seemed like he had a totally different team on the defensive end and they were also better athletically.  We look at them as a blueprint of what we hope to become.
Last year your team's 77.1 FT% was top-15 in the nation: what is the key to making FTs? Getting the right guy there. Mike Daum is a 40 3P%/50 FG%/90 FT% guy and a lot of our offense went through him, so having him lead the nation in FTA helped a lot. He is a hard guy to officiate because he is so versatile and puts so much pressue on the defense. We spend a lot of time after workouts at the line while the players are still tired: that was certainly 1 of our strengths last year.
Daum was conference ROY in 2016 and conference POY in 2017: what makes him such a great player and are there any awards left for him to win? That is to be determined. He is such a unique player that he is a mismatch nightmare for everyone in our league. He is so physical on the block and has great touch around the rim. The nice thing is that he does not get caught up in the awards: as good as he is on gameday, I give him so much credit for what he does in practice. He does not take possessions off, which trickles down to the rest of our guys as he becomes more mature/vocal.
Your non-conference schedule includes games against Kansas/Iowa/Mississippi/Wichita State/Colorado: which of these games do you feel will present your biggest test? Our entire schedule is set on purpose: to take the next step we want to be challenged in every single game. Kansas/Wichita State are both top-10 teams but the tourney in the Cayman Islands will be tough as well so we just have to put our best foot forward and let the chips fall where they may. We are not focused on the NCAA tourney: we just want to get better every day.
You only have 3 players on the roster from South Dakota: what sort of recruiting philosophy do you have? We recruit guys who can help us win the Summit League title. We mostly recruit in the Midwest and the in-state guys have a huge passion for the university. We want it to be a destination place but we have a kid from Washington and try to take advantage of the relationships that we have created along the journey. We like high-character kids who are proud to be Jackrabbits.
What are your goals for the upcoming season, and what are your expectations for the upcoming season? I do not think the expectations change: they are always high. We do not sit around and talk about winning titles and making the NCAA tourney: we just talk about enjoying the moment and staying together as a team. We are very process-driven: we want to show up in practice and be great players every day. Hopefully the end result is where our expectations are.