CLICK HERE for all of Jon's interviews, and the rest of our extensive and continuous preseason coverage
How do you know if you are a good fit for a school?  Liberty University likes Ritchie McKay so much that they hired him to be their head coach TWICE!  The 1st time was in 2007 after he led New Mexico to the 2005 Mountain West tourney championship and a spot in the NCAA tourney.  Then after spending 6 years working for Tony Bennett at Virginia he was re-hired by Liberty University in 2015 and won 21 games in his 2nd year back on the sideline in Lynchburg.  HoopsHD's Jon Teitel got to chat with Coach McKay about how the program has changed and how you build a top-20 defense.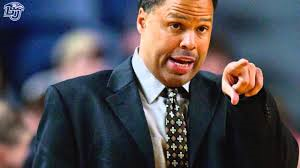 You played basketball at Seattle Pacific: how good a player were you back in the day, and how did you get into coaching? It depends on who you talk to! The old fish tales get bigger and bigger but I had a great experience in college with an unbelievable mentor in Coach Claude Terry. I love him to this day and we still stay in touch. He shaped my passion for the game as well as my faith: he was absolutely awesome. I thought that I would play until I was 50 but he was the 1 who told me that he thought I would make a good coach. I applied for a grad assistant job with Coach Andy Russo at Washington, and later ended up working for Coach Dale Layer at Queens College as we helped build a program from scratch.
In the 2005 MWC tourney title game as coach at New Mexico you had a 4-PT win over Utah: what did it mean to you to win the title? At the time it was my dream job because my father had played there. Danny Granger was the catalyst of that team and we were able to beat a good Utah team featuring Andrew Bogut. Albuquerque is a fabulous place with a rabid fan base.
You were previously hired as head coach of Liberty in 2007: how has the program changed over the past decade? Jerry Falwell Sr. hired me before his passing that May.  It was an incredible place because of the people here in Lynchburg. Our campus was genuine/friendly and I loved it every single day. I only left because my good friend Tony Bennett hired me to be his assistant at Virginia: I actually tried to hire him when I was at Colorado State. Coming back here has allowed me to see how the place has transformed. I think the university has committed $1 billion to new construction, which has blessed our whole student body. Not only is it 1 of the best campuses educationally but also spiritually. My daughter is graduating from here next semester and my son is a freshman.
As an assistant to your long-time friend Tony at Virginia you had back-to-back 30-win seasons in 2014/2015: what makes him such a great friend, and what makes him such a great coach? He is a great coach because he sees the game in a way that not a lot of other people do. As a former player he has amazing instincts: after a play I often was impressed because I had not seen how it would work out myself. He is 1 of the best defensive coaches in the country but also has a bright offensive mind as well. That being said, he is an even better person and I love him dearly. He is laced with humility and genuinely cares for the people in his program. I learned a ton from him during my 6 years there even though he is younger than me.
In 2016 in your 1st season (the 2nd time around) as head coach at Liberty you were named conference COY: what did it mean to you to receive such an outstanding honor? I was flattered to receive that honor but I know that the assistant coaches have a major hand in that accomplishment. We lost our 1st 13 D-1 games so it showed that through our perseverance/strength in unity we were able to take a small step which showed that our guys we were headed in the right direction. The credit goes to our assistants/players.
In the 2017 CIT quarterfinals you had a loss to UMBC: what do you think your team learned from that game that can help them this year? We hosted the 1st 2 rounds so winning a couple of games restored our sense of confidence. UMBC just got away from us because they were better that night, but it gave us an appreciation for how difficult it is to win outside your venue, which you have to do in the postseason more likely than not.
Your 63.4 PPG allowed last season was top-20 in the nation: what is the key to playing great defense? We have stolen the Pack-Line defense from Coach Dick Bennett and did not change a thing but we give him the copyright! I try to visit Charlottesville every month to get some more insight. We think we have some more athleticism this year and will try to gain our identity through our defense.
Your non-conference schedule includes a game against Wake Forest: how did you do against the Demon Deacons when you were in the ACC, and how do you prepare your current squad to face an ACC team? Danny Manning is a terrific coach and I got to see it firsthand when I was at Virginia. They do not beat themselves and are sound defensively. Anytime you play "up" your guys will be excited about the game, and it should prepare us really well for our conference season. Anytime you get to play tough/physical games it can only help you. We also look forward to the Paradise Jam with teams like Colorado/Mercer/Drexel.
You return each of your top-4 scorers from last season (Ryan Kemrite/Caleb Homesley/Lovell Cabbil/Georgie Pacheco-Ortiz): how crucial will all of that experience be to your team's success this year? Caleb is coming back from ACL surgery so if we can get him healthy by conference play that will be great for us. Ryan is working on his Masters' degree and could have transferred anywhere he wanted so it is a blessing that he stayed here. Georgie is from Puerto Rico but prepped in Richmond and was the surprise of our team last year. Lovell has taken great strides since being my 1st recruit: he has gone from 145 pounds to 170 and is gaining weight like his head coach!
What are your goals for the upcoming season, and what are your expectations for the upcoming season? I never pick goals based on numbers.  I am just pleased that we have bonded as a family so if we can continue to play together then those relationships will last for a long time. I am excited for the season and look forward to the challenges.