CLICK HERE for all of Jon's interviews, and the rest of our extensive and continuous preseason coverage
2 signs that you are getting old: college freshmen who were born in the year 2000 and college coaches who graduated from college in the year 2000.  Tony Jasick is a a member of the latter group but has quickly risen up the ranks: assistant at Middle Tennessee in 2004, head coach at IPFW in 2011, and head coach at Jacksonville in 2014.  He has also proven that he knows how to turn a program around: he increased the Mastodons' win total from 11 in year #1 to 25 in year #3 and increased the Dolphins' win total from 10 in year #1 to 17 in year #3 (finishing off each year #3 with a berth in the CIT.  HoopsHD's Jon Teitel got to chat with Coach Jasick about being named the best mid-major coach in the country and the importance of 3-PT shooting to his team's success.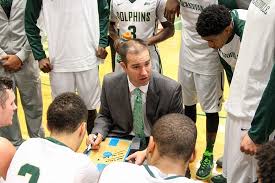 You played PG at Muskegon Community College: how good a player were you back in the day, and how did you get into coaching? I was a really bad player and I got into coaching because I was not smart enough to do anything else! I was around some really good coaches in the community where I grew up and always had an affinity for it.
You were an assistant to Kermit Davis at Middle Tennessee: what makes him such a good coach, and what was the most important thing that you ever learned from him? He is fantastic at building relationships in the community and his consistency from day 1 to day 365 is remarkable to me. He does a great job of coaching his team every single day.
You were hired as coach at IPFW in 2011: how were you able to improve your win total from 11 in year #1 to 25 in year #3? Great coaching! We were able to recruit some really good players and had a good mix of JC guys who brought some experience and a handful of high school guys who were able to grow. They were unselfish and cared a lot about winning.
In 2014 you won the Hugh Durham Award as the best D-1 mid-major men's coach in the nation: what did it mean to you to win such an outstanding honor? The folks at College Insider are fantastic people. I am not sure if I deserved it because there are a lot of great coaches out there but it was great for our institution/program/players. It was a great honor for me personally but a lot of other people deserve credit for that.
After starting 13-6 last season at Jacksonville you closed out the year with a 4-PT loss in the regular season finale, a 3-PT loss in the conference tourney, and a 2-PT loss in the 2017 CIT: you were obviously right on the cusp but what will it take to turn those close losses into close wins this year? We have 2 completely different teams: last year was senior-laden before we were hit by the injury bug, which was part of the reason for all those close losses. We are much younger this year but have improved some of our perimeter play and have an increased commitment on the defensive end of the floor as we continue to grow.
Your team's 40.3 3P% was #11 in the nation: is it just 1 part of a larger offensive strategy or is it a focal point where you "live by the 3/die by the 3"? You hope to not die by anything but a major part of what we do is to punch the paint, and if the defense collapses then we kick it out to an open shooter. It is a big part of what we do and the threes are a result of how we play. We try to be unselfish and recruit guys who can dribble/pass/shoot.
You lost each of your top-3 scorers from last year (JR Holder/Marcel White/Darien Fernandez): how are you going to try to replace all of that offense? We lost a handful of other guys as well but I like our group. We had the opportunity to go to Canada this summer and see where we are at, and hopefully our former freshmen can take another step as sophomores. It will be a collective effort.
You have 5 players from Florida while the rest of your team comes from 7 different states/England: what sort of recruiting philosophy do you have? Recruiting is about relationships: if you look at our out-of-state guys we have a lot from the Northeast/New England due to our academic reputation/climate. We feel the Southeast is an attractive spot and we work on our contacts/connections.
Your non-conference schedule includes games against NC State/Michigan: which of these games do you feel will present your biggest test? Anytime you go into a guarantee-game situation you have to play really well to be competitive down the stretch. Our schedule provides a lot of challenges and hopefully we can build a little momentum.
What are your goals for the upcoming season, and what are your expectations for the upcoming season? Our goals remain the same: get better every day. I know it is a cliché but when you have as many new guys as we do it is important to stay focused on improvement rather than on wins/losses.