CLICK HERE for all of Jon's interviews, and the rest of our extensive and continuous preseason coverage
A lot of great coaches have come/gone through the A-10 during the past decade but there are still some very good veteran guys like Bob McKillop/Phil Martelli.  If you take a look at Chris Mooney's record at Richmond you will not see a lot of losing seasons, which is due to the fact that he has not had a single 1 in the past 10 years.  He learned his craft at Princeton as a 4-year starter for Hall of Fame coach Pete Carril.  Last year the Spiders won 22 games including a pair in the NIT before losing to eventual champion TCU in the quarterfinals.   HoopsHD's Jon Teitel got to chat with Coach Mooney about playing for a Hall of Famer and coaching a young team this season.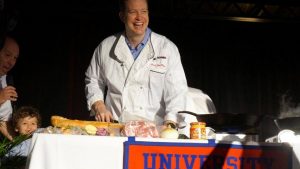 As a player at Princeton you were allegedly nicknamed "Dr. Sweats" because you could not afford to buy jeans: who gave you the nickname, and how did you like it? I could afford them but came to college without any jeans (just sweats).  My teammate Galen Criqui (son of famous announcer Don Criqui) gave me the nickname: it was funny.
You played for Hall of Fame coach Pete Carril at Princeton: what made him such a great coach, and what was the most important thing that you ever learned from him? His understanding/vision of the game were incredible. What he was doing in the 1960s/1970s is very similar to how it is played at the highest level today: dribble handoffs, shooters spread around the perimeter, etc. They were a high-powered offense with future NBA players. He was always very honest so there was never any confusion about where we stood: players crave honest evaluation.
You entered the 1991 NCAA tourney on a 16-game winning streak but Lance Miller scored 19 PTS including a 6-foot jumper with 1.3 seconds left in a 2-PT win by Villanova: where does that rank among the most devastating losses of your career? I remember it really well…and it was really devastating. Villanova was a good team but we were the #8-seed and were nationally-ranked. The 2 schools had played a lot in the 1970s/1980s and Big East basketball was a very physical brand of basketball. It was a really tough loss because it felt like that was going to be the year that we advanced far in the tourney.
In the 2011 postseason as head coach at Richmond you won 3 games in 3 days to clinch the A-10 tourney, then beat Vanderbilt/Morehead State to reach the Sweet 16: what is your favorite memory from that incredible run? There are a lot of good memories. We won the championship game by enough points that we were able to sub out our stars toward the end and give our bench guys a chance to play, which was really special.
In the 2017 NIT quarterfinals you lost to TCU: what did your team learn from that game that can help them this year? TCU was playing great and went on to win the NIT title in New York. When playing an opponent that good you learn that everything you do is so critical: not just every possession but every since cut/defensive positioning. You have to make everything hard for your opponent and give yourself the best chance to win, which we did not do. It takes a little extra concentration.
Last year SG De'Monte Buckingham was named conference ROY: how was he able to come in and contribute right from the start? He is a really talented player and was more physically ready than most freshmen. He has incredible instincts and a great mind for the game.  He was able to see the game at his speed and adjust far more quickly than anyone else. He is super-competitive so he was ready to attack in his 1st season.
Your non-conference schedule includes games against Cincinnati/Georgetown/Wake Forest/BC: which of these games do you feel will present your biggest test? Delaware: the very 1st one. We always try to play a great non-conference schedule and are fortunate that they are not a constant string of road games. We are young enough that no game will be easy. We are younger than we are "inexperienced" so we just have to concentrate at a high level.
You only have 1 senior and 1 grad student on the roster: how do you figure out your team's leaders when you have such a relatively young roster? Since we are around the guys so much we can recognize who they follow/believe in. We have a good feel for that since we see it transpiring every day. There are guys who played a lot of minutes as young players so I think that our leadership will be very good.
You graduated your top-2 scorers from last year (TJ Cline/ShawnDre' Jones): how will you try to replace all of that offense? That will be really difficult. TJ was 1 of the most unique players in college basketball: he was 2nd in the conference in AST despite standing 6'9".  ShawnDre' was a scorer since he 1st got here. We feel we have guys who are ready to step in for them.  The major step we took last year was defensively so we have to figure out who we are on offense.  We went to TJ when we needed a basket so we need to find out who is comfortable in that position and is able to do it at critical times, which is the fun part of having a team of new contributors.
What are your goals for the upcoming season, and what are your expectations for the upcoming season? We talk about goals just among ourselves. Our expectations could be really exciting because there are some guys who can emerge as great players with the right amount of seasoning. If we improve during the course of the season, as we generally have in the past, then this will be a fun team to be around.