CLICK HERE for all of Jon's interviews, and the rest of our extensive and continuous preseason coverage
Gregg Marshall might have taught Earl Grant a little too well.  As an assistant to Marshall at Winthrop the duo went to 3 straight NCAA tourneys, then after arriving at Wichita State they increased their win total from 11 in year 1 to 17 in year 2 and 25 in year 3.  Grant was hired as head coach at the College of Charleston in September of 2014 and has demonstrated the same ability to take great leaps in quick fashion: 9 wins in year 1, 17 in year 2, and 25 in year 3 (which included an invite to the NIT).  HoopsHD's Jon Teitel got to chat with Coach Grant about the keys to recruiting and being named conference COY last spring.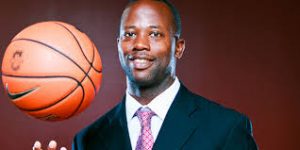 You played basketball at Georgia College and won a pair of conference titles: what is the biggest difference between D-2 vs. D-1? The biggest difference is just the size of the players, especially the big guys in D-1 who are taller/heavier. In D-2 you often play with 4 guards/1 forward, which is more of the way the game is shifting now at all levels.
In the 2006 NCAA tourney as an assistant to Gregg Marshall at #15-seed Winthrop, Chris Lofton scored 12 PTS including a fadeaway jumper from the corner in the final second of a 2-PT win by Tennessee: where does that rank among the most devastating losses of your career? That was a true example of a dagger in your heart! We went into the game knowing that Lofton was a great shooter: he shot it even better when he was contested so part of me wondered if we should have just let him shoot it unopposed. We controlled the game for the most part but they just had the last shot. In the locker room it was very painful because our chance to advance was taken away in 2 seconds.
You grew up in North Charleston: what did it mean to you to become coach of the Cougars in 2014? Seeing how John Kresse elevated the program from the NAIA through various conferences and finally making it to the NCAA tourney was great: he really changed our city during his 20 years as head coach. Now we have an amazing city and the program has become nationally-recognized so it means a lot to be a small part of the success. I want to continue to help it rise because it is where I learned how to compete when I came down to campus as a high school kid to play in an open gym against guys like Anthony Johnson/Jermel President.
You are known for being a great recruiter: what is the secret to getting a high school kid to sign on the dotted line? I do not know if there are any secrets but a big thing is identifying the right kind of guy who can fit your personality and what you are trying to do. When they get to campus they will relate to the players you already have. You need to build trust with the player and his family.  You also need a good product to sell and at Charleston we have a great product, which has helped us get talented players to help us with our vision.
You only won 9 games in year 1 but increased that to 25 wins in year 3: how were you able to improve so much in only 2 years? A huge part of the turnaround is that we were very fortunate to have inherited a group of high-character/talented players. The staff also had unbelievable decision-making when it comes to our 1st couple of recruiting classes, which certainly helps. As the players go through the growing pains and get older they have become better.  Having continuity in our staff was another big reason we have been able to move in the right direction in a relatively short period of time.
Last year you were named conference COY: what did it mean to you to receive such an outstanding honor? It was kind of weird because I never thought about that being a possibility so it caught me off guard a little bit. It was very emotional for me when it happened because even though they called my name there were so many players/coaches who were responsible for that. You cannot prepare for the emotions you will feel because everyone worked so hard to make that happen.
In the 2017 NIT you had a 7-PT loss to Colorado State: what do you think your team learned from that game that will help them this year? 1 of the things we all learned from the CAA tourney/NIT is the importance of staying true to who we are. We were a tenacious rebounding team all year but got away from that a little bit as we allowed way too many points at the end of our season. We scored plenty of points to win but just needed to get some more stops.
Your non-conference schedule includes games against Wichita State/Rhode Island: which of these games do you feel will present your biggest test? All of those games will be tough but I am focused on the 1st game of the year against Siena because they are a good program so I cannot wrap my mind around any other team. I knew that Wichita State/Rhode Island would be favored to win their respective conferences so they will test us to see if we are capable of handling tough situations early in the season.
You return each of your top-6 scorers from last year: how important do you think all of that experience will be to your team's success this season? You cannot put a price on experience so I believe that it is a great thing. We have never had such an experienced team so we have high expectations. That maturity will help us to focus on the process and not get caught up in everything else.  We have a lot of hard work to do if we want to accomplish some great things.
What are your goals for the upcoming season, and what are your expectations for the upcoming season? I do not have any personal goals yet: we want to continue to move the program forward with good players/coaches/staff/support. We want to reach our potential as a team and be playing our best basketball in March to make sure we are peaking at the end of the season. We do not have a ton of expectations besides putting our best foot forward.  I do expect them to work hard and live up to our values on a daily basis while trying to reach the highest level we can as a team. We are very excited about this group and think we have a lot of special young men who deserve the right to have a chance for success.