CLICK HERE for all of Jon's interviews, and the rest of our extensive and continuous preseason coverage
Oh, did you think that ""Dunk City" was just going to fade away after Andy Enfield left for USC?  That's so sweet…and so wrong.  FGCU hired Joe Dooley to replace Enfield back in 2013 and all he has done since then is win 21+ games each year, make 4 straight postseason appearances, and be named Atlantic Sun COY last spring.  1 of the keys to the Eagles' continued success has been G Christian Terrell: he was named to the Atlantic Sun All-Freshman Team in 2015 and the conference All-Tournament Team in 2016 and enters his senior season ranked in the top-10 in school history in PTS/FGM/3PM/3P%/AST.  HoopsHD's Jon Teitel got to chat with Christian about making a game-winning shot and being a senior leader.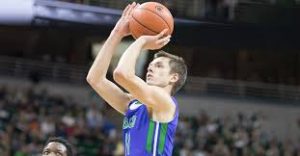 1 of your teammates at Providence High School was Grayson Allen: how good a player was he back in the day? He was 1 of the most dominant high school players I ever played with/against. Nobody could match his athleticism.
You play for Coach Joe Dooley: what makes him such a good coach, and what is the most important thing that you have learned from him? His best attribute is that he prepares us for anything that could occur during a game. He lives/breathes basketball and he taught me to play my hardest every single day to help the team win.
In 2015 you were named to the Atlantic Sun All-Freshman team: how were you able to come in and contribute right from the start? My high school helped because I was competing against high-level players. The seniors that year also helped prepare me.
In December of 2015 you had a career-high 25 PTS/5 STL in a loss to South Dakota: where does that rank among the best all-around games of your career? It is probably my 2nd-best game. I only had 2 PTS in the 1st half before having a good 2nd half, but in the long run it does not count for much because we lost the game.
Last November you scored 9 PTS including a contested layup with 2.4 seconds left in a 1-PT OT win over Long Beach State: did you think the shot was going in, and where does that rank among the highlights of your career? Besides winning a pair of conference championships it is probably my 3rd-best moment. I kind of lost the ball going up but got it back and once I regained possession I knew it was going in.
In the 2016 NCAA tourney you lost to eventual runner-up North Carolina and in the 2017 NCAA tourney you had a 6-PT loss to Florida State: are you getting sick of facing ACC schools every March, and has Grayson given you any scouting reports on his conference foes? We got a tough break against UNC because they were #1 overall. Grayson gave me a few tips for facing the Tar Heels but I did not reach out to him about the Seminoles.
Last year your team's 49.9 FG% was #5 in the nation: what sort of philosophy does your team have on the offensive end? We really try to do an inside-out plan by working through the post and then trying alley-oops at the rim.
Your non-conference schedule includes games against Middle Tennessee/Wichita State/Rhode Island: what do you think about the prospect of playing the Blue Raiders twice in a 12-day stretch this fall? It is always tough to face a time twice in a short period of time: they are a good team and will be a big test for us. The toughest test will probably be Wichita State because they have been a good program for a long time.
You are 1 of 4 seniors on the roster: how crucial will all of that experience be to your team's success this year? We want to be able to give the young guys the blueprint on how to run the team and keep things going in the right direction. I think this is our best senior class and we will lead the team down the right path.
What are your goals for the upcoming season, and what are your expectations for the upcoming season? Our expectation is to win the regular season and conference tourney titles. I want to make the all-conference team but the most important thing is to win games.