CLICK HERE for all of Jon's interviews, and the rest of our extensive and continuous preseason coverage
When you think of coaching promotions the 1 that usually comes to mind is assistant coaches who become head coaches, but Anthony Ruta reminds us that that are many rungs on the coaching ladder.  After working as director of basketball operations for Nevada head coach Eric Musselman he was promoted to assistant coach earlier this year.  5 years ago he was getting his undergraduate degree in English literature from ASU and now he is an assistant coach for the defending MWC champs.  HoopsHD's Jon Teitel got to chat with Coach Ruta about winning the 2016 CBI and coaching a team with a bunch of transfers.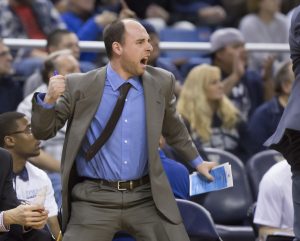 You previously were an assistant coach in the D-League: what is the biggest difference between college basketball and pro basketball? There are a few major differences. From a basketball perspective, sideline out-of-bounds plays are so important in the pro game. You have 10-12 of those opportunities throughout a game and a lot of times it comes down to late-game execution with the ability to advance the basketball. In college it is the baseline out-of-bounds plays that are extremely important: you have about 10-12 baseline opportunities and maybe only 2-3 sideline opportunities. Off the floor, in pro basketball you are working with grown men who have families. This is their job so they work out multiple times a day, lift weights, study film, and then go home to spend time with their families. In college you are working with student-athletes who are going to 2-3 classes/day, study hall, etc. They are young men who are only 18-22 years old.
You work for Coach Eric Musselman: what makes him such a good coach, and what is the most important thing that you have learned from him? He is a continuing learner: he has been coaching for nearly 30 years and has been a head coach throughout most of that time. However, he is constantly evolving. He has built his set of core values from a basketball/cultural perspective but is constantly striving to be a better coach/mentor. The two biggest things that I have been fortunate enough to learn from Coach Musselman are work ethic and how to treat people the right way. When I first met him as a graduate assistant at ASU I was blown away by his work ethic. He works from the time he wakes up until he goes to bed and is the true definition of a basketball junkie. Having someone who works as hard as he does elevates everyone else on the staff. It pushes all of us to match his work ethic and is a huge reason why we have been fortunate enough to have as much success as we have had early on at Nevada. The other part that he has ingrained in me is how to treat people the right way. I was impressed with how he interacted with the student managers/volunteers/graduate assistants when I was at ASU. It was something that really stuck with me and I will carry it with me the rest of the career. He would buy those guys lunch and invite them over to his house for NFL games on Sundays. Those seemingly little things carried a tremendous amount of weight and I try to duplicate them in my assistant coaching role with our younger staff members.
In the final game of the 2016 CBI championship series you had a 3-PT OT win over Morehead State: what did it mean to you to win a title? Winning the CBI championship served as a springboard for not only our NCAA tournament run last season but also for the foundation of our program. When Coach Musselman first took the job in 2015 we spent the first month trying to build a blueprint for the program. We inherited a team that had won just 9 games the previous year but Coach Musselman sat down with the team and said that we were going to win 20 games in 2016. We ended up winning 24 games, including the CBI. For our first game at Nevada against Portland State we drew nearly 5,000 fans, but by the time we reached the CBI championship game against Morehead State we had nearly 10,000 fans in the Lawlor Events Center. It was unique to see our vision/goals become a reality. It also showed our program that if we played hard, competed, and won games that our community would wrap their arms around us. I am unsure that we would have made the NCAA tournament last year without the momentum that the CBI championship gave our program the year before.
In the 2017 NCAA tourney you lost to Iowa State: what did your team learn from that game that will help them this year? We learned a lot: Iowa State was a tremendous team and Coach Prohm and his staff do a great job. They were one of the hottest teams in the country at the time and have one of the best fan bases in all of college basketball. They had a lot of upperclassmen who had played on big stages including the NCAA tournament. Not a single player on our roster last year had ever played in an NCAA tournament game so it was a brand new experience for our guys. Our coaching staff felt as though nerves played a factor because we got off to a slow start where we missed some easy layups/open shots. Iowa State took advantage and was able to build a double-digit lead. Our guys fought back in the second half and were able to cut it to a 1-possession game on several occasions but could not quite get over the hump. It was evident to our guys not only how hard it is to make the NCAA tournament but also how hard it is to win a game once you get there, especially against a team that has been to the NCAA tournament multiple years in a row.
Last May you were promoted you from director of basketball operations to assistant coach: what has been the best part of the promotion? The best part of being promoted to an assistant coach is being able to actually get on the floor and coach the players. I missed being able to jump onto the practice floor and build up sweat equity with our players. However, I think that for any young coach your experience as a director of basketball operations is an invaluable experience. You spend so much time working behind the scenes and doing a lot of day-to-day stuff that is not necessarily getting recognized. In the DOBO position you quickly learn all of the little things that are needed to make a college basketball program tick. The coaching industry is constantly evolving and in order to continue to progress/move up you have to be well-versed in as many areas as you can. Therefore, I have always taken bits and pieces from my experiences at each stop of my coaching career.
You lost 3 of your top-4 scorers from last season (Marcus Marshall/Cameron Oliver/DJ Fenner): how will you try to replace all of that offense? They are all big losses for our program: DJ/Cameron were 2-year starters for us while Marcus was a 1st-team MWC player last year. We feel that our scoring will be a lot more balanced this year. We had several players sitting out last year (including Caleb Martin/Cody Martin/Kendall Stephens/Hallice Cooke), and we also added Darien Williams as a graduate transfer in addition to returning Jordan Caroline/Lindsey Drew/Josh Hall/Elijah Foster. We are deeper than we have been during the previous two years and feel as though this has the potential to be a very good offensive team. We have specific play packages for each guy and on any given night any guy can lead us in scoring.
Last year your team was 13th in the nation with 859 FTA: do you teach your players to be aggressive or are there specific techniques you work on to help them get to the line so often? We preach free throw attempts to our team and have a goal of 25+ FTA/game. Each year when we meet with the team before the season we lay out 3 offensive/3 defensive goals given our personnel, 1 of which is to lead the MWC in FTA. It is basketball: you are going to have plenty of nights where your perimeter shots are not falling as much as you would like or your guys are in shooting slumps. So by preaching to the players to be aggressive and get to the foul line, it allows them to get into a groove by earning points from the free throw line.
You have a lot of transfers on your roster: what is the key to having everyone come together and bond as a team? We do a lot of team bonding activities, including several things as a program throughout the summer/fall that are unique events. We will do team runs in Lake Tahoe that our players/staff must complete, a spin class taught by Coach Musselman's wife, a boxing class, and circuit training among other events. We also have team dinners/functions at Coach Musselman's house where the team gets to spend time together off the floor. Probably the best thing that we do for team bonding is having our guys live together in the same apartment complex.
Your non-conference schedule includes games against Rhode Island/Texas Tech/TCU: which of these games do you feel will present your biggest test? We feel that our non-conference schedule is extremely tough and each game presents its own challenges. TCU/Texas Tech/Rhode Island are all teams that are either ranked in the preseason top-25 or receiving votes. However, we feel that if we do not bring our "A" game each and every night during the non-conference slate then we could be susceptible to losing any game. Our idea behind the schedule was to put ourselves in a position where we are relevant and in the conversation for an at-large bid throughout February/March. As long as we take care of business during the non-conference part and play well during Mountain West action we should be in position to make the NCAA tournament regardless of what happens in the conference tournament.
What are your goals for the upcoming season, and what are your expectations for the upcoming season? Our goal is to make the NCAA Tournament. We feel like if we make it there and are able to win a game that anything can happen.