CLICK HERE for all of Jon's interviews, and the rest of our extensive and continuous preseason coverage
Dayton has a fascinating roster this year: they have Jon Gruden's nephew Joey, Giannis Antetokounmpo's brother Kostas, and a new head coach in Anthony Grant.  Another new wrinkle is a healthy Josh Cunningham in the lineup: the reason this is "new" is because he only played 11 games last year due to a left ankle injury and none the year before as he had to sit out after transferring from Bradley.  HoopsHD's Jon Teitel got to chat with Josh about replacing each of his top-3 scorers and how his health is doing.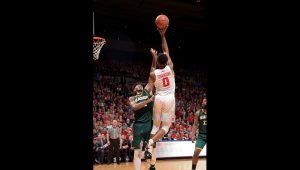 You started your college career at Bradley, where you were 2nd in the MVC with 7.5 RPG as a freshman: how were you able to come in and contribute right from the start? I knew that was 1 of the best things I had going for me so I just continued to work on that.
Why did you decide to transfer, and what made you choose the Flyers? My head coach and his staff got fired so it no longer felt like the right fit for me. I talked to my family and Dayton seemed like the only school that was serious about me coming in.
You have a new coach this year in Coach Anthony Grant: how has the transition been going over the past several months? It is going great. I did not know what to expect at 1st but as I learn more about him I think it will be a great thing.
You were selected as a co-captain prior to last year despite never having played a single game for the Flyers: what is the key to being a good leader? You need to be able to be a good teammate, get out there every day, and be a good person.
You missed more than 3 months last season due to a torn left ankle ligament: how bad was the injury, and how healthy are you at the moment? I could not even walk on it after it happened but now I feel 100%.
In the 2017 NCAA tourney you scored 2 PTS in a 6-PT loss to Wichita State: what did you learn from that game that will help you this year? We have to come out and play hard from the start. We need to play good defense and have fun out there.
Last year you lead the team with 79.2 FT%: what is your secret for making FTs? Just practicing every single day and stepping up to the line believing that you will make every single 1.
Your non-conference schedule includes games against Auburn/Mississippi State/St. Mary's: which of these games do you feel will present your biggest test? We have to go out and play every game the same.
You lost each of your top-3 scorers from last season (Charles Cooke//Kendall Pollard/Scoochie Smith): how will you try to replace all of that offense? We will play within Coach Grant's system and knock down our shots when we are open.
What are your goals for the upcoming season, and what are your expectations for the upcoming season? We want to win the A-10 title, go to the NCAA tourney, and advance as far as possible. I want to enjoy the game and give it my all.