CLICK HERE for all of Jon's interviews, and the rest of our extensive and continuous preseason coverage
It has been 7 years of near-excellence for Coach Greg McDermott at Creighton: a bit of a hiccup in 2015 but 6 other seasons with 20+ wins.  Last year's team was a tale of 2 seasons: 18-1 to start the year before an injury to Mo Watson and then 7-9 after his injury.  1 player who will be called on to help out in the backcourt this year is Ronnie Harrell Jr., who peaked at the right time with a career-high 15 PTS in the NCAA tourney last March against Rhode Island.  HoopsHD's Jon Teitel got to chat with Ronnie about his cousin Chauncey Billups and losing 4 of the top-6 scorers from last year.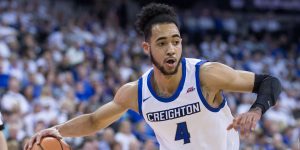 You were 5'8" as a high school freshman but grew a whopping 10" over the next 2 years: which position do you feel most comfortable at on the court? That is true: I was a pretty short dude so I grew up playing PG/SG, but I feel the most comfortable with the ball in my hands in the open court regardless of my position.
You grew up in Denver: what made you choose Creighton? I had a few offers coming out of high school and had a few visits lined up, but after coming to Creighton for my official visit in 2014 it just felt like the right fit for me. Playing with the team during open gym helped me learn their style of play: they have good people and good basketball.
You play for Coach Greg McDermott: what makes him such a great coach, and what is the most important thing that you have learned from him? His knowledge of the game: I call him our "offensive guru" because he knows which plays will work in which situations. He is like a football coach in that he often scripts our 1st couple of plays. He also taught me to be a man and take care of my responsibilities.
For people who have never been to a game at the CenturyLink Center Omaha, how would you describe the environment during a big-time Big East home game? You have to get here and see it for yourself! It is really awesome to see 17,000 diehard fans even when we went 0-8 to start our conference season in 2015. The fan base here was 1 of the factors in my college decision.
You started last season 18-1 but went 7-9 the rest of the way to finish 25-10: was Mo Watson's injury the main factor or was there something else that caused the downturn? The obvious 1 is Mo's injury: there was an adjustment period that happened to occur right in the middle of conference play.
In the 2017 NCAA tourney you scored a career-high 15 PTS in a loss to Rhode Island: what did you learn from that game that will help you this year? We did not play as well as we could have but that is no excuse. It was a good experience for the whole team because we were young and had never been to the tourney before. Next time when we have the opportunity we will have a little more of an edge because we know that every game is a dogfight. We have been practicing all offseason on being more physical.
Your non-conference schedule includes games against Northwestern/UCLA/Baylor or Wisconsin/Gonzaga/Nebraska: which of these games do you feel will present your biggest test? Every game is a test because we can play great 1 night and then come out and get smacked by someone else. We have to be ready to give our all every game, otherwise there will be a lot of ups and downs.
Your team was #2 in the nation last season with 50.4 FG% but lost 4 of its top-6 scorers (Watson/Justin Patton/Cole Huff/Zach Hanson): how will you try to replace all of that offense? This year we are a completely different team in a sense. We had a lot of good talent last year so we could do alley-oops to Justin or let Cole go 1-on-1 but now it is more of an entire team effort. Everybody on the team can shoot the ball so you can only imagine the problems it will cause a defense when we spread them out.
Your cousin Chauncey Billups was NBA Finals MVP in 2004 and you played for the Billups AAU Elite team in high school: what kind of advice has he given you about how to succeed either on/off the court? That is my guy: I do not know if I would be here had he not worked with me as a kid. He has been crucial in my development as a player and the past 2-3 years he has helped me become a man off the court and focus on my craft.
What are your goals for the upcoming season, and what are your expectations for the upcoming season? As a team I want us to win as many games as possible and go further in the NCAA tourney, but we have to focus on winning that 1st game. Personally I want to do the best job I can to contribute to all of the above, whether it is scoring 100 points or making 100 assists: I do not care about anything else.