CLICK HERE for all of Jon's interviews, and the rest of our extensive and continuous preseason coverage
Since the A-10 was kind enough to bring their media day to Washington, DC, HoopsHD decided to take the day off from work and check out all the action.  With 14 teams there is a lot to cover so we did our best.  Next up is Commissioner Bernadette McGlade who is beginning her 10th season in charge of the conference.  She has held just about every role in the sport: star rebounder at North Carolina, head coach at Georgia Tech, Final 4 Tournament Director, Selection Committee chairwoman, etc.  Jon Teitel got to chat with the Commish about being an ACC double-legend and her admiration for the chairwoman of the Commission on College Basketball.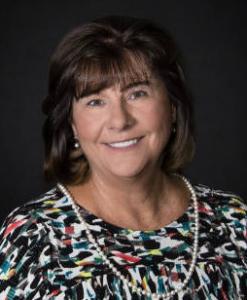 Your 1251 career REB remains #1 in UNC history: what is the secret to being a great rebounder? Get a lot of playing time!
In 1981 you were hired at Georgia Tech to be the head women's coach at age 23: did you consider your age to be an advantage or disadvantage? It was a double-edged sword: people told me that I was crazy to take the job…but would also be crazy to turn it down. I was thrown into the fire immediately.  As a recruiter I got off my 1st flight in NY and only then realized that I was not old enough to rent a car because I was not 25!
In 1993 you served as Tournament Director for the Women's Final 4: what was the best part?  We had a goal of getting an advance sellout, which has never happened at a neutral site.  People chuckled when they heard about the goal and just told us to work hard, but we sold out the week before the Final 4. I would call Ticketmaster every night to see what was available.  They said they only had 1 left in Row ZZ and I asked if there were 2 tickets together somewhere else: they said that was the only ticket left in the entire building and I bought it myself.
You were chairwoman of the Women's Basketball Selection Committee in 1999/2000: do you focus on a single most important factor (RPI/SOS/road wins/other)? I think it is a combination of factors but a team's record is also important. You should not get credit for losing even if your star player was injured. Head-to-head competition is also important, as is having an above-.500 record in conference play: we like to see if you have had success against your fellow at-large selections. While there is not just 1 thing that is most important, I am not so sure that there should be 15 factors taken into account.
In 2012 you became the first person to be named an ACC Legend as a player (UNC) and coach (Georgia Tech): many star players often turn out to be bad coaches so how were you able to succeed at both? I have had an opportunity to work with really great people. I had a great coach/teachers at UNC, and Homer Rice was a fabulous/supportive boss at Georgia Tech. The student-athletes could have chosen not to accept me because I was so young but that did not happen: it was a positive successful environment.
Several teams (GMU/VCU/Davidson) have been added to the A-10 during the past decade: what impact has realignment had on your conference? It has had a tremendous impact, especially after losing Temple/Charlotte who needed a conference that sponsored football.  We were able to add 3 schools who matched our profile and were in our geographic footprint, which has helped us remain a national conference.
Do you prefer a conference tourney that rotates cities or stays put in 1 place? I like the balance we have fallen into: 4 years in Brooklyn, then popping out to Pittsburgh/DC, but now we have the secondary excitement of returning to Brooklyn in 2019.  It helps the fan bases when we move it around: we had over $1 million in tickets sales last spring in Pittsburgh.
Your sister Agnus Berenato won her 450th career game last year: who is the best coach in the family? Of course I would have to say myself but she certainly outlasted me.  She did a fabulous job in Pittsburgh and won a WNIT title at Georgia Tech in 1992, to her credit. Last year at Kennesaw State she got a top-4 seed and made it to the Atlantic Sun semifinals.
What makes a good referee? Making good decisions.  The consistency of calls is what the players/coaches want, regardless of whether or not you call it tight.
You previously mentioned that the 1 woman in sports business who you would most like to meet is Condoleezza Rice: how do you feel about her being the Chairwoman of the NCAA's brand-new Commission on College Basketball? I think it is fabulous. She is a remarkable individual with a great breadth/depth of knowledge, both in higher education/athletics. She is quite exceptional.