CLICK HERE for all of Jon's interviews, and the rest of our extensive and continuous preseason coverage
Since the A-10 was kind enough to bring their media day to Washington, DC, HoopsHD decided to take the day off from work and check out all the action.  With 14 teams there is a lot to cover so we did our best.  Next up is Rhode Island head coach Dan Hurley, who is continuing to uphold the family name.  His father Bob Sr. was inducted into the Hall of Fame in 2010, his brother Bobby still holds the record for most AST in NCAA history, and now Dan has an Atlantic 10 conference tourney title under his belt.  Jon Teitel got to chat with Coach Hurley about winning a conference title and his thoughts on the recent college basketball scandal.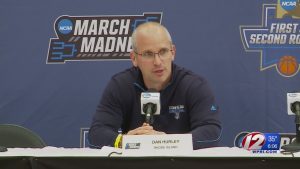 You won a national title in 1989 while playing for your dad Bob Hurley, Sr. at St. Anthony's High School: what makes him such a great coach, and what makes him such a great father? His mastery of basketball philosophy at both ends of the court and his understanding of the total game. He is obsessive in terms of his preparation/scouting: he is a master. He always tried to teach his players greater lessons at St. Anthony: basketball was a vehicle to create a better life. He now runs an afterschool program called the Hurley Foundation that has an athletic/academic component.
In the 1992 NCAA tourney as a player at Seton Hall, Terry Dehere scored 24 PTS including an 18-foot jumper with 1.8 seconds left in a 2-PT win over La Salle: where does that rank among the most clutch shots that you have ever seen? It is in the top-3 or 5 in terms of teams that I have played on. It was a super-clutch shot that allowed us to get to the Spectrum against Duke, but that is what you expect from your all-time leading scorer.
In the Sweet 16 you played 18 minutes in a loss to eventual champion Duke: what was it like facing your brother Bobby (1992 NCAA tourney MOP), and are we going to see ASU on your schedule anytime soon?! It is too far west for me to go. We would love to play each other in the NCAA tourney 1 day: that would be a super-cool moment. I was a nervous wreck playing against Duke. I was truly a backup PG and comfortable in that role but Coach PJ Carlesimo doubled my minutes that game because he felt that my presence on the court would disarm my brother. Bobby's greatest assets were his grit/intensity…but when you face your little brother it gets diffused a bit. I think I went 0-9 from the field but my brother was more affected by that game than I was. I could not sleep before the game: playing my brother, in the City of Brotherly Love, on CBS, talking to Lesley Visser, etc.
At Wagner you went 13-17 in year #1 and 25-6 in year #2, and at Rhode Island you went 8-21 in year #1 and 23-10 in year #3: what is the secret for being able to turn things around so quickly everywhere you go? When you are bad there are so many other things going on that it is hard to hear everything else around you. Now we are closer to having a sustainable program: it is a great feeling to take something from the bottom and now be picked near the top of the league. Recruiting/development have been huge for us.
As a #4-seed in the 2017 A-10 tourney you won 3 games in 3 days to clinch the title: what did it mean to you to win a title, and what was the reaction like when you got back to campus? It was an amazing reaction that started at the airport when we landed. It was a bit of a surreal thing: to go from the depths in previous years to that moment was exhilarating. When I would talk to people on campus about their most joyous moment during the past 20 years, many of them said it was our run last March from VCU to Oregon.
In the 2017 NCAA tourney you had a 3-PT loss to Oregon: what did your team learn from that game that will help them this year? We had a great end to the season and return a tremendous group of guards. There was so much excitement in March that it becomes intoxicating, so we remind them of what that felt like.
You have 5 seniors on the roster: how crucial will all of that experience be to your team's success this year? Anytime you have that type of mature/talented depth you will have high expectations.
1 of them is EC Matthews: what makes him such a great player? He had spurts throughout that year and had plenty of great moments. Guys who can score in the final seconds of a tight game against a good team are guys who can play. In the final 10 games he got his rhythm/timing back and he has had a great offseason so I expect him to be an even more efficient player. His mindset as a sophomore was to score his way into the NBA rather than pass the ball and make the right plays. He understands things so much better now and is such a different player due to his maturity.
Your non-conference schedule includes games against Seton Hall/Providence/Alabama: which of these games do you feel will present your biggest test? I think 8-9 of the 11 teams on our non-conference schedule are predicted to make the NCAA tourney so it is filled with opportunities to move the needle when it comes to Selection Sunday. The Seton Hall game will get a lot of attention due to how bad a player I was: I am sure that they will want to see if I am a better coach! We try to play an aggressive schedule because it affects recruiting but now it is about getting as many chances as we can to get an at-large bid. We were the only top-50 RPI team last year to play 3 non-conference road games.
What are your thoughts on the college basketball scandal from the previous few weeks? When you deal with young people there will always be some mistakes so we try to educate them about decision-making all the time. It was a black eye for our sport: for the 1st few days after the news came out I was almost embarrassed to be a college basketball coach. In the A-10 that is not the world we are in: the underbelly of college basketball does not exist in our league.
What are your goals for the upcoming season, and what are your expectations for the upcoming season? We are hungry like a wolf. We have never won a regular season title so we do not have an incredibly long tradition of A-10 success but we have a chance to do something that has never been done. A lot of what we talk about is preparing like a champion.