CLICK HERE for all of Jon's interviews, and the rest of our extensive and continuous preseason coverage
When we were college sophomores we were just trying to find friends who had a fake ID and summer jobs that would pay us money.  All Devontae Cacok did as a sophomore last year was set the NCAA single-season record by shooting 80 FG%.  He was not just a dunking machine: he set a conference record with 24 REB vs. Drexel last January.  He did not just succeed against lesser competition: he had a double-double in the NCAA tourney against Virginia last March.  He does not just contribute on offense: he became the 2nd UNCW player to ever be named CAA Defensive Player of the Year.  HoopsHD's Jon Teitel got to chat with Devontae about being a great rebounder and whether anyone will ever break his record.  We also wish him a belated happy 21st birthday earlier this month!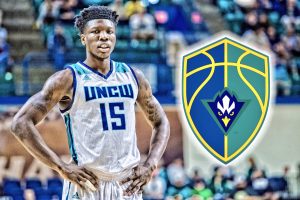 You have stated that your main reason for choosing UNC-Wilmington was former head coach Kevin Keatts: did you have any thoughts about following him to NC State after he took a new job last spring (like your former teammate CJ Bryce did)? There was a lot of emotion going on this summer and I thought about it but I felt that staying here would be the best decision for me. The current coaching staff will help me with connections after college.
Last year you led the team with 9.8 RPG and set a school record with 24 REB in a game: how are you able to grab so many REB despite only being 6'7"? If the ball is anywhere around me I will go get it. Helping give my team another possession will help us win games and I have a strong motor. I want to break the school record this year.
You finished the season by being named conference DPOY: what is the key to playing great defense? You have to be able to see the floor, know when you need to rotate, challenge every shot without fouling, and be a general presence in the paint.
You also set an NCAA single-season record with 80 FG%: how do you make so many shots, and do you think that anyone will ever break your record? I put a lot of concentration into finishing each shot so I try to have quick hands/feet. I do not think that anyone will ever break it even though records are made to be broken: if they do then I might return to college to break it again!
In the 2017 NCAA tourney you had 12 PTS/15 REB in a 5-PT loss to Virginia: how close did you come to beating the Cavaliers, and what did you learn from that game that you think will help you this year? The biggest factor was not having complete focus in the final seconds of the game. If we could have taken care of the ball then we might have won the game. We just need to stay focused the whole game and bounce back after someone makes a run against us.
You have a new coach this year in CB McGrath: how does his style so far compare to your former coach? Coach McGrath is a lot different that Coach Keatts: his system is more big-oriented due to coming from North Carolina, whereas Coach Keatts was more guard-oriented. It gives me a chance to excel in his system and I have prepared hard all summer.
1 of your biggest non-conference games this year is a trip to LSU: how will you prepare to face a team from the SEC like the Tigers? After playing a bunch of ACC teams like Virginia/Clemson/Duke we are prepared to face anyone so we will just try to treat it like a normal game…but every game is important.
In addition to CJ you lost the rest of your starting lineup from last year (Ambrose Mosley/Chris Flemmings/Denzel Ingram): how are you going to try to replace all of their offense/experience? We will need a lot of guys to step up this year to replace those 4 starters. Everyone has to fill their role and accept that challenge.
You turned 21 earlier this month: how was the big day? I actually went home for it.
What are your goals for the upcoming season, and what are your expectations for the upcoming season? My goal is to be more efficient on the court, not foul as much, and make some smarter decisions. We want to win another conference title, make it back to the NCAA tourney, and then make a run after falling short the past couple of years.  We just need to learn from our mistakes.