CLICK HERE for all of Jon's interviews, and the rest of our extensive and continuous preseason coverage
No pressure at all for new UNC-Wilmington coach CB McGrath: he just has to replace a coach who has won each of the past 3 CAA regular season championships (Kevin Keatts) while bringing in the high expectations of having been a player/assistant for another coach who has won 3 NCAA titles in the past 13 years (Roy Williams).  Hired last April, he inherits a team who only has 1 returning starter in Devontae Cacok as he prepares to become the next branch on the Roy Williams D-1 coaching tree that includes guys like King Rice (Monmouth), Kevin Stallings (Pitt), and Mark Turgeon (Maryland). HoopsHD's Jon Teitel got to chat with Coach McGrath about playing for Coach Williams and winning NCAA titles.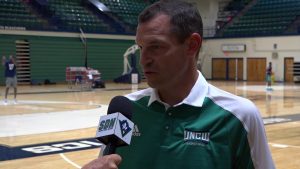 You played PG for Coach Roy Williams at Kansas and were team captain in 1998: what is the key to being a good PG, and what is the key to being a good leader? I have always been a PG so I always had that mentality to be a leader, whether that is right or wrong. It is important to lead by example, which requires the respect of your teammates via hard work and the relationships you build. Some people are born leaders and some are not.
You went 58-0 at home during your career as a Jayhawk: how do you explain the environment at Phog Allen Fieldhouse to someone who has never been there? It is hard to explain: it is just a great venue where everyone is cheering for the team to win. We won some close games because of it: even if we did not have our best day they would get us going.
You have had approximately 20 family members attend Kansas: is everyone dying for you to put Bill Self on your schedule ASAP?! Most of them do not live there any more because they moved away after college but my parents are still there. I think at some point I would like that to happen…but I do not want to overload us right now.
You won 3 NCAA titles as an assistant to Williams at UNC: what makes him such a great coach, and what does it take to win a title? It takes a lot of things to win a title: health, talent, a great coach, etc. Winning is definitely not as easy as people think it is. Coach is great because he cares so much about his players and they work hard for him in return. He teaches everyone to be invested in all of the rewards that come their way.
In April you were hired as head coach at UNC-Wilmington: why did you take the job, and how does your approach change when you are taking over a 2-time-defending NCAA tourney team rather than a last-place loser? I took the job because I wanted it.  I have been looking at some head coaching jobs the past few years and was able to have some selectivity because I already had a good job at UNC. A winning mentality is hard to create but Wilmington has a lot of things going for it. It is easier to take over a good team but we lost a lot of starters from last year.
Your wife Kris played tennis at Kansas and was Big 12 POY: who is the best athlete in the family? She is, for sure. My kids are getting older so they might surpass her at some point, but she still plays tennis.
You have a few former Tar Heels on your staff including assistant coaches Jackie Manuel/Joe Wolf: how strong is the bond among all the former players? It is a family and that is not just lip service. It was important to me to have someone who played there because that is how I want to run our program: they know what I am about, the terminology, etc. I have enjoyed them on the staff and they have all done a great job.
1 of your biggest non-conference games this year is a trip to LSU: how will you prepare to face a team from the SEC like the Tigers? You put a game plan together for every game and just try to execute it to the best of your ability. Some people have more talent and you might have to do different things but there is no difference in preparing to try to win every game.
Your team only has 1 returning starter in Devontae Cacok after CJ Bryce followed Coach Kevin Keatts to NC State and the rest of your starting lineup graduated (Ambrose Mosley/Chris Flemmings/Denzel Ingram): what makes Cacok such a great player, and how are you going to try to replace all of that offense/experience? Devontae is a hard worker and an explosive athlete: he has a lot more touch/skill than even he knows he has. We lost a lot of scoring but we have guys who want bigger roles and we will get the most efficient scoring we can.
What are your goals for the upcoming season, and what are your expectations for the upcoming season? I just want us to work hard every day to get better every day. If so, we will be a tough team to beat by the end of the season. I expect them to do that but I can live with whatever record we have: it is about the whole method and everyone supporting each other.