CLICK HERE for all of Jon's interviews, and the rest of our extensive and continuous preseason coverage
Kentucky has a rich basketball tradition: the Wildcats and Cardinals have each won multiple NCAA titles, Western Kentucky made the Final 4 in 1971, and Murray State has made the NCAA tourney 13 times in the past 30 years.  The new kid on the block is Northern Kentucky: they only joined D-1 in 2012 and proceeded to have 4 straight losing seasons, but last year the Norse galloped to a 24-win season including a single-digit loss to Big Blue in the NCAA tourney.  The key in March was G Lavone Holland II (from Ballard High School in Louisville): a game-high 20 PTS against Milwaukee to clinch the title and be named Horizon League tourney MVP, followed by a game-high 22 points in a 9-PT loss to Kentucky.  HoopsHD's Jon Teitel got to chat with Lavone about winning a title and returning 8 of his team's top-9 scorers.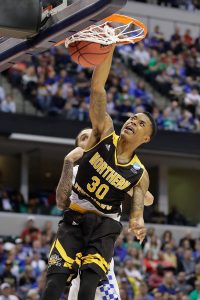 You grew up in Louisville: what made you choose Northern Kentucky? When I came out of junior college NKU was my only offer and it felt like home.
You play for Coach John Brannen: what makes him such a good coach, and what is the most important thing that you have learned from him? His work ethic and being a pitbull. I have also learned that it is important to have trust if you want success.
Last December you scored a career-high 28 PTS/6-10 3PM in a win over Eastern Illinois: was it just 1 of those scenarios where every shot you put up seemed to go in because you were "in the zone"? I just felt prepared because I had put in the work to succeed. When I mixed that in with my confidence, it was the formula for a great game.
You finished the season in the top-5 in the conference in AST/STL: how are you able to balance your passing with your defense? It is one of those things that I have to do when I am on the court…otherwise I will see less minutes.
In the 2017 Horizon tourney title game you scored a game-high 20 PTS in a 6-PT win over Milwaukee en route to being named conference tourney MVP: what did it mean to you to win the title, and how were you able to play your best when it mattered the most? To win the title was a very special thing, especially when I look back on it now. For me to play my best when it mattered the most was due to everyone in the organization believing in me and Coach Brannen giving us freedom on the offensive end.
In the 2017 NCAA tourney (the 1st appearance in school history) you scored a game-high 22 PTS in a 9-PT loss to #2-seed Kentucky: which of their guys do you think is going to become the best NBA player (Bam Adebayo/De'Aaron Fox/Malik Monk/other)? I am not really sure who will become the best NBA star and I do not think my opinion makes a difference, but I do wish them all the best of luck.
Your non-conference schedule includes games against Memphis/Texas A&M: which of these games do you feel will present your biggest test? I am not really familiar with either team's roster yet but will be better prepared once we get closer to those games and start receiving scouting reports.
You are 1 of 3 seniors on the roster: how much pressure is there on you to be a leader this season? Not much at all: I feel it is a role that I fall into naturally. Being one of three allows me to split the role with a few other guys so I think that it is going to be a breeze.
You return 8 of your top-9 scorers from last season: how crucial will all of that experience be to your team's success? It will be very crucial. That experience mixed with our talent is a great recipe both for a great season and to build up our dynasty.
What are your goals for the upcoming season, and what are your expectations for the upcoming season? To win the Horizon League regular-season title, make it to the Sweet 16, and go undefeated at home for the amazing crowd that I know we are going to have this year!