CLICK HERE for all of Jon's interviews, and the rest of our extensive and continuous preseason coverage
Bob Marlin begins his 25th year as a head coach next month and is only 24 wins away from 500 for his career.  After winning his last 6 regular season games last season and beating Little Rock in the Sun Belt tourney before losing to Georgia State, then only losing 1 senior of note during the summer, you can expect the Cajundome to be rocking for the home opener on 11/14 against Louisiana College.  HoopsHD's Jon Teitel got to chat with Coach Marlin about winning a national title and having a high-scoring offense.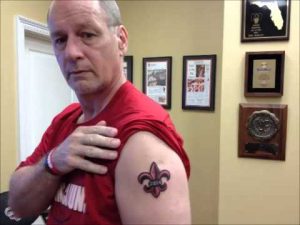 You spent the 1989-90 season as an assistant to Dana Altman at Marshall: how happy were you to see him finally make the Final 4 last spring with Oregon? We were there 1 year and I know that he has been close a couple of times so I was glad they got in this time. He has done a really good job everywhere he has been.
In the 1993 NJCAA title game as head coach at Pensacola JC you had a 5-PT win over Butler CC: what did it mean to you to win a title? It was very rewarding and I am certainly proud of our guys. 9 of our 13 players were from the state of Florida and it was an exciting time for our college.
You were also named national JC COY: what did it mean to you to receive such an outstanding honor? It means that you have good players! We achieved our goal that we were striving for and had 2 great games to finish it. It was like a home game for Butler. It also helped that I had the national POY in Paul O'Liney.
You later spent 12 years as coach at Sam Houston State, where you broke the school record for career wins: do you think that anyone will ever break your record? I am sure that it will be broken at some point in time. 1 of my assistants (current head coach Jason Hooten) replaced me and if he stays there he will get it eventually.
In the 2014 Sun Belt tourney title game as coach at Louisiana-Lafayette, Xavian Rimmer scored 27 PTS (7-12 3PM) in a 1-PT OT win over Georgia State: how were you able to overcome a 10-PT deficit with less than 5 minutes to play in regulation against a team that had won 22 of its past 23 games? 1 of their guards who transferred from NC State (Ryan Harrow) was scoring at will and we just could not stop him. With 5 minutes to go we switched to zone, which was the best thing that could have happened. We had a great player in Elfrid Payton who made some key plays for us down the stretch: it was an exciting time for us.
Last year you won 21 games (including a pair of 7-game winning streaks against D-1 competition) but did not play in any postseason tournament: did you consider the season to be a success (due to all the wins) or a failure (due to not making the postseason) or other? We overachieved after losing the 2016 conferene POY in Shawn Long. We struggled defensively in the middle of conference play but I was really proud that we finished strong. We got a CIT bid but declined it due to injuries: we only had about 7 healthy guys left on the team. Making the postseason does not matter to me: it was an option but it is about the students first.
Your team's 81.9 PPG was top-20 in the nation: what sort of philosophy do you have on the offensive end? All my teams have always played fast. We play outside the box and put our players in positions to be successful. I believe this was the 5th year in a row that we led the league in scoring.
You lost your leading scorer from last year (Jay Wright) but return each of the next top-7 scorers on the roster: how crucial do you think all of that experience will be to your team's success this season? It should be very instrumental in our depth. Last year we had 2 players who made heavy contributions as freshmen (Justin Miller/PJ Hardy). We added a really good high school player in Cedric Russell as well as 3 guys who sat out last year as high-major transfers.
Your non-conference schedule includes games against Mississippi/Iowa/Clemson: which of these games do you feel will present your biggest test? Probably the game in Ruston against Louisiana Tech because it is our oldest rivalry. We did not play them for a couple of years and then Mike White agreed to play us (before being hired at Florida in 2015). Coach Eric Konkol does a good job and it will be a tough game.
What are your goals for the upcoming season, and what are your expectations for the upcoming season? We expect to win our home games: we have won at least 12 games in the Cajundome for the last several years. We want to win the conference tourney, make it to the NCAA tourney, and then advance. There are usually only a couple of games that make the difference between the 1 and 8 spot in the league so it should be very competitive again this year.