CLICK HERE for all of Jon's interviews, and the rest of our extensive and continuous preseason coverage
We like to cover the entire country from A-Z…and thanks to players like Zaynah Robinson we can actually do the whole alphabet!  After playing in 33 games as a freshman, he was #4 in the conference with 39.5 3P% as a sophomore, and made the MEAC All-Tournament Team last spring after leading the Spartans to the championship game.  If you like PGs who lead their conference in SPG (1.6) and AST-TO ratio (2.7), then this is your man.  HoopsHD's Jon Teitel got to chat with Zaynah about being 5'11" and the key to winning in the postseason.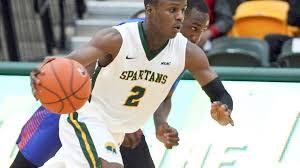 You are 5'11": do you view your size as an advantage or disadvantage on the court? I am a positive thinker so of course I see it as an advantage. What I lack in height I make up for in speed/quickness.
You play for Coach Robert Jones: what makes him such a good coach, and what is the most important thing that you have learned from him? I have learned about attention to detail: it is vital not only in basketball but in life. I like that he puts us in positions to win.
You played in 33 games as a freshman: how were you able to come in and contribute right from the start? I just understood my role and did whatever the team needed me to do. I had to raise my mental capacity to a new level and my teammates helped me do that.
Last year you started 4-13 before winning 10 in a row: what happened in January that allowed your team to turn things completely around? Our focus changed. We had a relatively new team with a lot of guys who did not know what it took to win but after getting punched in the mouth a few times the switch finally clicked.
You finished the year by leading the MEAC in STL and AST-TO ratio: what is the key to being a good PG? You have to understand your role as a leader.  You cannot take even 1 single play off and have to be the most alert player on the floor.
Your scoring increased from 6.2 PPG as a sophomore to 13.5 as a junior, but your 3-PT/FT% decreased a little bit from the previous year: do you think that is due to playing more minutes, or having defenses focused more on stopping you, or other? I think fatigue had a little to do with it, as well as adjusting to a new role and carrying a bigger load.
You have won at least 1 conference tourney game in each of the past 3 years and then lost in the 1st round of the CIT on the road every single time: what is the key to winning games in the postseason? The key is to compete to your full potential. I think that not being in the NCAA tourney stopped us from giving a full effort, which is what it takes to be successful.
1 of your biggest non-conference games this year is a trip to Auburn: how will you prepare to face a team from the SEC like the Tigers? I do not get into all of that: it is just another conference so we will prepare to give our best effort.
You are 1 of several seniors on the roster: how crucial will all of that experience be to your team's success this year? It will be very crucial. In college basketball a lot of teams base their success on having talented freshmen, but I think talent mixed with experience is usually better.
What are your goals for the upcoming season, and what are your expectations for the upcoming season? Championship: everything else will come from that.