CLICK HERE for all of Jon's interviews, and the rest of our extensive and continuous preseason coverage
Let's flashback to March of 2006: Mike Dunleavy Sr. was the head coach of the Clippers and just a couple of months away from making the Western Conference Semifinals; his son Mike Jr. was a few months into his new 5-year/$44 million contract extension with the Warriors, and his other son Baker was trying to help his Villanova teammates Randy Foye/Kyle Lowry beat the eventual champion Florida Gators in the NCAA tourney. Fast forward to the fall of 2017: Mike Sr. is preparing to begin his 2nd year as head coach at Tulane, Mike Jr. has a 15-year NBA career under his belt, and Baker is bringing his 2016 national championship ring as a Villanova assistant to his new job as head coach at Quinnipiac.  HoopsHD's Jon Teitel got to chat with Coach Dunleavy about winning a title in 2016 and getting a new job in 2017.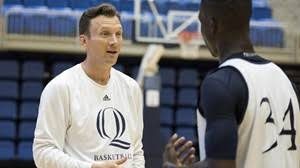 You played for Coach Jay Wright at Villanova: how good a player were you back in the day, and why did you go work for Merrill Lynch before returning a few years later to work for your old coach? I was a mid-major player who wanted to experience basketball at the highest level. I probably overestimated my own talent but loved everything about Villanova even though I did not play a lot. I did not grow up dreaming of coaching so I used my finance major to work on Wall Street, but coaching has become my dream.
Take me through the magical 2016 NCAA postseason as an assistant at your alma mater:
You had a 2-PT loss to Seton Hall in the Big East tourney title game: did you view the loss as a good thing (to help re-focus your team) or a bad thing (team starts to doubt itself at the most important time of the year)? You think you know at the time but you never know for sure: it depends on your leadership. It sharpened that group and we did not go into the tank. There was a coach (whose name I will not share) who texted Coach Wright after the loss and said that we would go on a big run in March. We were really crushed after the loss but were able to keep on playing.
In the NCAA tourney title game Kris Jenkins scored 14 PTS including a 3-PT shot at the buzzer in a 3-PT win over UNC: did you think the shot was going in, and what did it mean to you to win a title? At first I just felt proud that we could execute that play after North Carolina's Marcus Paige made his own 3-PT shot in the final seconds. Anytime Kris takes a shot you think that it is going in! It was great but I was way more happy for other people like Coach Wright: I wanted that title for my guy to validate everything that he was doing. Our senior class had never been beyond the Round of 32 before so I also wanted it for them.
In March you were hired as head coach at Quinnipiac: why did you take the job, and how is it going so far? Every coach has certain criteria of what kind of job is attractive, and Quinnipiac presented an opportunity to mirror something very similar to what we had at Villanova. In the MAAC, I think this school should be really competitive considering the resources we have at hand and I am really comfortable recruiting this area. Your roster is kind of in flux for about 6 weeks and then you teach your guys about who we are trying to be and how we work. It is everything I hoped it would be so far.
Your father Mike Sr. played 10 years in the NBA/coached 4 NBA teams/is the current Tulane coach: how much of an influence was he on your own decision to become a coach, and will we see the Green Wave on your schedule anytime soon? He was a huge influence on my love of basketball. I got to go to his practices when I was young and it was like 1 big clinic. I learned the importance of hard work/organization/preparation: my values come from him. We are not going to play them because I personally do not need that family drama(!), but we might end up in the same preseason event next year…and he will probably be right behind our bench coaching over me.
Your wife Chrissi is the sister of Delaware coach Martin Ingelsby: what kind of a relationship do you have with your brother-in-law, and dare I ask who you wife would root for if you ever play the Blue Hens?! That 1 is easy…because she knows who pays the bills! Martin has become 1 of my best friends and a close confidant so I have relied on him for advice.
Your non-conference schedule includes games against Colorado/Wake Forest: which of these games do you feel will present your biggest test? Those 2 are high-major teams but I am more focused on our guys at the moment. Coach Tad Boyle is someone who I have watched from afar and I think that he is 1 of the most underrated coaches in the country.
Your team only returns 1 of its top-6 scorers from last season (Chaise Daniels): how will you try to replace all of that offense? Chaise was not really a go-to guy last year but we will rely on him to play inside-out. We need to let our guys play to their individual strengths while also playing together as a team. It starts with defense/rebounding and hopefully we will get better and better on offense.
The Bobcats allowed 83.3 PPG last year (bottom-10 in the nation) while your Wildcats only allowed 62.7 PPG (top-20 in the nation): how do you teach a bad defensive team to play great defense? If you go by numbers they were not an elite defensive team. They were very young last year so I think it starts with your mentality: not a lot of great defensive teams have success via young guards. We will teach them fundamentals and make sure they buy into what we are teaching, and then we will just keep working at it every day. We cannot be a great defense right away but the theme is to see how good we can be by the end of the year.
Your brother Mike Jr. won an NCAA title at Duke in 2001 and has spent the past 15 years in the NBA: who is the best athlete in the family? Based on accomplishments my dad might have a gripe but it is clearly Mike. I think that I am a better golfer but Mike was a good athlete in many different sports growing up and I am really proud of what he has been able to do.
What are your goals for the upcoming season, and what are your expectations for the upcoming season? At the risk of sounding really cliched, the goal is slow/incremental progress and hoping that we can have some breakthroughs by the end of the year. We need a positive mindset to go through some growing pains and just see where we are in February. At Villanova when you are the 3-time Big East champs you can set a goal of winning a conference title, but we want to just be the best Quinnipiac team we can be.