CLICK HERE for all of Jon's interviews, and the rest of our extensive and continuous preseason coverage
Steve Forbes is having a pretty good decade: he made the Elite 8 in 2010 as an assistant to Bruce Pearl at Tennessee, went 62-6 in 2 years as head coach at Northwest Florida State, won 35 straight games as an assistant to Gregg Marshall at Wichita State in 2014, and has won 51 games during the past 2 seasons as head coach at East Tennessee State.  After losing last year's regular season finale at UNC Greensboro, the Buccaneers bounced back to win 3 games in 3 days to clinch the SoCon tourney title before losing to Florida in the NCAA tourney.  HoopsHD's Jon Teitel got to chat with Coach Forbes about winning games in OT and having a bunch of seniors on the roster this season.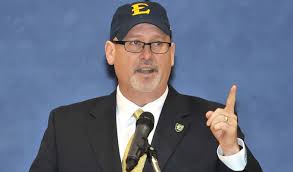 You played baseball at Southern Arkansas: how did you get into basketball coaching? I went to a small high school where I played 4 sports. I played baseball/basketball during my 1st 3 years of college but basketball was always my passion. My baseball experience helped me get my 1st coaching job.
In the 2006 NCAA tourney as an assistant to Billy Gillispie at Texas A&M, Darrel Mitchell scored 16 PTS including a long 3-PT shot with 3.9 seconds left in a 1-PT win by LSU: did you think that the shot was going in, and where does that rank among the most devastating losses of your career? It is by far the hardest loss of my career. We were really playing well and had great chemistry. We were so good defensively that I never thought LSU would be able to have a player make that shot over our 6'10" defender.
In February of 2008 as an assistant to Bruce Pearl at Tennessee you had a 4-PT win at Memphis that resulted in you rising to the top of the AP poll: what does it feel like to be on a team who is ranked #1 in the nation? That was the greatest game that I have ever been a part of. It was a very hostile environment: it was probably as close as you can get to a Final 4 game in the regular season. Unfortunately, we were only #1 for about 48 hours until we lost to Vanderbilt.
In 2014 as an assistant to Gregg Marshall at Wichita State your team won 35 straight games before losing to Kentucky in the NCAA tourney: are there any key factors that separate a good team from a great team? That was by far the best team I have ever been a part of. They play to a standard of being excellent rather than to the level of their competition. We had to survive every team's best shot: you need incredible purpose/desire to win. Coach Marshall held them accountable from day 1 through the very last day.
After being hired at East Tennessee State in March of 2015 you won 24 games in year 1 and 27 games in year 2: how were you able to come in and be so successful right from the start? I had great teachers in all of the guys you mentioned above. I came to a place that really cared about basketball and really wanted to win: the administration has been very supportive. We flipped the roster and were able to have a lot of success.
You have played 5 OT games during your time in Johnson City and are 5-0: what is the key to winning games in OT? Having great players! I have guys who are not afraid to take/make the last-second shots. You have to inspire confidence in your players so they believe we can win. Samford made a shot at the end of regulation last January but we stayed together and found a way to win in double-OT due to our resolve.
In the 2017 NCAA tourney you lost to Florida: what did your team learn from that game that will help them this year? You have to play really well on the big stage. We had too many live-ball turnovers that led to easy baskets. You have to play your best when you reach that day but Florida gets all the credit.
Your non-conference schedule includes road games at Kentucky/Xavier: which of these games do you feel will present your biggest test? Both of those schools have incredible programs with a great history. We have to get a couple of guarantee games each year and I am pleased that they agreed to play us. It will be good for us to see where we are at. We also have some strong mid-major teams like Northern Kentucky/Troy/Fordham: I want to play the toughest schedule I can.
You have 8 seniors on the roster this year: how crucial will all of that experience be to your team's success? I think we only have 5-6 but it is crucial every year. I try to stay old/athletic because the veteran players can provide tremendous leadership for the younger guys. We have also had graduate transfers play very well for us in the past.
What are your goals for the upcoming season, and what are your expectations for the upcoming season? Our expectations are always the same: a winning record in non-conference play, win the conference tourney, and then try to have a meaningful game in March.