CLICK HERE for all of Jon's interviews, and the rest of our extensive and continuous preseason coverage
ASU just might have the most interesting backcourt in the world this season despite missing 2 key pieces from last year in Torian Graham (signed by the Utah Jazz earlier this month) and Sam Cunliffe (transferred to Kansas).  The Sun Devils return a pair of 15+ PPG scorers in Tra Holder/Shannon Evans and even bring in a freshman named after a brand of cognac (Remy Martin!).  However, the X-factor that might take them to the next level is SR G Kodi Justice, a local product from Dobson High School.  He had to play out of position at times last year while guarding big men in the post…but when you have a career 41.4 3P% you definitely belong behind the arc on offense.  HoopsHD's Jon Teitel got to chat with Kodi about being a great 3-PT shooter as well as a youth basketball referee.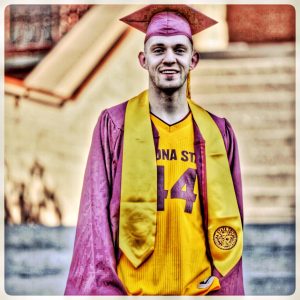 You play for Coach Bobby Hurley: what makes him such a good coach, and what is the most important thing that you have learned from him? He pushes us every single day to be the best we can be and lets us be the players that we are. If you are on the same page as him on the defensive end then he will give you freedom on the offensive end.
Last February you you scored a career-high 22 PTS/6-9 3PM in a win over USC: was it just 1 of those scenarios where every shot you put up seemed to go in because you were "in the zone"? You could say that but it was more about my teammates finding me in good positions. We had other good players so I was left open quite a few times.
You have shot at least 40 3P% during each of your 1st 3 years in Tempe: what is the key to making shots from behind the arc? Repetition: just being able to get into the gym before/after practice. You need to get in the right position because open shots are easier than contested shots.
After only starting 10 games during your 1st 2 years you started 26 games as a junior: what is the biggest difference between being a starter vs. coming off the bench? I broke my foot as a freshman but always felt like I was a starter so I never worried about playing a certain role: I just helped the team as best I could.
You are 1 of 4 seniors on the roster: how much pressure is there on you to be a leader this year? I have always been a leader: that is just who I am so I do not feel any pressure.
You also have several transfers on the roster including Carlton Bragg/Zylan Cheatham/Rob Edwards: how do you incorporate the new guys into the team so that everyone is on the same page? That is always a difficult transition when you only have 3-4 returnees but when they are hungry to get better it makes the job really easy.
There were 3 Pac-12 teams last year who won 30+ games (Arizona/Oregon/UCLA): how do you think the conference stacks up among the best in the nation? We played really well in Eugene before losing on a last-second shot, but we try to prepare to beat every single game regardless of who we are playing.
Your non-conference schedule includes games against Kansas State/Xavier/St. John's/Kansas/Vanderbilt: which of these games do you feel will present your biggest test? Being on the road at Kansas will obviously be difficult but our 1st couple of road games will also be tough because we are so young.
In your free time you work as a youth basketball referee: does that give you more of an appreciation for the hard work that refs do or less of a tolerance for refs who make bad calls or other? It is cool to see that point of view.  I have learned how hard it is and what they have to go through so it gives me some appreciation for what they do.  Most refs you either love/hate based on the calls that they have to make.
What are your goals for the upcoming season, and what are your expectations for the upcoming season? Every player wants to make the NCAA tourney and be successful but right now we just need to pick up concepts and come together as a unit. We are taking it step-by-step and will stay focused on the short-term.