CLICK HERE for all of Jon's interviews, and the rest of our extensive and continuous preseason coverage
Tic Price has had a winning record at every school he has coached at in the past: 62-27 at New Orleans, 30-27 at Memphis, and 74-69 at McNeese State.  He is currently 46-53 as he begins his 4th full season at Lamar, but after leading the Cardinals last year to their 1st postseason berth since 2012 he has a good shot of getting back over .500 by the time this season comes to an end.  HoopsHD's Jon Teitel got to chat with Coach Price about last year's turnaround season and dealing with Hurricane Harvey.  We also wish him a happy early birthday a few weeks in advance!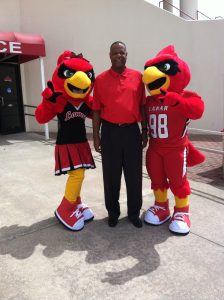 I read that you got your nickname "Tic" from an elementary school coach who called you "Tic-Toc" due to your clutch shooting: is that true, and how do you like it? It is true: I threw up a prayer in 3rd or 4th grade that went in and the nickname has followed me all my life.
You played basketball at VCU/Virginia Tech: how good a player were you back in the day, and how did you get into coaching? The older I get the better I was! After finishing up at Virginia Tech a position became open at Roanoke College as an assistant. I told him the head coach there that I had to be the top assistant if I took the job and he told me I would be…because I was his only assistant!
You were hired as an assistant to Tommy Joe Eagles at New Orleans in 1994 but took over the head job after he died of a heart attack during a recruiting trip that summer: how on earth were you able to coach the team to 20 wins without the whole season simply falling apart? I had a group of guys who dedicated their work ethic to having a special year. We were all in shock at 1st and I did not really care about coaching, but the athletic director called me into his office and told me he wanted me to be the interim coach. I called my parents to get their input and my mom said that I was not a bandaid but rather a surgeon.
In the 1996 Sun Belt tourney title game Tyrone Garris drove the lane and made a tear drop at the buzzer in a 1-PT win over Arkansas-Little Rock: how did you draw up the final play, and where does that rank among the most clutch shots that you have ever seen? I had just seen another team run that play right before the tourney and planned to put it in during practice as a new wrinkle but never did so. I drew it up right there on the sideline, we ran it, and the guys executed the play to perfection and made me look like a genius. Tyrone was a special player.
After going 11-19 as head coach at Lamar in 2016 you went 19-15 last year: how were you able to improve so much from 1 year to the next? Good chemistry: you need to get guys who buy into what you are trying to teach. We were more willing to defend and execute offensively. We stayed the course and did not have any distractions/injuries.
In the 2017 CIT you had a 10-PT loss to Texas State: what did your team learn from that game that will help them this year? They learned that you cannot play with disappointment. We were coming off of a tough loss in the Sun Belt tourney to Stephen F. Austin and I think that we were not as focused as we should have been. Being on the road did not help us get in sync either.
You beat Oregon State on the road last season but do not appear to have any high-major teams on this year's schedule: what sort of philosophy do you have when it comes to scheduling? When you are building a program you have to be really careful about how/who you schedule, the number of returning players you have, the travel time involved in getting to a road game, etc. There is a lot of investigative work to be done so we have to be cautious as we get back to respectability. We will probably have to play more teams like the Beavers in the future to get us ready for conference play but it is hard to win on the road.
You have 6 seniors on the roster: how crucial will all of that experience be to your team's success this year? They have only played together for 2 years (not 4) so some people misread that as championship experience, which is not in our DNA. We need to sustain our effort/concentration to show the younger guys what it takes to be prepared. It helps to have a team that has been battle-tested.
Your campus is less than 100 miles from Houston: how bad was it hit by Hurricane Harvey, and how is everyone doing at the moment? We got hit pretty good in Beaumont and there are some areas where people lost everything so it might take a while to rebuild while others just might not come back. We are back to business and willing to help all those in need. Everyone is reaching out to help their fellow man: we have people who are trying to bring some joy to those who lost everything.
What are your goals for the upcoming season, and what are your expectations for the upcoming season? We want to win a championship just like everyone else. Everyone starts at the bottom of the mountain and it is a grind but the NCAA tourney is where we want to be. We need to play with some physicality, which is key.