CLICK HERE for all of Jon's interviews, and the rest of our extensive and continuous preseason coverage
Coach Brian Jones entered the national spotlight after making the NCAA tourney last March but he has held a special place in our hearts since winning the wildest conference tourney ever.  The 2011 Great West Conference tournament only featured 6 games but they were decided by a combined 11 PTS including a title game won by the Fighting Sioux on a 3-PT shot with 4 seconds left in double-OT.  HoopsHD's Jon Teitel got to chat with Coach Jones about that amazing tourney and being named conference COY.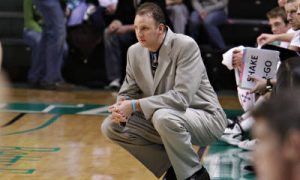 You played basketball at Northern Iowa: how good a player were you back in the day, and how did you get into coaching? I thought that I was a pretty good player who had a solid career. I was a stretch-4 and had a high IQ and after college I played pro overseas for a few years and saw the world, which was instrumental to my future. The season in Australia was opposite of the 1 in the US so I was able to come back to the states and coach high school. I broke my hand in Portugal, got a job at a D-2 school, and have never looked back.
In the 1999 NCAA tourney as an assistant to Steve Alford at #12-seed Southwest Missouri State you held Wisconsin to 32 PTS and then beat Tennessee by 30 PTS: it is 1 thing to be a Cinderella, but how were you able to dominate a pair of high-major teams? Our team was very talented with great guard play as well as a great post player. We were fearless: we upset Missouri on the road and lost the conference title on a corner bank 3 against Evansville. We were familiar with Coach Dick Bennett's style of play and matched up well with them.  I do not know if the Tennessee players respected us. We also played well against Duke in the Meadowlands.
In the 2006 NCAA tourney as an assistant to Alford at #3-seed Iowa, Jermaine Wallace made a baseline turnaround 3-PT shot while falling out of bounds in the final second of a 1-PT upset by Northwestern State: did you think the shot was going in, and where does that rank among the most devastating losses of your career? That was very heartbreaking because it was the best team we had at Iowa from top to bottom and we felt good after winning the Big 10 tourney title. They subbed in 5 guys at a time and pressed us, plus we missed a lot of FTs down the stretch. That is why I love March Madness because of those exact scenarios: there is so much excitement.
You were hired as head coach of North Dakota in 2006: how hard was the transition from the North Central Conference to the Great West Conference in 2008 to the Big Sky Conference in 2012? I got hired late in the spring of 2006 and took over a program that had a lot of Iowa flavor so I was excited to run a program of my own. The draw for me was transitioning to D-1 but many times it can be a career-killer. Winning the Great West twice was great and then building our product across the Midwest was also great. It was a hard journey but it has made us better coaches: we stay in our lane!
In the 2011 Great West tourney you had a 1-PT 2-OT win over South Dakota to clinch the title: what are your memories of 1 of the wildest conference tourneys ever (all 6 games were decided by a grand total of 11 PTS)? When you are a 1-bid league everyone is just trying to find their way. I remember looking back and wondering how we won each game. South Dakota is a rival of ours and it went back and forth in the title game. We fouled a guy at the end of regulation and he made a 3, and then we made a shot at the end of OT to win it: I still have that photo on my office wall. I am such a fan of the CBI/CIT because it is important to the kids/coaches even if they do not get a lot of attendance at the games.
Last year you were named Big Sky COY: what did it mean to you to receive such an outstanding honor? It was extremely humbling but I feel that if you win the league then the team will get all of the awards. It was just the icing on the cake for us and I take a lot of pride in the fact that our peers recognized the season that we had.
You made the CIT 5 times in 6 years from 2011-2016: how nice was it to finally make it to the NCAA tourney in 2017 after a 4-PT OT win over Weber State in the Big Sky tourney title game? We were the CIT poster child for a while, which is not a bad thing due to the pride factor. We have had some tough times but never strayed from the right way to go about things. Quinton Hooker carried the load for us on the floor, in the classroom, and in the community. He showed the young guys how to prepare themselves to perform. I still watch tape of the Weber State game, which was remarkable.
In the 2017 NCAA tourney you lost to Arizona: what did your team learn from that game that will help them this year? We played our way and did not try to smoke-and-mirror it up. Their length was unbelievable but we scored a bunch of points within our system. At the end of the day their athleticism is what we struggled with and it wore us down.
Your non-conference schedule includes games against Nebraska/Creighton/Gonzaga: which of these games do you feel will present your biggest test? I am a big proponent of taking my team on the road to face programs that I respect. I have known Gregg McDermott since I was 18 and Coach Miles has a North Dakota background. Our guys will always remember the Gonzaga game many years down the road because they will show up whether it is against us or UCLA. I just hope we will be fearless like we were against Arizona.
What are your goals for the upcoming season, and what are your expectations for the upcoming season? As we continue on our journey we just want to sustain success year in and year out (like Gonzaga does). We will be relentless with our effort/chemistry both on and off the floor. I do not think coaches spend enough time on the culture side of things: talent is important but you still have to bring everything together.