CLICK HERE for all of Jon's interviews, and the rest of our extensive and continuous preseason coverage
We are great fans of GCU but realize that even though Dan Majerle is currently running the show it was Russ Pennell who 1st helped get the Lopes going.  After making the Sweet 16 as head coach at Arizona in 2009, Pennell traveled a couple of hours north up I-10 from Tucson to Phoenix and had 4 straight winning seasons at Grand Canyon from 2010-2013, then took the Phoenix Mercury to the Western Conference Finals that final summer.  It has been slow-going after he was hired at Central Arkansas in 2014 but we have faith in him.  HoopsHD's Jon Teitel got to chat with Coach Pennell about 1 of the most famous shots in NCAA tourney history and getting to coach his alma mater.  We also with him a happy early birthday a few weeks in advance!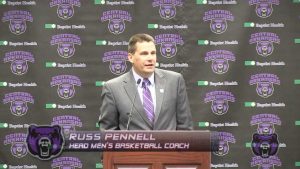 You played basketball at Arkansas/were an assistant at Oklahoma State to Eddie Sutton and were an assistant to Lute Olson at Arizona: what was it like to learn the game from these Hall of Famers? It was an unbelievable opportunity that helped me immensely. In many respects they revolutionizd the game: Henry Iba, the father of motion offense, was Coach Sutton's college coach at Oklahoma A&M, and Coach Olson put Arizona on the map.
In the 1991 NCAA tourney as an assistant at Oklahoma State, Corey Williams scored 17 PTS including what he thought was a game-winning 3-PT shot from the top of the key with 2 seconds left in regulation…but his right foot was on the line and you ended up with a 9-PT OT loss to Temple: did you think the shot was going in, and did everyone think that the game was over? We thought the game was over when Corey made the shot. Temple called a timeout and we ran out to celebrate with Corey, but the refs immediately called it a 2. We looked at the tape later and his toes were clearly on the line. The following year the same thing darn near happened to us again when we lost to the Fab 5 by 3 PTS: we were close 2 years in a row.
In the 1998 NCAA tourney as an assistant to Rob Evans at Mississippi, Bryce Drew scored 22 PTS including an ESPY-winning 23-footer at the buzzer in a 1-PT win by Valparaiso: what kind of defense did you draw up, and where does that rank among the most devastating losses of your career? It is probably the most devastating loss because I thought that we had the team to go a long way. Florida State beat TCU before our game so we would have had a good chance in the next game against the Seminoles but so many things went wrong. Ansu Sesay was the SEC POY but missed a FT at the end and then we knocked the ball out of bounds: it was a 50-50 play for us. Destiny stepped in and it was a heck of a play by Valpo.
In 2013 you were hired by the Phoenix Mercury and ended up taking the team to the Western Conference Finals before losing to eventual champion Minnesota: what is the biggest difference between coaching men vs. coaching women? I did not see a big difference at all in terms of gender: the biggest difference was coaching pros vs. coaching college kids. The WNBA was a great place to coach: the pros were so intelligent that you could draw up any play and they could execute it. We drew up a play against Los Angeles in Game 3 of the Semifinals but when I saw their defense on the court I told our inbounder to look to Brittany Griner instead, and she made the shot to win the series. I loved that we were smart enough to make that work but do not know if college kids could do that. I also missed the family environment of a college team where the coaches become their surrogate dads. Some guys do not like recruiting but I do.
In 2014 you were hired as coach at Central Arkansas: what did it mean to you to become coach at your alma mater? It was kind of a delayed effect but once I stepped into the locker room a lot of good memories came flooding back into my mind. What you miss the most is the struggle to succeed: the daily practices, the sore knees, and of course the big wins. We cleaned house the 1st year but I look at it as part of the process, which means a lot to me. I left my blood/sweat on that court during my playing days.
Last year G Jordan Howard was a 3rd-team Academic All-American: how much importance do you place on academics? I put a premium on it: the reason I am talking to you is that I have a college/Masters' degree. It is an important aspect of college athletics that we have missed: it used to be about getting an education but now it is more about chasing your NBA dreams. I have always found that the kids who are most competitive on the court are also the ones who are most competitive in the classroom. We currently have a combined 3.2 GPA and had 10 guys on the honor roll last semester, which has also helped us recruit better. If you do not take care of your business in the classroom then you do not need to worry about the NCAA: I will just suspend you myself.
Last year your 84.1 PPG allowed was in the bottom-10 in the nation: do you feel that you need a radical change on the defensive end, or just reinforcement of the fundamentals, or other? Depth has been the biggest issue for us: we had 3 guys last year who played 35+ MPG and you cannot play the kind of defense we want when you are playing so many minutes. You have to hold your positioning and be strong on the inside. We switched to a matchup zone for a short time and our opponents just lit us up from the 3-PT line. Coach Sutton was 1 of the best defensive coaches in the country and at GCU we were 1 of the best defensive teams in the nation, but last year we actually led our conference in scoring. I also want to use the bench as motivation if the starters are not defending well.
You have 5 players on the roster from Arkansas as well as players from New York/California/Canada: what sort of recruiting philosophy do you have? We are looking for a certain type of player but everything starts with being able to shoot the basketball. We look for guys who also play unselfish basketball. Since I have been in so many different leagues I still have good contacts that help us bring in good players. Our program was not highly thought of in the past and it was hard to recruit in-state kids, but that is starting to turn around with guys like SK Shittu (who is from Rogers, AR). However, it was those out-of-state kids who got us over the hump.
Your non-conference schedule includes road games at Baylor/UCLA/Cal/Oregon: which of these games do you feel will present your biggest test? 3 of those 4 teams are ranked and they will all give us a good test. I am okay with guarantee games because they are much-needed to help the entire university. When you are in a 1-bid league it gives your kids an NCAA tourney experience because guess who we will be paired with if we make it to March?! 1 of the 1st things I get asked by recruits is who we will play: they want to be playing the best teams in full arenas rather than just beating up on a bunch of D-2 teams in front of small crowds. We have been in some of those games..but have been rocked in a few as well.
What are your goals for the upcoming season, and what are your expectations for the upcoming season? I think that we can make big strides this year and I believe we will be in the mix and make a run toward the conference title. I think we have enough bullets in the gun as well as 2 of the best players in the league. We can score and have been building for this: year 4 is when people can really see what you have been doing. Almost everywhere I have been has been a building process: when you have gone through it then you will know what is coming up.