Last season Gonzaga coach Mark Few became the 6th different D-1 coach to ever win at least 37 games in a season. To win that many games you have to go pretty far in the NCAA tourney, so it should come as no surprise that 4 of the other 5 have won NCAA titles: John Calipari/Mike Krzyzewski/Bill Self/Jerry Tarkanian. Joining Few in the "made the title game but has not won it yet" club is Kansas State coach Bruce Weber, who went 37-2 with Illinois in 2005 but had a 5-PT loss in the title game to North Carolina. Last year he won his 400th career game and made the postseason for the 12th time in the past 16 years. HoopsHD's Jon Teitel got to chat with Coach Weber about being named national COY and having a young roster this year.  This marks our final season preview interview of 2017: let the real games begin!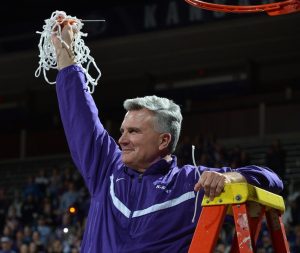 You were an assistant to Gene Keady at Western Kentucky/Purdue for almost 20 years: what made him such a great coach, and what is the most important thing that you ever learned from him? His competitive spirit/toughness. He could yell at the players and then hug them a few minutes later so they really respected him and he got the most out of them. The biggest thing I learned is to live/coach with passion every single day.
In the 1996 NCAA tourney as an assistant at Purdue, #16-seed Western Carolina missed a pair of shots in the final seconds of a 2-PT loss: how nervous were you at the end of the game, and do you think that we will ever see a #16-seed win a game in March? We were very nervous because we were a team that had overachieved quite a bit after losing national POY Glenn Robinson. They took us to the wire and had a chance to beat us. The little guys have gotten better so I think that it is bound to happen someday…but not in the near future.
In the 2002 NCAA tourney as head coach at Southern Illinois, Jermaine Dearman scored 25 PTS in a 2-PT win over #3-seed Georgia: how much of a home-court advantage did you have while playing at the United Center, and how were you able to overcome a 19-PT 1st-half deficit? We had played so well in the 1st round against Texas Tech/Coach Bob Knight so we were relaxed and just played loose against Georgia. We made a nice push at the end of the 1st half and continued moving forward in the 2nd half. We were very battle-tested that season so our toughness helped us win that game. There is no doubt that we had a home-court advantage: I think it was an underdog scenario and we were a local school so everyone in the crowd just jumped on board.
Take me though the magical 2005 season as head coach at Illinois:
In the Elite 8 you trailed Arizona by 15 PTS with less than 4 minutes left in regulation: how on earth did you beat them?! I think that it was a little bit of a similar thing. As a coach I was dying because we probably got a little tight and Arizona was playing unbelievable, but we just had a belief that we could come back. We became confident and Arizona became a little uptight.
You started 29-0 and ended up 37-2, which tied the then-NCAA record for most wins in a season: how close did you come to going undefeated, and how close did you come to winning the title? We were only 2 possessions from possible perfection: we were 29-0 until Ohio State made a big 3 to give us our 1st loss, but that helped us regather our focus heading into the Big 10 tourney. It gave us a good perspective and helped us make a run. We had a shot to beat UNC but tourney MOP Sean May had the best game of his career. I wish that James Augustine would not have fouled out: he might have been a difference-maker at the end. The amazing thing is how our guys stayed focused: there were media/autograph seekers around us every single day but despite all of the attention they never flinched.
You finished the season by being named national COY: what did it mean to you to receive such an outstanding honor? At the time my mom had just passed away so I probably did not appreciate it at the time, but when you go into your office and see the trophy with the names of everyone else who has won it you realize what a special accomplishment it was. We did everything except win the title.
You have won conference championships and a conference COY award at each of the 3 schools where you have been a head coach: how have you been able to have so much success at so many different places? A lot of it is just what I learned from Coach Keady, who gives credit to Coach Eddie Sutton. The coaching trees have been pretty successful for those 2 guys! You have to defend and share the basketball, which usually gives you a chance to win.
In the 2017 NCAA tourney you had a 7-PT win over Wake Forest in the 1st 4 before losing to Cincinnati: what do you think your team learned from those games that you think will help you this year? It was a great accomplishment for our seniors who had fought through some tough years/injuries. It was also good for our young guys to get a taste for it, and they want to be part of that again so our sophomores are working very hard and have become the foundation of our program.
Your non-conference schedule includes games against ASU/Vanderbilt/Washington State/Georgia: which of these games do you feel will present your biggest test? All coaches will say that you just need to focus on going 1-0 but those will all be early tests for us. We have not won an exempt tourney championship so doing that would help build our confidence.
1 of your assistants is Chris Lowery, who also worked for you at Southern Illinois/Illinois: how reassuring is it to have a guy on the bench with 3 NCAA tourney appearances on his resume when he was a head coach at SIU? When you build a staff you need to figure out everyone's role, just like you do with your team on the court. You need young guys, experienced guys, and people who know the ups and downs of being a head coach. When I go out on a recruiting trip I know that things will be okay back in the office. It is great to have him: most of my staff has worked with/played for me in the past so they know what is supposed to get done.
You only have 1 grad student and 1 senior on the roster: do you feel that you have enough experience to contend this year or are you 1 year away from being a serious contender? We have 3 good juniors but to be a contender we need some young guys to develop and figure our their roles. I do not want to ruin their spirit but we have some road games that we have to win. The league will be good again this year but I do not know how good: every year I do not think the Big 12 can get any better…but every year it does! We could be really good a year from now but just need to worry about this year.
What are your goals for the upcoming season, and what are your expectations for the upcoming season? I have high expectations and we should be an NCAA tourney team that is competitive in the league. Now that we have had a taste of success we want to take another step, but we are just worried about today's practice and getting better every day.