-For Friday, Nov 17th's News, Notes, and Highlighted Games – CLICK HERE
-For Chad Sherwood's UTR Game of the Day – CLICK HERE
-For the second installment of the internet's hottest new show, The Kyle Lamb Show – CLICK HERE!!!!!
Usually when you go to a college basketball game the best part is seeing the action go back and forth all the way down to the wire, or a superstar showing why he is the best player in his conference, but sometimes there is the simple joy of watching a player have a breakout performance that may alter the trajectory of his career.  Last year Maryland's Anthony Cowan scored a very respectable 10 PPG and watched Melo Trimble lead the Terps to 24 wins and a spot in the NCAA tourney before losing to Xavier.  Now Trimble is in the G League and Cowan is running the Maryland offense to perfection, as he had a career-high 25 PTS/10 REB in a 79-65 win over Butler at the Xfinity Center on Wednesday as part of the Gavitt Games.  It is hard to conceive of a 6′ PG being able to control an entire game while only attempting 8 FG, but when you make 3-6 from behind the arc, 12-15 from the FT line, and commit only 1 TO in 37 minutes then you have an excellent chance to help your team win.  The Bulldogs certainly did not help their own cause by shooting 34.3 FG% and getting outrebounded 38-24.  HoopsHD's Jon Teitel got to sit 5 rows behind the basket for this battle and presents the following photo essay for your consideration:
It has been a cold week in the DC/MD/VA area but the skies were clear as I walked into the arena with the best birthday present I could ask for:
I got there a little early (the lasagna in the media room was pretty tasty!) and got to my seat well before most of the fans did, but still got to send a private shout-out to the greatest Celtic who never was:
The players eventually came out for warmups as we prepared for tip-off, which involved 2 very different kinds of pre-game introductions.  The visitors were greeted by the students faces hidden inside newspapers, while the home team got a nice light show with the lights off: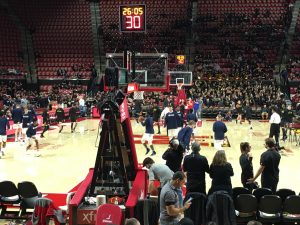 The action on the court was very entertaining: lots of dunks, plenty of threes, and some nice defense/hustle.  Coach Turgeon must have been very proud of his young team's solid effort early in the season against a Big East team:
The people-watching off the court was not too shabby either: a mascot in mask/cape, Steve Lavin in a sharp-looking suit, Walt Williams peeking into the huddle as the sideline reporter, and Scott Van Pelt cheering on his alma mater from the front row:
Thanks to Maryland for the press pass, hope you like the photos, and (if all goes well then) tune in next month for scenes from the BB&T Classic!