For Chad Sherwood's UTR Game of the Day – CLICK HERE
NOVEMBER (and a couple of December Days) RESET
-If you're new to the party, let's get you caught up on some of what you may have missed.
-Duke is the overall #1 team, and they've certainly done the most to earn it.  I rarely say that about Duke, so if I'm saying it then it must be true.  Their profile includes wins over Michigan State, Texas, and Florida, all of which came away from home.
-The best game of the year in terms of excitement and how well played it was is probably the Gonzaga vs Florida game in the PK-80.  The thing about it is that it wasn't over until about 2am, so many people in the east probably went to bed.  It was a double overtime thriller that was played at a very high level.
-By my count, we've had five match-ups between top ten teams already.  I for one think this is a fantastic thing for the sport.  It's good for the teams to test themselves and give themselves chances at big wins, and it's great for the fans too, who want to see high level basketball.
-The number of quadruple overtime games (which is something we do track) is at 2.  We are ahead of last year's pace!
-In looking Under the Radar, Northern Iowa and Western Kentucky appear to be the two best teams.  Northern Iowa has managed wins against SMU, NC State, and UNLV and their only losses were to Villanova and North Carolina.  Western Kentucky knocked off a Purdue team that's red hot right now, as well as SMU.  Strangely enough the two teams were in the Battle 4 Atlantis, but did not meet.
-The biggest upset of the year, and perhaps in many years, was Grambling winning at Georgia Tech this past Friday night.
-The disappointment of the year is probably Arizona.  They started off ranked #2, but then failed to win a single game in the Battle 4 Atlantis.  They did pick up a nice win at UNLV this past week so they may be getting things turned around, but they still don't look like a top 25 team, much less the #2 overall team.
-Virginia is once again ranked higher at the beginning of December than they were to start the season.
-Iowa stinks.
Pittsburgh REALLY stinks
-As far as the surprises of the year, I think I have two.  Washington State won the Wooden Tradition and beat San Diego State and Saint Mary's along the way.  They did lose rather convincingly to UC Davis in their most recent game, but the fact that they are 6-1 and have two wins against pretty good teams is astounding for what I thought would be a team that would fall outside the RPI top 250.
The other surprise to me is their conference mates in Arizona State.  They are unbeaten on the season, and they blew a pretty good Xavier team off the floor along the way.  If you were to make a list of teams who have blowout wins against ranked teams away from home, it would be a very short list.  This ASU team has looked legit so far.
BRACKET PROJECTIONS FOR DECEMBER 4TH. 
-There are some notes on the bracket below, but the biggest note of all is for you to understand what you are looking at.  It is a CHECKPOINT based on CURRENT MERIT, and even CURRENT RPI numbers.  I know those things are not reliable.  I put this together as much of an exercise as I do anything else, and I figure if I'm doing it, then why not post it?  There are teams that are not even in the field (Louisville) that I believe to be better than multiple teams that are high in the bracket, but so far all they've done is win home buy games, and since I'm doing this based entirely on what teams have done so far, they're not in it.
-The bracket reflects all games played through SUNDAY, DECEMBER 3RD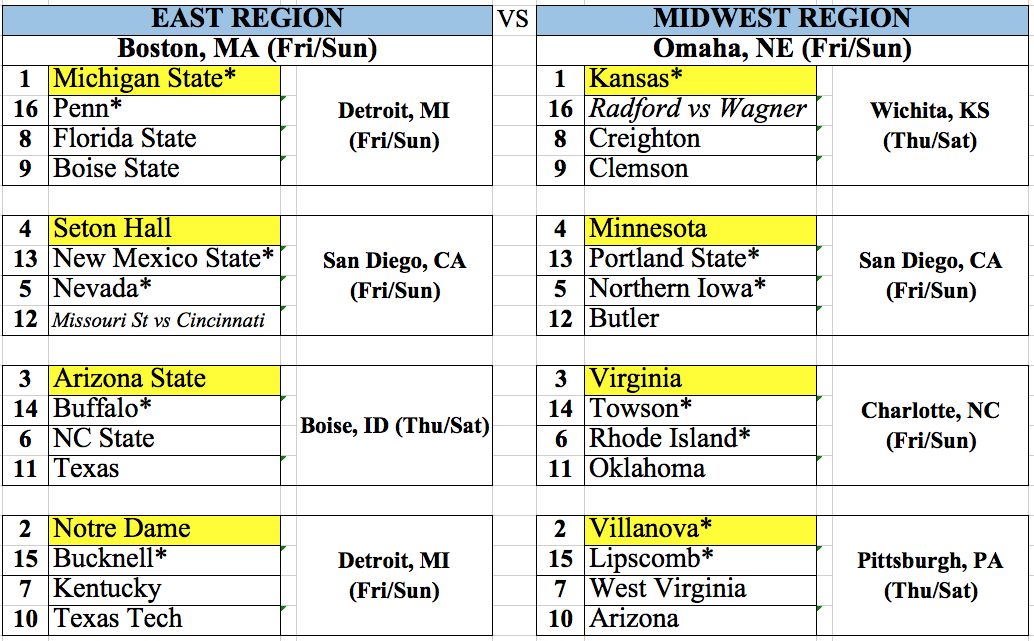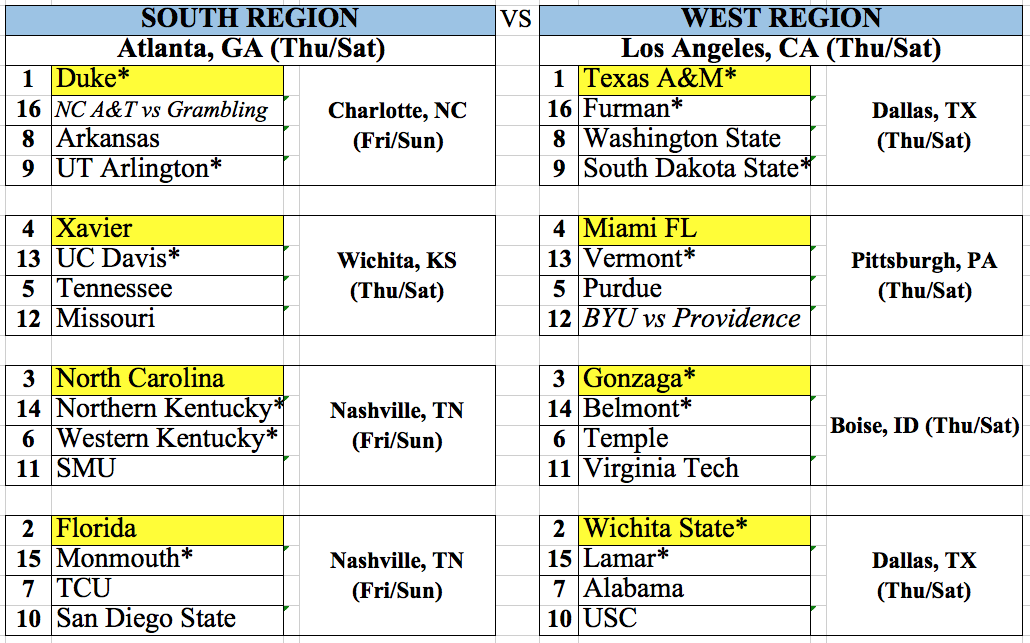 OTHERS CONSIDERED: Saint Bonaventure, Syracuse, Penn State, Georgia, Maryland, Ohio State, Auburn, Iowa State, Middle Tennessee, SMU, Michigan, UCLA, Wyoming, Utah, UCF, La Salle, Saint John's, Saint Mary's, Louisville, Louisiana Tech, Valparaiso
TEAMS THAT I THINK ARE UNDERRATED: Kentucky, Oklahoma, Virginia Tech, West Virginia, and USC to name a few.  They don't have the big wins yet, but I think they have shown they are capable of picking them up and will do so once they et more opportunities
TEAMS THAT I THINK WILL DROP BEFORE MARCH: Western Kentucky, Northern Iowa, Temple, Clemson.  Temple is #1 in both the RPI and the SOS right now.  If they finish the season like that they'll get a #1 seed.  Unfortunately for them I don't foresee that happening.
NOTES FROM OTHERS AT HOOPS HD (They insist it's too early, but I'll open it up for criticism anyway, especially since they love to criticize me and point out any and all mistakes
-coming soon….maybe