It is December in DC so that can only mean 3 things: holiday parties, stories about the Redskins that include the phrase "mathematically eliminated", and the BB&T Classic in Chinatown. This year we got 1 competitive match-up (Temple-GW) and…1 battle of an undefeated team vs. a winless team (Coppin State-Georgetown). Sadly, no Hill Country BBQ on this year's pregame menu (just lukewarm pizza) but a nice long 2-hour break between the 2 games that allowed everyone to catch their breath. HoopsHD's Jon Teitel spent all day at the Capital One Arenalast Sunday…and lived to tell about it. Earlier this week we covered Temple-GW in Part 1, and now we conclude with Coppin State-Georgetown in Part 2.
Mascot preference: real or costume?
Right before tip-off there was a nice big hug between the 2 new head coaches. After being named 2002 NCAA tourney MOP at Maryland, Coppin State coach Juan Dixon was drafted by the Washington Wizards that summer, where 1 of his assistant coaches was 1984 NCAA tourney MOP Patrick Ewing.  Everyone knows that Ewing is 7′ tall, but to see a human being that huge in person (vs. on TV) is just astonishing:
2 unexpected pregame sights: Patrick Ewing Jr. and a young boy (I assume his son) sitting together on the baseline but having very different thoughts on where the action was, and the San Jose Sharks hockey equipment being brought into the building in preparation for their game against the Capitals the following evening:
The Eagles hung around for most of the 1st half thanks to 5 makes from behind the arc and not having any of their shots blocked, but the Hoyas were still able to open up a 37-27 halftime lead due to C Jessie Govan. The breakout star from New York only averaged 10 PPG/5 RPG as a sophomore but had been damn-near dominant through his team's 5-0 start: 18.6 PPG, 11.4 RPG, 63.3 FG%, and an impossible 6-10 3PM. He continued his peerless play with 16 PTS in the 1st half via a variety of moves: a 3, a baseline jumper, and a pair of old-fashioned 3-PT plays.
Coppin State G Karonn Davis tied a career-high with 20 PTS and set a career-high with 8 REB but almost ran out of teammates as Cedric Council/Blake Simpson/Adam Traore each fouled out in the 2nd half. Georgetown forwards Jamorko Pickett/Marcus Derrickson each finished with 13 PTS/4 REB but Govan was the star of the show with 26 PTS (including a pair of dunks) and a career-high 16 REB to place him among the best rebounders in the nation and make him a strong contender for the Big East All-Conference team.
In the postgame press conference I asked Coach Dixon about facing Ewing: he smiled and said that Patrick was his guy and was 1 of many people associated with the Wizards who helped teach him about the game of basketball (along with Michael Jordan/Charles Oakley/Jerry Stackhouse/Christian Laettner).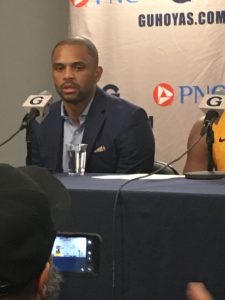 I asked Ewing about Govan's rebounding and he said that his budding star played well…but should have had 20-30 REB!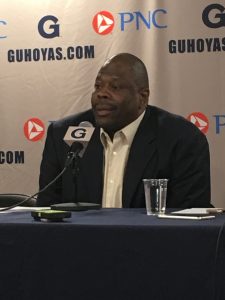 I asked Govan about how he has become such a great rebounder and he credited his coach for telling him to work hard from day 1. He also credited his teammates…because they know to let their center grab all the available rebounds so that he will not bark at them!