In an effort to promote the game of basketball and recognize the best players in the nation, the Basketball Hall of Fame created awards for the men's All-America Team in 2015. These awards covered 5 different positions and were named after 5 of the best players to ever step onto the court: the Bob Cousy Point Guard Of The Year, the Jerry West Shooting Guard Of The Year, the Julius Erving Small Forward Of The Year, the Karl Malone Power Forward Of The Year, and the Kareem Abdul-Jabbar Center Of The Year. In 2017 the Hall of Fame announced a partnership with the Women's Basketball Coaches Association (WBCA) to present awards celebrating 5 of the best women to ever play the game: the Nancy Lieberman Point Guard Of The Year, the Ann Meyers Drysdale Shooting Guard Of The Year, the Cheryl Miller Small Forward Of The Year, the Katrina McClain Power Forward Of The Year, and the Lisa Leslie Center Of The Year. As we approach the April announcement of this season's women's award winners, HoopsHD's Jon Teitel will present interviews with all 5 Hall of Fame legends:
Miller: posted back in September: http://hoopshd.com/2017/09/03/season-preview-hoopshd-interviews-hall-of-famer-cheryl-miller
Lieberman: see below (youngest basketball player in Olympic history to win a medal, 3-time All-American/2-time national POY at Old Dominion where she won the 1978 Women's NIT and AIAW titles in 1979/1980 while setting a school-record with 961 AST, 1st female to play in a men's professional league after signing with the Springfield Fame of the USBL in 1986)
Meyers Drysdale: January
McClain: February
Leslie: March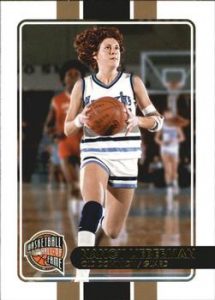 While attending Far Rockaway High School in New York you earned a spot on the US national team, and in 1976 you became the youngest basketball player in Olympic history to win a medal: what did it mean to you to represent your country, and how unstoppable was 7'2′ Soviet center Juliana Semenova? It was an honor to play for America and 1 of the best things to happen to me during my career. I was just a junior in high school in 1975 when we won a gold medal in the Pan Am Games.  It was pretty exciting at the time and now I can look back at all of the Hall of Famers I played with (Pat Head/Ann Meyers/etc.). Semenova wore a size 18 shoe and was the dominant force in women's basketball. We had some pretty talented 6'3"/6'4" players (including Rita Easterling/Charlotte Lewis) but she was too big/strong for us: once she carved out space you simply could not move her. The rest of the Russian team was also big and they were a professional team playing against amateurs.
You attended Old Dominion University, where you won the 1978 Women's National Invitation Tournament and a pair of AIAW national titles in 1979/1980: how was your team able to be so dominant throughout your college career? At that point in my life I had about 100 scholarship offers but I wanted to go to a school that nobody had ever heard of and had not had much prior success. We started to draw some big crowds and make a name for ourselves. Marianne Stanley became our coach when I was a sophomore and she gave us a vision of what it took to win national titles. We started to feel really comfortable and after my sophomore year she told me that if I could make my teammates better by making some sacrifices in my own game we could win a national championship.  We went 37-1 and the light went on for me: this winning thing is a lot of fun! It was really neat to make people better and try to become a good leader.
You were the 1st 2-time winner of the prestigious Wade Trophy as well as a 3-time All-American: what did it mean to you to receive such outstanding honors? Any player worth their salt has a carrot in front of them: winning. I was very interested in doing that but I also wanted to show everyone that I was the best player, which pushed me every day even when I was tired. I was driven to be the best.
You graduated with 2430 PTS/1167 REB and your 961 career AST remains a school record: how were you able to balance your scoring with your rebounding with your passing? My last 2 years I only averaged about 15-18 PPG because I realized there was more to my game than just scoring. If I had not missed a few games with mono I think that I would have ended up with 1000+ career AST. I was a power forward on team USA so I was use to hitting the boards and trying to rebound, which I continued to do even though I was a PG.
You also had 562 career STL, which is believed to be a modern record: what is your secret for playing great defense? I was very aggressive, read the passing angles, and tried to anticipate. Playing defense is about commitment: you need to have multiple actions/efforts and I wanted to be a nightmare for my opponents to play against.
In 1986 you became the 1st-ever female player in a men's pro basketball league when you signed with the Springfield Fame of the USBL: how big a deal was it at the time, and how did you do against the men? I have played against men my whole life.  As a teenager in New York I would take the train to Rucker Park to play against the best players in Harlem, and they taught me how to compete. I played for Pat Riley in his 1st summer league with the Lakers: people say that Magic was his 1st PG but it was actually me! When Springfield called me I was thrilled to join them. I had some great teammates like Michael Adams (1992 NBA All-Star) who pushed me every single day to be better. I was fearless and a really good athlete: I could dunk a tennis ball at 5'10" and teammates like it when you can pass the rock. After that I played for the Long Island Knights alongside Micheal Ray Richardson (4-time NBA All-Star) and later played for the Utah Jazz summer league team with Karl Malone.
The following year you joined the Washington Generals: what was it like to face the Harlem Globetrotters, and how did it feel to go from winning almost every game in college to losing every game with the Generals? In 1987 I felt that it would allow me to travel around the world and be a good ambassador for the game of basketball…but going 0-200 was not exactly fun! I joked to Tim Cline that if we lost 200 straight games that we should get married: we did, and then we did. We played 47 straight nights and we were all dead tired, but when you walk into an arena and see all these kids cheering it gives you a burst of energy.
In 1996 you were elected to the Basketball Hall of Fame: where does that rank among the highlights of your career? They said they would call me with the announcement by 11AM so I sat by my phone all morning long. It is the elite of the elite saying thank you for everything that you have done. It was breathtaking to be a part of it.
In November of 2009 you became the 1st woman to coach a men's pro basketball team after you were hired as coach of the Texas Legends in the D-League: why did you take the job, and what is the biggest difference between coaching women vs. coaching men? To know me is to know that I am competitive. The year before that I played in the WNBA after turning 50 years old. I enjoyed doing TV coverage but it is not the same as being in the huddle. Legends co-owner Donnie Nelson said that I checked every box he had for hiring a coach and the most important thing was that I was not afraid. Donnie deserves a lot of credit: he was ahead of everyone else and was so protective of me that it gave me power. I wanted us to win so badly for him: we went to the playoffs as an expansion team and helped Antonio Daniels eventually get to the NBA. Donnie showed everyone that this can be normal.
In July of 2015 you became the 2nd female assistant coach in NBA history after being hired by the Sacramento Kings: how is it going so far, and do you think we will ever see a female head coach in the NBA? I am very humbled and grateful to the Kings for having the vision/strength to be a part of history along with the Spurs. If George Karl did not want this then I would not be here, which is a life-changer for so many people. Everyone applauded George, which made it easier for me to come here and do my job. It is a joy to be in the coaches' meetings and we are making our fine young men better every day. You cannot win a title until you make the playoffs and you cannot have a female head coach until you have some more female assistants like Becky Hammon/myself. I think it will happen someday but I do not know when. We have a successful track record and are learning from the amazing guys next to us…but we still have a lot to learn.