For today's News, Notes and Highlighted Games from David Griggs – CLICK HERE
For today's UTR Game of the Day between Vermont and Harvard from Chad Sherwood – CLICK HERE
For Jon Teitel's Midseason Awards – CLICK HERE
Two days ago, our colleague Jon Teitel made his first bracket projection of the season – you can click HERE to view his picks. This bracket is his best guess as to what the selection committee would decide as of this current checkpoint.
For this article, John Stalica will making his own bracket projection (aka the Hoops HD Staff Bracket) as he fills in for David Griggs this week. Here is the bracket below: (through games played on 1/1/18)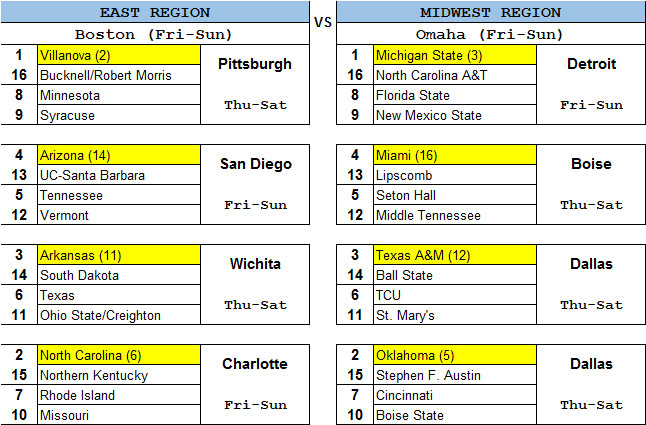 NOTES FROM JOHN
– This is a rare year where no team in Division I play enters the new calendar year undefeated. The last three teams (Villanova, TCU and Arizona State) all lost tough road games in conference play.
– One of the biggest movers in recent weeks has been the Oklahoma Sooners. They already had nice wins at Wichita State and against USC on a "neutral" court in LA, and they were responsible for ending TCU's perfect start to the season. An argument could be made that they could even be a 1-seed, and they would undoubtedly be if not for their only loss against Arkansas back in the PK-80 in November.
– Exempt tournament season is starting to look anomalous not just for Arizona, but also for Purdue and even SMU as both teams have started to rebound nicely going into conference tournament play. Unfortunately, teams like Northern Iowa and Western Kentucky have fallen off the path in recent weeks and will need to stockpile wins in conference play just to get back into automatic bid status for these brackets.
– As of this checkpoint, I believe that teams like Nevada and New Mexico State are good enough to be in the NCAA Tournament even without benefit of an automatic bid. Saint Mary's is back in my field above the First Four for now, mainly because they a) got a much needed win at BYU and b) other teams around the bubble have not stood head and shoulders above the Gaels.
– St. John's has stumbled to open the Big East, but it should be noted that they are currently without two of their best players in Shamorie Ponds and Marcus Lovett. The Johnnies were NCAA Tournament-caliber with them in the lineup, but you cannot convince me that they are without those 2 guys playing.
First 4 teams out: Boston College, Washington, Notre Dame, Providence
Others considered: Marquette, Baylor, Maryland, Central Florida
COMMENTS FROM DAVID
-I'd like to thank John for stepping up and doing this bracket.  I was busy sorting out my bail and didn't have time to do it today.
-The first thing I'd like to say is that the #10 seeds in the East and West Regions should absolutely be switched.  For that matter, the #7s in the Midwest and South should also be flopped.
-I'm a little shocked that Stalica doesn't like Auburn a little more than he does.  They only have one loss, and although nothing is hugely impressive, they do have enough decent stuff on there to where I think it adds up to them being better than a #12.  It will be interesting to see what they do as they begin conference play.
-I agree with him on Oklahoma.  They're not on the #1 line now, but they're starting to put together the type of resume that a #1 seed would have.  They've already got the true win against a potential protected seed with their win at TCU, and although they didn't blow out the Horned Frogs, they didn't really sweat them out either.  They may be the best team that I've seen out of the Big 12 so far.
-I've liked this Arkansas team all year long, but WOW!!!  The #3 line??  I guess Stalica likes them even more than I do.