In an effort to promote the game of basketball and recognize the best players in the nation, the Basketball Hall of Fame created awards for the men's All-America Team in 2015. These awards covered 5 different positions and were named after 5 of the best players to ever step onto the court: the Bob Cousy Point Guard Of The Year, the Jerry West Shooting Guard Of The Year, the Julius Erving Small Forward Of The Year, the Karl Malone Power Forward Of The Year, and the Kareem Abdul-Jabbar Center Of The Year. In 2017 the Hall of Fame announced a partnership with the Women's Basketball Coaches Association (WBCA) to present awards celebrating 5 of the best women to ever play the game: the Nancy Lieberman Point Guard Of The Year, the Ann Meyers Drysdale Shooting Guard Of The Year, the Cheryl Miller Small Forward Of The Year, the Katrina McClain Power Forward Of The Year, and the Lisa Leslie Center Of The Year. As we approach the April announcement of this season's women's award winners, HoopsHD's Jon Teitel will present interviews with all 5 Hall of Fame legends:
Miller: http://hoopshd.com/2017/09/03/season-preview-hoopshd-interviews-hall-of-famer-cheryl-miller
Lieberman: http://hoopshd.com/2017/12/23/awards-season-hoopshd-interviews-hall-of-famer-nancy-lieberman
Meyers Drysdale: see below
McClain: February
Leslie: March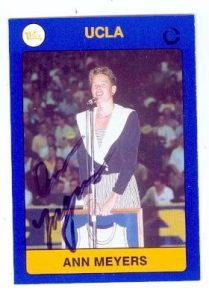 Your father Bob played basketball at Marquette and 1 of your 10 siblings (Dave) was an All-American at UCLA: who is the best athlete in the family? My sister Patty is the oldest of 11 and played a bunch of different sports. She was tougher than all of us (starting center on Cal State Fullerton's 1970 national championship team) so we just followed her lead.
In 1974 you became the 1st high school girls' basketball player to join the US national team and the 1st female athlete to receive a 4-year athletic scholarship: how big a deal were those pioneering achievements at the time? I never really looked at it that way: I was just blessed to be in the right place at the right time. There were a lot of amazing female athletes who broke barriers before me and I just came along after Title IX when more doors were open to women. It was a human interest story so it just took off in the media. I went to the right school at UCLA: when you have a guy like John Wooden validating women's basketball, having a brother-sister All-American tandem (her brother David was also a Bruin All-American) takes on a life of its own.
On February 18, 1978, you recorded the 1st quadruple-double in D-1 basketball history with 20 PTS/14 REB/10 AST/10 STL in a win over Stephen F. Austin: where does that rank among the best all-around performances of your career? I did not focus on my stats. I had a good game in the 1978 semifinal against Montclair State even though Carol Blazejowski scored 41 PTS against us. I loved playing the game on both ends and had a lot of intensity/passion for the game. I was only the 3rd-leading scorer as a senior but led the team is most other categories. If you get a quadruple-double including AST then you need your team to give you a lot of help.
You won a silver medal with team USA at the 1976 Olympics: what was the feeling like in your locker room afterward, and how unstoppable was 7'2′ Soviet center Juliana Semenova? We were never dejected because we knew how hard we had all worked. We did not even have any money back then and were not supposed to be there. It was a huge accomplishment just to be a part of the 1st Olympics involving women's basketball: after finishing 8th in the 1975 World Championships we did not even know if we would make it to Montreal. We had played the Soviets in several previous international competitions. We won gold at the 1975 Pan Am Games but had 3 new players at the Olympics and had to win the pre-Olympic tourney just to qualify. Most of the Russians had been together for 15-20 years but Semenova was just in her early 2os at the time. Now you can be a professional women's basketball player but back then we were just a bunch of amateur college kids who only spent a couple of months together on the court. Winning the silver was a huge success: other people think of it as being 2nd-best but it established women's basketball in the US. It was the US-Soviet Union coming out of the Cold War and only 4 years after the men's gold medal game in 1972.
In the 1978 AIAW title game you had 20 PTS/10 REB/9 AST/8 STL in a win over Maryland: how much of a home-court advantage did you have while playing at Pauley Pavilion in front of more than 9000 fans (which at the time was the largest crowd ever to see a women's championship game) and what did it mean to you to win a title? I am sure that we had a home-court advantage but we actually played our freshman games on the side court rather than the main court. Not having to travel helped but when you are in college you are just excited to get that far. It was the 1st time that they ever had a Final 4 and the 1st time that it was ever on TV. The crowd was huge and we had a lot of fan support for UCLA basketball. It was on my birthday and I had a lot of family/friends in attendance so it was very special. My brother David won 2 titles at UCLA so I knew the history: being a part of the 1st women's title there was pretty special.
Your 403 career STL remain the most in school history: what is the secret to playing defense, and do you think that anyone will ever break your record? My former husband Don always said that records were made to be broken. Most of my siblings played the same way: we got out on the court and had an intensity to be the best that we could be. I loved playing defense and being really physical: I tried to play like my brother David did. I played all 5 positions on the court but learned to play PG during pickup games with my brothers. Defense creates offense: I think I was the mini-me of David!
You are the only woman to sign a contract with an NBA team (Indiana in 1979) but were cut during training camp: why was trying out for the NBA "the best decision of your life" even though it was met with some hostile reaction? I am glad I did not do it today because the media outlets are so different. I was hoping to play in the 1980 Olympics and was the #1 pick in the Women's Professional Basketball League (WBL), but if I had turned pro then I could not be in the Olympics. Dave was already in the NBA and basketball is a small community so I knew a lot of people in the sport. I got a call out of the blue from the new owner of the Pacers (Sam Nassi) and had no idea who he was. I am sure that publicity was involved but I looked at it as the opportunity of a lifetime and felt that I could not turn it down. UCLA was a safe haven for me and people liked the way I played so the LA media was very positive toward me. I was 24 years old and it was all new to me: many people in the organization did not think it was a good idea and some people actually tried to talk me out of it. 5 years earlier I was going to play with the boys' varsity team at my high school but people talked me out of it and I did not want to go through with it, although that led to me joining the US national team. It was the best decision I ever made because it prepared me to play at the highest level and opened up many other doors (broadcasting, PR, etc.). I joined the WBL instead and was named MVP before the league folded the following year. I later got to do some national advertising and met Don through the made-for-TV Superstars competition, which was the best part. There were hardly any women back then broadcasting men's basketball.
In 1993 you were inducted into the Hall of Fame: where does that rank among the highlights of your career? It was certainly an honor.  What I remember the most is that Don and my 2 sons were there in Springfield with the rest of my family. You cannot get there without teammates/coaches/family to support you so it is nice to be recognized for those accomplishments.
You have worked with the Special Olympics for several decades and served as a Sports Ambassador for Special Olympics Southern California: how did you 1st get involved and how fulfilling is it? It was wonderful. I got involved in 1975 as a freshman at UCLA after Rafer Johnson became the face of the Special Olympics. UCLA used to host the Southern California Special Olympics right on campus.
You are currently a VP for the Phoenix Mercury and a TV analyst for the Phoenix Suns: which job do you enjoy more, and what do you hope to do in the future? When I 1st joined the organization I was GM of the Mercury and am very proud that we have been able to win so many WNBA championships. You never know what the future holds in this business but I like speaking to school/business groups and being involved in different charities like Hoops for Youth. I have worked the past 5 Olympics for NBC and am grateful to be working for the Phoenix Suns/Mercury. I enjoy being a part of all that they ask me to do, including broadcasting for both teams and speaking out in the community. My biggest accomplishments are my 3 children!