For starters, this is what I think the bracket SHOULD look like if the season ended today.  It's not what I think it WILL look like in March, nor is it what I think it would look like if the Selection Committee were putting it together today.  If you want to see something like that, then check out our Selection Committee Guessing Expert Jon Teitel's latest seed list and bracket RIGHT HERE
This bracket reflects games played through Sunday, January 14th.
As always, I have some notes below and I will open it up to other staff members for comment as well.  If they say anything that is critical of this bracket, or if they disagree with it in any way, then it means that they are wrong and I am right.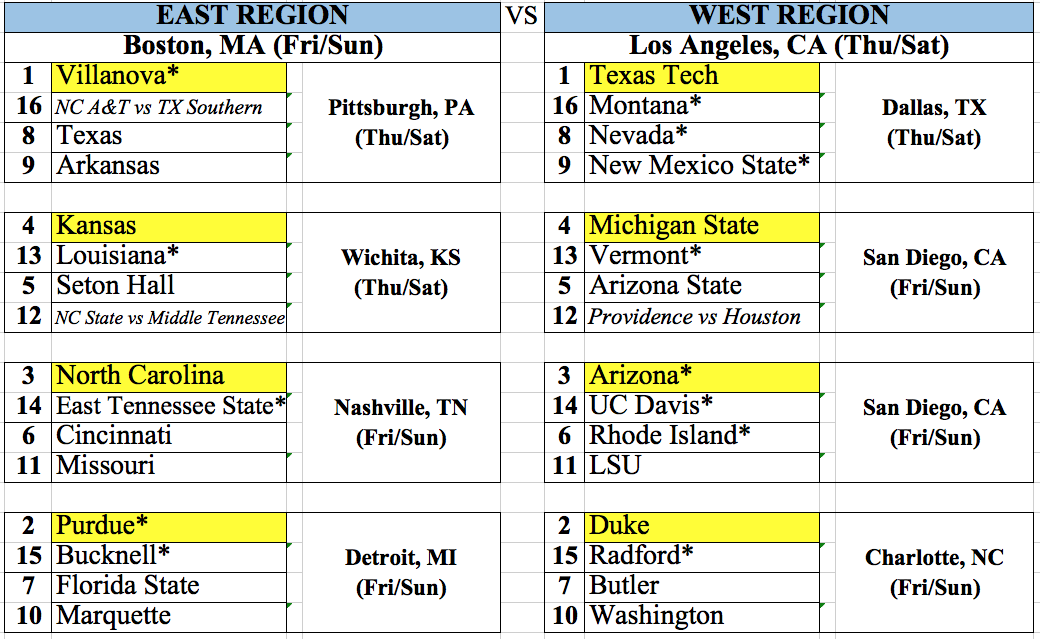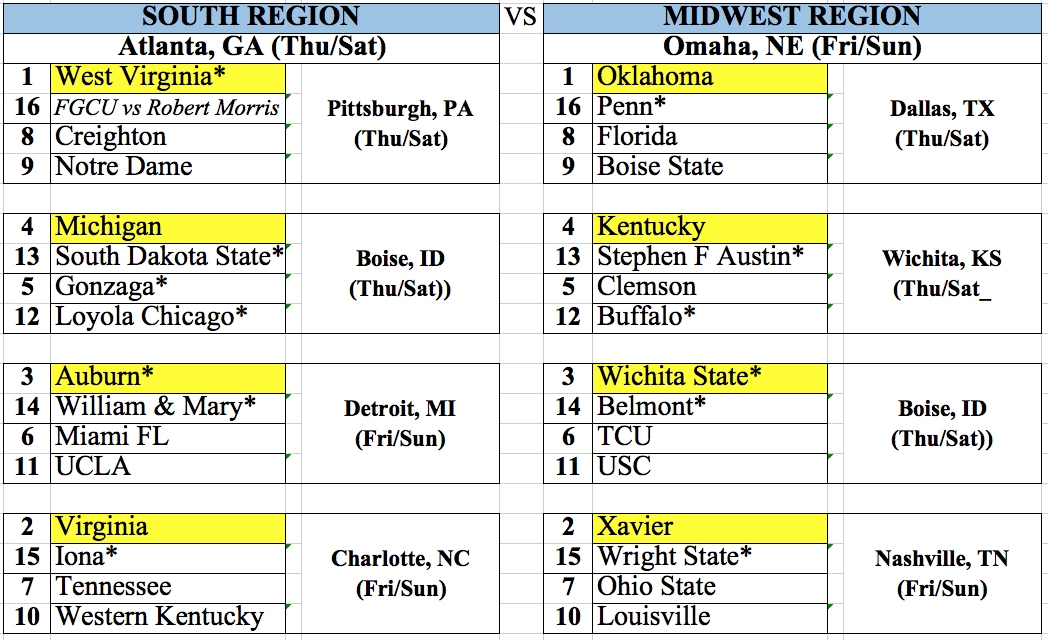 -I'll begin with something that only the bracket geeks will pick up on, and that's that all four #1 seeds are playing at a Thursday/Saturday site.  By rule, at least one First Four game has to be on Friday.  I'm not entirely sure how the real committee would handle this, but I'm guessing they'd force one of the #1 seeds to play at a different location.  I really don't like that idea, so I've just decided to screw over the #16 seeds by making one of the First Four winners play on back-to-back nights.
-It's odd seeing three #1 seeds from the same conference, but there is no rule against it if those are three of the four best teams, and in this case I believe that they are.
-I'm not the expert that Teitel is, but I know the real committee won't like New Mexico State and Western Kentucky as much as I do.  WKU has a big win over Purdue, and another semi-decent win against SMU.  What's also impressive to me is their road wins at Old Dominion and Marshall.  Those wins probably won't jump out at the committee, but they should.  Old Dominion and Marshall are a combined 15-2 at home.  The two losses were to WKU.  I kind of blew it off at the time as not being that big of a deal, but the game at Wisconsin where WKU was royally screwed is actually sinking their resume a little bit.
-Michigan has shot way up my seed list, and why not??  They're playing great and they suddenly have a really good resume.  By all measurements I don't see how you can not have them ahead of Michigan State at this point.
As far as New Mexico State, they don't have the resume that jumps out at you, but they are really damn good.  The win over Miami FL on a neutral floor combined with six true road wins is rather impressive.
OTHERS CONSIDERED: Georgia, Saint Mary's, Alabama, San Diego State, Texas A&M, Syracuse, Maryland, Saint Bonaventure.
I just can't get past TAMU being winless in conference play.  As far as Saint Mary's being left out, winning a lot of games isn't all that impressive if none of them are against good teams.
LAST FOUR IN:  I notice that almost all of the bracket gurus out there, including those at major networks, feel compelled to tell us who their last four teams in the field were.  JUST HOW STUPID DO THEY THINK PEOPLE ARE??!!  It's the four teams in the First Four you chumptwats!!
COMMENTS FROM THE STAFF
COMMENTS FROM JOHN
– Let's just suppose for a moment that the Puppet really is onto something where all 4 #1 seeds would be playing in potential Thu-Sat sites. It's much more likely that Texas Tech (as the lowest of the #1 seeds) would probably be sent to either San Diego or Nashville to play in a Friday-Sunday subregional.
– However, David has been ingesting laundry pods and overlooked Virginia. It is true that Texas Tech has a much better SINGULAR win than what the Hoos have, but Virginia had a much tougher schedule out-of-conference as compared to Texas Tech. When your noncon schedule ranks 211 (as opposed to Virginia's 100), I think the Raiders have to win outright the Big 12 regular season title to end up as a #1 seed.
– It is plausible that Michigan can now claim a protected seed over Michigan State (especially with a huge road win against Michigan Agricultural College), but I cannot justify Arizona as a #3 right now. Yes, their woes from Atlantis are behind them for the most part, but you cannot ignore losses to teams like NC State (who I also think has more work to do to merit being in the field) and SMU, either.
– Kentucky is another team that may end up as a #4 seed at the end of the day, but I would still wait and see how they do against a much-improved SEC before bumping them up. The win at LSU is looking better and better, although wins against Texas A&M and at Vandy won't give them as much of a boost as they would get in years past.
– As an UTR guy myself, I can agree with the Nevada placement and even listen to the argument that New Mexico State as a 9 isn't a far-fetched pick, but Boise State and Western Kentucky (who would be the auto bid winner since Middle Tennessee is a First Four team) are not comfortably above the bubble. It's just too early to make that claim for them (although WKU got two of their toughest roadies out of the way – an at-large team should also be able to sweep Middle Tennessee and UAB as a 10).
– It's not too late for Texas A&M to wake up from their funk – after all, Oklahoma State was 0-6 to start the Big 12 last year before catching fire in late January/February and climbing back to a 9 seed. The ice is getting thinner for them.
– NC State (noncon SOS 289) and Houston (noncon SOS 245) tells me that we again need to remind David to stop ingesting laundry pods. Alabama and Saint Mary's are much more palatable if we want to go strictly by metrics (Alabama) or by the eye test (Saint Mary's).
– I know that David also has North Carolina A&T and Texas Southern matched up since they're the two worst teams in the field, but there is an unwritten rule that the Selection Committee doesn't match up 2 HBCU teams in a First Four matchup because of a potential political backlash.