For those of you who simply cannot wait 7 more weeks until Selection Sunday to find out what the Selection Committee is thinking, the top-16 teams will be revealed in a sneak preview next month on February 11th.  There will not be a crystal ball previewing exactly which schools will be protected seeds on March 11th…although 3 of the #1 seeds from last year's preview DID become #1 seeds last Selection Sunday (Gonzaga/Kansas/Villanova).  Rather, it will serve as a peek behind the curtain at what the committee is thinking and what criteria they are using in their analysis of everyone's body of work.  HoopsHD's Jon Teitel got to chat with Selection Committee chairman Bruce Rasmussen about the hardest thing to do in college basketball and his view of predictive metrics.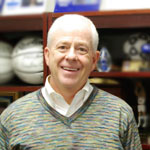 How many hours/week have you been working on selection stuff this month, and what changes would you recommend to keep you from losing your sanity on Selection Sunday? I have not kept track of the hours: in a way I am fearful of doing so! I have been so impressed with the committee members and all of the homework they have done: they are very intelligent people and are passionate about getting it right. Every past committee member will say that it was 1 of the best experiences that they have ever had. As an athletic director we serve many different kinds of people from student-athletes to fans to corporate sponsors, which is very different than working with a group of only 10-15 people to attain perfection as part of a committee/team. It is a bit mystical and hard to describe but you build a unique relationship with the other members, which helps keep you sane while you try to balance it with everything else going on in your life.
Which primary conferences are you assigned to this year, and how much weight do you give to input from representatives of these conferences? As the chair of the committee this is the 1 year that I do not have any primary conferences so I look as it more holistically. We are a conduit for information from conference representatives. When I was a 1st-year member of the committee I panicked because I had 8 conferences and wanted to know about every single team in those conferences. When we began meeting that January I started to hyperventilate after realizing that I should have paid more attention to the other 24 conferences. I had to really shift my focus over the next 2 months to a comparison of the schools in my conferences to schools from other conferences.
What are the major categories that have the biggest impact on a team's seed (big road win, bad home loss, other), and why are they more important than other categories? The public puts more credence on a good win/bad loss than the committee does. To use a golf analogy, your handicap is based on a review of your most recent 20 scores. With the committee, by the time we get to selection week each team has about 30 scores and we try to weigh each of them the same. I coached basketball for 22 years and as a former coach I know there are a handful of games each season where your team is just struggling so some of a team's success is based on timing: are you getting an unexpected result when your team happens to be playing poorly? I think the data backs up the theory that the hardest thing to do in college basketball is win games on the road, so we look at 3 things: who did you play, where did you play them, and how did you do? If you win games against good teams on the road, that is a powerful statement. We also realize that it is harder to win at Duke then at a place like Illinois-Chicago. We look at outliers to see if there was a reason for such games, while also looking at consistency.
This season the committee has implemented a new 4-tier system that emphasizes the location of wins/losses: has it made your life easier/harder, and do you think that this new system renders the "eye test" a thing of the past? The RPI was not a selection method but rather a sorting method. There was a perception that there were silos so that a win over the #24 team in the nation was much better than a win over the #26 team, but that was simply not true for the committee. The new system helps us sort wins at home vs. wins on the road vs. wins at neutral sites. It will help us be transparent.
What role do injuries (such as Rawle Alkins of Arizona)/suspensions (such as Reggie Lynch of Minnesota) have on a team's seed? That is a very difficult question to answer because the 10 of us may each look at it differently. We try to understand why the results ended up the way they did. I think it has less impact on which teams are selected but more so on how teams are seeded. We are not predictive in nature: we just try to describe the animal (D-1 basketball) and get a better understanding of why the events happened. It is hard to quantify but does not have a dramatic impact on seeding, although it is a discussion item for the committee.
If a team wants to make the tourney, are they better off scheduling decent teams who they think they can beat, or great teams who they can only hope to upset, or a nice mix of both, or other? That is a great question that I cannot properly answer. We get asked that by conferences/coaches who want to determine the best way to schedule, but every school/conference is unique and has different priorities. Some teams need to go on the road for economic reasons and get "buy" games, while other schools need more home games because they draw so well at home. If you are from a smaller conference that is typically an automatic qualifier, you may schedule some quality teams early to give yourself the opportunity to see what it will take to win your conference. You also have to play some games where you can develop your entire roster: if Duke were to only play against top-25 teams, do you think that they could develop the #8-#15 players on their team by getting them meaningful minutes? There are a lot of factors that go into it but 50% of the RPI concerns the won-loss record of your opponent: only 25% of it is about how you did yourself.
For those who want to compare your committee to the College Football Playoff committee, what significance (if any) is there to the fact that 1 is governed by the NCAA and 1 is not? I do not put any credence in that. The College Football Playoff committee has to pick the top-4 teams while we pick 68 teams with about half of whom get in by winning their conference tournament. The CFP committee is passionate about getting it right and spends numerous hours "peeling the onion" where the layers between each team are very thin.
Your Bluejays have looked great this year with a 15-5 record and nice wins over UCLA/Butler/Seton Hall: how proud are you of all that they have accomplished, and how devastated were you to learn of Martin Krampelj's torn ACL the other day? We turned over a lot of kids from last year so in many ways we have a completely new roster this year. We had a fairly challenging schedule this season and I think that we have over-performed. I want there to be an element of joy to the process and have our kids play hard and play the right way: we have done that. Last year our All-American PG (Mo Watson) tore his knee, which made us all realize how fragile the game is. Martin was a key part of our team this year so his loss could significantly impact the outcome of our games. His injury drives home that the addition/subtraction of 1 player can have a key impact.
Earlier this week NCAA tournament media coordinator David Worlock stated that for the 1st time you and the other committee members will see many other rankings on the official team sheets in addition to the traditional RPI (such as BPI/KPI/KenPom): have you made great use of these advanced metrics in the past, and do you have a favorite 1? We have made great use of them in the past but I think they were put on the team sheets for 2 reasons: it is more convenient/efficient to have them right on the team sheet without having to go to another screen, and it allows us to be transparent to the public about the process. I just returned from a 4-hour mock selection meeting in Indianapolis. I look at all of the advanced metrics and I think that Kevin Pauga has as good an understanding of what the committee does as anyone. Our responsibility is to not be predictive but to base everything on results.  KPI tries to explain why differences exist between the 2 types of metrics by digging into that. My concern about predictive metrics is that they care about unintended consequences such as point spreads.  For example, there might be a 1-possession game down the stretch that turns into a 10-PT outcome due to the losing team committing fouls/missing threes.  Therefore, if point spreads are a factor, will coaches keep their starters in at the end of games (to win by as many points as possible) or give their bench guys some playing time (to help them develop)?
For the 2nd straight year the selection committee will unveil its top-16 seeds on February 11th: what was the reaction like to last year's unveiling, and what do you think fans will get out of this year's snapshot? I sense that the public liked that last year, maybe more as an educational tool to explain the bracketing process in a little more detail (where teams are sent, why they are paired against someone else, why there is not any conspiracy theory when Indiana gets put in the same region as Kentucky, etc.).  There are more than 1000 games that will be played after February 11th and each of them may have an impact on why we end up putting teams where we do. Last year we did it on a Saturday morning…and due to some upsets later that afternoon it became outdated in a matter of hours. This year we are doing it on a Sunday so perhaps some games the day before will impact it instead.