We are now close to the halfway point of conference play – this week, it is our colleague John Stalica's turn to pick the field as he sees fit at this point in the season. Again, this is not his projection as to what he thinks the committee would do – that is something that Jon Teitel does on a weekly basis. You can click here to see his bracket as well from earlier today.
Also debuting today is our colleague Rocco Miller's bracket at Bracketeer.org – CLICK HERE
Without further ado, here is the bracket: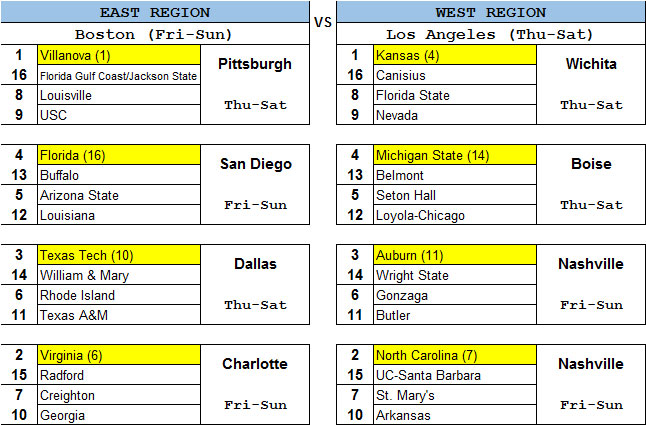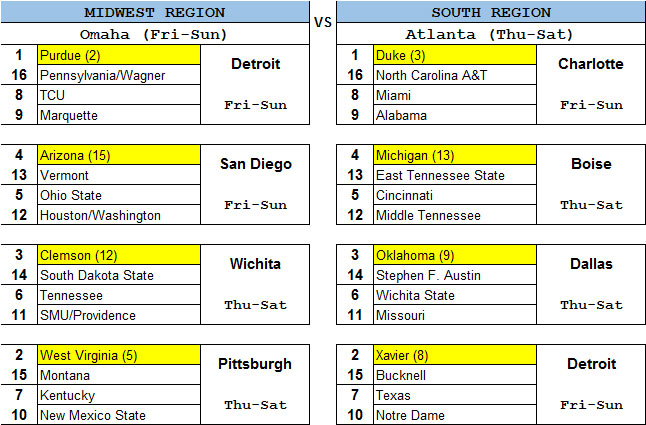 First Four Teams Out: UCLA, Western Kentucky, Boise State, Louisiana State
COMMENTS FROM JOHN:
-While I think a team like Virginia passes the eye test to be a #1 seed, their paper resume has not quite caught up to the team yet. Kansas plays like a 1 seed on the road and maybe an 8 seed at home, but their overall body of work is exceeded only by three other teams so far.
-What Clemson has done to this point is amazing. Unfortunately, star player Donte Grantham has a torn ACL and will no longer be available for the rest of the season. Much like Creighton from last year and Notre Dame this year, I want to give them a few games to prove themselves before I figure out how to treat an injury like this. Most of their ACC damage has been done at home, but they now have a question mark for the 2nd half of conference play that is not easily answered.
-Ohio State has drastically improved compared to what was expected of them in November. While they are undefeated in the Big 10, their road hasn't been nearly as difficult as what teams from the ACC, Big 12, Big East and SEC have had to face so far. Their noncon really didn't do them any favors in this regard.
-I really, really wanted to have Xavier play Kentucky, but alas bracketing rules did not allow for this to happen since Texas and West Virginia cannot play each other in the second round. As a consolation prize, imagine the revenge factor in play for West Virginia – they were given a spanking before a national audience in their last NCAA Tournament meeting in 2015.
COMMENTS FROM THE HOOPS HD PANEL:
From Chad:
– I don't have much problem with John's top 5 seed lines.  I think cases can be made that Cincinnati and Ohio State both belong another seed line higher even, but I understand the arguments against them as well, especially Ohio State with such a weak non-conference slate.
– What has Nevada done wrong this season?  This is a very dangerous team and way underseeding them on the 9 line (I think they could be toeing the 6 but most likely on the 7) should merit a HoopsHD show cause penalty against Mr. Stalica.  However, that is not even the biggest crime on his 9 line.  Not by far.
– USC.  I get that they are playing better.  I would probably have them in my field right now, with a nice trip to Dayton.  But being on the doorstep of wearing white in the Round of 64?  For a team that lost at home to Princeton and has ZERO wins against any other single digit seed in this field?  In fact, their only win against a team that is "inside the bubble" is New Mexico State, a team that likely won't make the field without an automatic bid.  I just don't buy it.  Send them to Dayton if you want them in the field.
– I personally would not be sending SMU and Providence to Dayton, I like both profile better than a few higher ranked teams, including USC, Notre Dame, Missouri and Georgia, but am not totally offended by the picks.  I am fine with sending Houston to the First Four.  My last problem is Stalica's final First Four choice.  Washington is not a tournament team.  The win over Kansas is great.  The win at USC is ok (see my comments above about the Trojans).  The rest of the profile is a bunch of garbage, and their average predictive metric (BPI, Sagarin and KenPom) is 108.7!  At least get into the top 70 to be on my board!  I am not sold.
– So who would I put in instead?  Of his top four out, the only one I would consider is Western Kentucky.  Boise State, LSU and UCLA are all falling apart.  I am literally shocked that South Carolina is not on Stalica's list (unless that is the USC he meant on the 9 line).  However, I would have taken another Big 12 team — either Oklahoma State or Kansas State.  Okie State has no bad losses and three wins over teams that are safely in the field, one of which (Florida State) came away from home.  K State has better metrics that Okie State, two wins over very good teams (Oklahoma and TCU) and three true road wins against power conference schools.  Plus, they have a winning record in the Big 12, a conference in which a case can be made that every single member (yes, even Iowa State) deserves at least an NIT bid right now.  Give me another team from the best conference in the nation — don't give me a team that the BPI rates below the likes of Toledo, Tulsa, UNC-Greensboro and DePaul!
– One final note:  North Carolina A&T avoids the First Four in Dayton and Penn goes there?  Seriously?  Seriously?!?!?
John's response to Chad:
-I'll start with a little clarification on my 9-line. Nevada is my top 9 (#33 overall) and USC my bottom 9 (#36 overall). Some of the hardest teams for me to place were Gonzaga, Saint Mary's and Nevada. I have no problem placing Gonzaga (#21 overall on my seed list) higher among this group because they have proven on multiple occasions that they are able to beat NCAA Tournament-caliber teams against only 1 loss so far to a team not in the field. St. Mary's has 2 wins (at Gonzaga and home against New Mexico State) against teams I'm sure will be in the field along with a win at BYU that is also somewhat noteworthy. Their only real negative (outside of a bad OOC schedule) is the loss against Washington State in the Wooden Legacy. Nevada beat Rhode Island and Boise State at home. That's it. They blew opportunities against a healthy TCU team and against Texas Tech, and their loss to San Francisco (in Las Vegas) also weighs their profile down. If they're able to win at Boise State and maybe survive one other road loss, I'd have more justification to move them up a line.
-USC is not exactly lighting the world on fire, but of their 6 losses, one loss is a yellow flag (at Stanford) and one loss a red flag (Princeton at home). They are still 7-3 away from home and can still hang their hats on wins against New Mexico State and Middle Tennessee (both in the Diamond Head) and at Oregon (even if the Ducks are down this year). If Chad isn't going to give a little leeway to USC for being 6-2 in the Pac-12 so far, what does he do for an Arizona State team that has looked even worse against an easier Pac-12 schedule so far?
-South Carolina is worthy of SOME consideration – wins at Georgia and at home against Kentucky help. Losing to a bubbler (Missouri) at home and at Ole Miss hurts, as do losses out of conference against Temple and Illinois State. I do give them credit for this – unlike 99% of major programs, they were not afraid to play noncon road games at places like Wofford and Florida International. Nonetheless, they need to get at least one more notable road win – Florida would be a great opportunity to cash in this week.
-I'll be honest – my debate for the final spot came down to Washington and Western Kentucky. I know I have the Toppers as my second team out of the field, but losing at home to Middle Tennessee did not help. If this game were lost at Middle Tennessee, I might have given WKU the benefit of the doubt and put them in as the last team. They'll get an opportunity to make up for that later in the season, but with a resume that is almost identical in many metrics to Washington, their average RPI loss is 90 (vs. 64 for Washington). The average loss is what ultimately kept Monmouth out of the field 2 season ago.
-I also need to explain my slotting of North Carolina A&T. They were #67 on my seed list; Jackson State was #68. Since the field expanded to 65 teams in 2001, the Selection Committee has an "unwritten" rule that they do not put teams from both HBCU conferences in Dayton if they were either the bottom 2 teams (from 2001-2010) or 2 of the 4 bottom teams in the field of 68 (since 2011). I don't think the Selection Committee would break away from such a precedent – therefore I will bracket accordingly.