If you want to win an NCAA title you need a good coach, a great resume…and a McDonald's All-American.  Only 1 championship team since 1979 has not had such a player (Maryland in 2002).  The 41st annual McDonald's All-American Game will take place on March 28th in Atlanta, GA, and the rosters were announced on January 16th after selecting the 24 best players in the nation from a whopping 2500 nominees.  After Zion Williamson committed to Duke on January 20th, the Blue Devils lead the way with 4 All-Americans, just ahead of Kansas (who has 3).  North Carolina has 2 so far: Coby White from Greenfield High School in North Carolina and Nassir Little from Orlando Christian Prep in Florida.  HoopsHD's Jon Teitel got to chat with Coby about why he chose the Tar Heels and whether he thinks he can break the all-time North Carolina high school state scoring record before he heads off to Chapel Hill.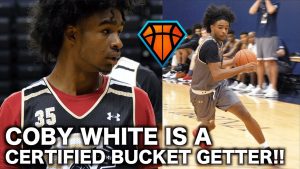 You are listed as the #1 recruit in the state of North Carolina: how good is the high school basketball scene in a state that has so many great college basketball programs? I feel that we have the best high school players in the country. There are a bunch of great teams so you have to compete every night because there is so much talent. There are plenty of great coaches as well.
You are a 6'5" combo guard: what position do you expect to play in college, and what position are you most comfortable at? Since middle school I have played PG so that is where I am most comfortable, but in college I expect to play the 1 or the 2.
You looked at several ACC schools before announcing that you would be attending North Carolina via Twitter in July of 2016: what made you choose the Tar Heels, and how excited were you to see them win a title last April? I picked UNC due to the relationships that I have built with the coaches/players. It was fun to watch them win it all, and hopefully they can do it again this year.
What kind of relationship have you developed with Coach Roy Williams since the start of the recruiting process? We have a close relationship: he offered me a scholarship not just because of my ability but also based on my personality. We talk a lot and when my dad passed away he was a big help in helping my family get through it. He is like a father figure to me and it is always great to see him.
You have stated that you were never worried about the NCAA investigation of the UNC athletic department: if the NCAA had decided to pursue sanctions, would you have considered transferring elsewhere? I never thought about transferring because once I committed there I put my faith in the coaching staff.
You are scoring more than 30 PPG this season, which gives you a good chance to break JamesOn Curry's high school state record of 3307 PTS: what is the key to being a great scorer, and do you think that you can break the record?  You just have to find multiple ways to put the ball in the basket and score at all 3 levels (1-PT/2-PT/3-PT). If you are facing double-teams or triple-teams then you need to get to the FT line. It would be a great accomplishment to break the record so I hope that I do it.
The Tar Heels are 16-5 at the moment and start 3 seniors in Joel Berry/Theo Pinson/Cameron Johnson: what do you think of this year's team, and are you excited that you might get a lot of playing time if the seniors graduate and JR Luke Maye decides to turn pro? The team has been up and down this season but with the leadership of the seniors they will get through it and find a way to win. If they all leave then we will just come in and do whatever it takes to win.
Last week you were selected to the West squad for the 2018 McDonald's All-American Game: what did it mean to you to receive such an outstanding honor? It means a lot. It is something that I have worked for all my life and was a goal that I set for myself. It is a relief that all of my hard work has paid off but it makes me want to work even harder in the gym.
The only other McDonald's All-American heading to Chapel Hill is Nassir Little: have you had the chance to watch him play, and what makes him such a great player? I have never seen him play an actual game but I know that he is very athletic. He is a great all-around player and his motor never stops, which is what sets him apart from everyone else.
Your father Donald (who passed away last August) played basketball at North Carolina Central: who was the best athlete in the family? I am the best athlete but my dad was a good athlete as well (and so are my brothers).