If you want to win an NCAA title you need a good coach, a great resume…and a McDonald's All-American. Only 1 championship team since 1979 has not had such a player (Maryland in 2002). The 41st annual McDonald's All-American Game will take place on March 28th in Atlanta, GA, and the rosters were announced on January 16th after selecting the 24 best players in the nation from a whopping 2500 nominees. After Zion Williamson committed to Duke on January 20th, the Blue Devils lead the way with 4 All-Americans, just ahead of Kansas (who has 3). Mississippi State only has 1 so far but he is a great 1: Reggie Perry from Thomasville High School in Georgia. HoopsHD's Jon Teitel got to chat with Reggie about why he chose the Bulldogs and what he thinks of another McDonald's All-American who he has played against since the 4th grade.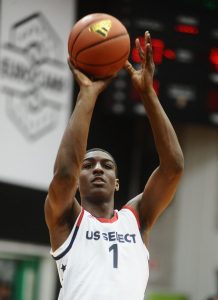 Your Thomasville High School basketball team has already lost a couple of home games this year in the final seconds: what is the key to winning games that go down to the wire? We must take care of the ball and execute down the stretch.
You are listed as the #1 recruit in the state of Georgia: how good is the basketball scene down South? It is actually pretty competitive but many people look only at the Atlanta area and assume that it has the best players because it is such a large city.  However, there are many good players in the southern part of the state (such as Early County, Berrien County, and Valdosta) who may get overlooked.
You are a 6'9" forward: what position do you expect to play in college, and what position are you most comfortable at? I expect to play at both the small forward/power forward position in college, as that is where I am most comfortable.
You looked at several SEC schools before originally committing to Arkansas, but after your father Al had some health problems you changed your mind and committed to Mississippi State last July: how is his health doing at the moment, and do you have any regrets about your decision? My father is doing better and I have no regrets at all about my decision.
How important were other factors such as:
Coach Ben Howland's track record of having several players at UCLA who ended up in the NBA (Kevin Love/Russell Westbrook/etc.)? That was 1 of the key factors that I looked at because the NBA is where I want to get to, spend a nice career at, and retire from.
Forward Mario Kegler's decision to transfer to Baylor last summer? His decision to transfer to Baylor was not a factor for me. I just believe that Coach Howland and I connected: it was key to see that he believes in me and supports my goal to go to the NBA within the time frame that I want. I just need to be coachable, work hard, stay humble/hungry: if I can do all that then he and I can do this together.
Your father played in Starkville and still ranks #3 in school history with 510 career AST: who is the best athlete in the family? This is a debate that my mom and I have all of the time. She thinks it is her…but I know that I am the best athlete in the family: LOL!
The Bulldogs are 14-6 and do not have a single senior on the roster: what do you think of this year's team, and are you excited that most of the guys will probably be returning next season? I feel like they are having a pretty good season. With most of the guys returning next year, I think that we will be even more competitive due to all of the experience from those guys.
Last week you were selected to the West squad for the 2018 McDonald's All-American Game: do you plan on having a lot of family/friends in attendance since the game will be in Atlanta (approximately 4 hours north of you) for the 1st time since 1992?  My parents and I have received a lot of phone calls from people congratulating me and informing me that they will be attending the game.
The only other McDonald's All-American from Georgia is fellow F EJ Montgomery from Wheeler High School in Marietta: have you had the chance to watch him play or play against him, and if so then what makes him such a great player?  The 1st time I played against EJ was in the 4th grade when we both lived in Florida, and I have been playing against him every summer since then.  It is his skill set along with his size that makes him a great player.
You have said that you plan on majoring in either sports management or sports medicine: does that mean that we will see you on campus for the next 4 years as you complete your degree, and what do you hope to do in the future? I know that when I attend Mississippi State University I plan to major in 1 of those 2 areas, but my goal is to be a "1-and-Done".  I cannot make any promises: we will just see what God has in store for me.