With the 2018 NCAA tourney tipping off next month, we will spend this month taking a walk down memory lane with a choice collection of coaches who are celebrating an awesome anniversary this year. From an upset of the top-ranked team in the country in the 1958 tourney (60th anniversary) through a 12 vs. 5 upset in the 2013 tourney (5th anniversary), these legends have all carved out a little piece of history in past Marches. We continue our series with former head coach Eddie Biedenbach. After playing at NC State and later in the NBA, he returned to his alma mater and won the 1974 NCAA title as an assistant to Norm Sloan.  He later served as head coach at Davidson/UNC Asheville and won more than 250 games in his career. HoopsHD's Jon Teitel got to chat with Coach Biedenbach about the 15th anniversary of the 2003 NCAA tourney (the 1st tourney appearance in Bulldogs history) and beating Michael Jordan in the 1983 NCAA tourney.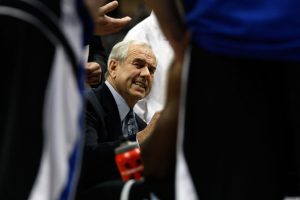 You played for 3 legendary coaches at NC State in the 1960s (Everett Case/Press Maravich/Norm Sloan): who was your favorite, and which 1 gave you the best advice about how to be a great coach? I benefited from all of them: Lou Pucillo was my freshman coach and was also great. The 1 that was subtly influencing was Case. He only coached me for 2-3 games before retiring for health reasons in 1964, but he had a great influence on Sloan as well as many of my older teammates. I cannot say that any single 1 of them had the greatest influence.
After your junior year you were drafted in the 9th round by St. Louis but you decided to return for your senior year: why did you decide to come back, and did you have any regrets? No regrets at all. I had hurt my back and was barely strong enough to play as a senior. The injury was tougher than I thought and I realized that I would not be able to compete in the NBA.
After your senior year you were drafted by teams in 3 separate pro sports leagues: NBA (Lakers), ABA (Nets), and NFL (Cowboys): how close did you come to going to the NFL, and why did you choose the NBA over the ABA? My dream was always to play in the NBA, which is why I chose the Lakers over the Nets. I was a good high school football player and had good hands but did not have enough speed/muscle to play in college, much less the NFL.
After a 7-game NBA career with Phoenix you retired and later became an assistant under Sloan for 9 years at your alma mater, where you recruited future Hall of Famer David Thompson: how did you like coaching under Sloan after previously playing for him, and when could you tell that Thompson was going to become a star? The very 1st time I saw Thompson in person was when he was in high school. I watched him on tape and could tell that he could jump but when I saw him in the layup line in person I realized that he was special. I called Coach Sloan at halftime because I knew that Thompson was better than anyone I had ever seen at that age.
Your 1973 Wolfpack team finished 27-0 but was banned from the NCAA tourney and placed on probation due to you playing in a pickup game with Thompson while he was a high school student in 1970: do you think that 1973 team would have won the tourney, and how did you feel about the probation? I played in the game at our own basketball camp while David was there for orientation. He was playing in a pickup game and at the time I was in the cafeteria. I went back to the gym to bring the campers to the cafeteria for dinner and the guys in the game asked me to fill in for about 15 minutes. I did not even know who half of them were. They reported it as an illegal out-of-season tryout, which was ridiculous. There were some minor violations but a lot of the allegations were untrue. That undefeated team was great: the extra year of experience helped us win it all the following season. You need to have a lot of breaks to win the title so I do not know if David could have helped us beat UCLA in 1973: they were really good back then. Even though we beat some great Maryland/UNC teams in ACC action, I learned that 1 bad play can make the difference.
What are your memories of the 1974 ACC tourney title game in Greensboro (Tom Burleson had 38 PTS/13 REB in a 3-PT OT win over Maryland featuring 10 future NBA draft picks and no turnovers during regulation, which is why many people consider it to be 1 of the best college basketball games of all-time)? I cannot say that it was more exciting than the UCLA game, but the Maryland game was perhaps the best game I have ever witnessed. The magnitude was huge because the loser would not go to the NCAA tourney even though we were both among the top teams in the country. We always felt that we had a good chance to win due to Thompson. It was a phenomenal atmosphere dating back to our 1st game against the Terps, which had taken place on Super Bowl Sunday. Those big son-of-a-guns battled each other and Burleson was inspired after the previous game when Len Elmore said that he was better than Tommy. Maryland shot 64% from the field and we were right around 60%. There were no fast-break layups at all. It was awesome to watch the game as it was happening…but watching it later on tape was equally awesome!
Take me through the magical 1974 NCAA tourney, where you were an assistant coach for NC State:
Thompson scored 40 PTS in a win over Providence: how much of a home-court advantage while playing in Raleigh, and did you get the sense that Thompson was going to take you all the way to a title? We knew that David was the best player on the court but you need to have great balance from every player so that the defense cannot concentrate on 1 particular guy: nobody can win an NCAA title all by themselves. It was definitely an advantage to not have to travel all over the country but the disadvantage is that the fans/hangers-on are a distraction. Everyone wants a ticket/autograph so you just have to stay focused on the job at hand.
Thompson landed on the back of his head during a win over Pitt and was rushed to the hospital to get 15 stitches: how bad did you fear the injury was, and did you think that your season had come to a stunning conclusion? I never thought about the season: my concern was for David. I went out on the floor with our physician and thought I saw blood coming out of his ear, but it was from a cut on the back of his head. I saw his legs quivering and really thought that he was dying: I get emotional even now when I think about it. They took him off on a stretcher but he came back in the 2nd half with a bandage on his head.
Thompson had 28 PTS/10 REB in a 3-PT 2-OT win over UCLA (Bill Walton had 29 PTS/18 REB) to end their 38-game NCAA tourney winning streak: was your team out for revenge after receiving its only loss of the season at the hands of the Bruins earlier that year, and where does that clash of titans rank among the best you have ever seen? From the standpoint of UCLA winning 7 straight titles, it was 1 of the best wins of my career. I do not think it was a revenge game but our players definitely wanted to prove themselves, which they did. Sitting on the sideline I felt like I was at a pro game that just had younger faces. Every 1 of those guys was a big-time/strong player and it was really a battle. We were a little inexperienced: some of our players started to celebrate after Walton picked up his 3rd foul but backup center Swen Nater came in and kicked our butt. We learned a lot about ourselves and without that game I do not know if we would have had the maturity to win it all.
Thompson scored 21 PTS and was named tourney MOP in a title game win over Marquette: how did the momentum change after Coach Al McGuire picked up 2 technical fouls late in the 1st half, and what was the feeling like in your locker room afterwards? After we beat UCLA, Burleson and I immediately started to focus on Marquette because we did not go to the tourney just to beat the Bruins. That is where Coach Sloan did his best job: he kept us focused like we needed to be. The technical fouls were significant but we won 10 straight against Maryland and 9 straight against UNC because we were a special team. Burleson knew that Maurice Lucas was good because they had won a gold medal together for team USA at the 1973 World University Games.
In 1981 you finished 1st in the conference as coach at Davidson but left after the season: why did you decide to leave, and did you have any regrets? They did not renew my contract because they did not want me there anymore. I joke that I left due to "illness": they were sick of me! I did not want to leave but they did not want a powerful coach in charge. It is important to place academics over athletics…but there is room to have both. It was hard on me because I did a good job there: it just had to do with personalities.
Take me through the 1983 NCAA tourney as an assistant coach for Georgia:
Lamar Heard scored on a tip-in with 2 seconds left in a 2-PT win over VCU in Greensboro after your team held the ball for the final 80 seconds to get the last shot: did you think that Heard's hand was over the rim when he made contact with the ball, and do you feel that justified the strategy of holding onto the ball for so long? Lamar was the greatest kid in the world. The controversy was whether or not he touched the ball: the ball was definitely on the rim but the official said he did not touch it. I asked Lamar after the game if he touched it…and he gave me an answer! Hugh Durham was a great coach and a great teacher of the game: that was a big win for us.
Terry Fair scored 27 PTS REB in 40 minutes in a 3-PT win over #1-seed St. John's in Syracuse (Chris Mullin had 19 PTS): how were you able to get the win, and could you tell at that time that Mullin was going to become a star? Terry was a great player for us. Mullin was great, as was their center Bill Wennington (who I had recruited in the past). I learned an awful lot about scouting: I think St. John's was more talented but we played the game better, which is what made the difference. We did not take bad shots and they made a mistake by not playing a zone defense against us.
James Banks scored 20 PTS in a 5-PT upset win over UNC (Michael Jordan had 26 PTS), which allowed you to advance to the Final 4 in your very 1st tourney appearance: how big a deal was it to beat the defending national champs, and could you tell at the time how legendary Jordan would become? Coach Dean Smith had a good strategy but Durham's strategy was better and he knew what each of our opponents could do. Everyone thought Jordan was great but I do not think anyone thought that he would go on to do what he did in the NBA. I still think that David was the better college player. 1 of my college buddies was the football coach at Laney High School where Jordan was a student and I remember talking to Jordan back in the day. My daughters also ended up going to Laney. The difference in guys like David/Jordan was their desire to be the best, how hard they played, and the passion they had for winning. Coach Sloan would tell our guys not to try to play great, just to play good/play hard.
Thurl Bailey/Dereck Whittenburg each scored 20 PTS in a 7-PT win for Jim Valvano and eventual champion NC State: were they just a team of destiny that year, and how did it feel for you to lose to your alma mater? Valvano would slow down the tempo and use a bunch of different defenses. We went into that game wanting to win it as bad as any other game, but we missed elbow jumpers and fell too far behind to catch them. I was very disappointed that we did not win that game. I love NC State and always want them to win…just not that game!
In 1996 you became head coach at UNC Asheville, where you finished 1st in the conference during each of your 1st 2 years: how were you able to come in and have so much success so quickly? It was a combination of the system we used as well as players like Josh Pittman. He was just emerging as a very good player and it worked out well for us.
In 2000 you pulled off the 6th-biggest comeback in D-1 history at the time by beating Coastal Carolina despite trailing by 26 PTS: how were you able to do it, and how do you keep your players from simply giving up? It was due to them shooting too many 3-PT shots: I believe that you can shoot yourself both into and out of a lead. I am not a fan of VMI's run-and-gun style: it can give you notoriety and help you score a lot of points but it will not work if you are trying to win several games in a row as you need to do to win a conference/national championship. You need to have inside play and be able to get your opponents into foul trouble.
What are your memories of the 2003 NCAA tourney, the 1st tourney appearance in school history (you became the 1st coach in Big South history to win a tourney game with an 8-PT OT win over Texas Southern thanks to 28 PTS from Andre Smith, then lost to #1-seed Texas)? Rick Barnes was the Longhorns coach: he was an assistant for me at Davidson a quarter of a century earlier. Dayton was a tremendous place to have a tourney game: the fans up there are just phenomenal. We played very well thanks to our 2 great guards: Smith was our leader and helped make our entire team go. We also had 3 freshmen step up in OT after our starters got in foul trouble.
Your 2 other assistant coaches at Davidson turned out to be pretty good as well (Bob McKillop/Jeff Bzdelik): was that the best coaching staff you have ever been a part of? I can say that now but did not realize it at the time. We were a great staff but all became better as we learned to understand the game better. We enjoyed both basketball and life. I was the veteran of the group despite being in my early 30s at the time: it was a very young group of guys.