With the 2018 NCAA tourney tipping off next month, we will spend this month taking a walk down memory lane with a choice collection of coaches who are celebrating an awesome anniversary this year. From an upset of the top-ranked team in the country in the 1958 tourney (60th anniversary) through a 12 vs. 5 upset in the 2013 tourney (5th anniversary), these legends have all carved out a little piece of history in past Marches. We are switching it up a little bit for the 10th anniversary by continuing our series with former Butler player Matt Howard. He made an instant impact in Indianapolis by being named Horizon ROY in 2008 and helping his team reach the NCAA tourney. He appeared in the NCAA title game in both his junior/senior years and was a 3-time Academic All-American. HoopsHD's Jon Teitel got to chat with Matt about the 10th anniversary of taking Tennessee to overtime in the 2008 NCAA tourney and being 1 of the best FT shooters in conference history.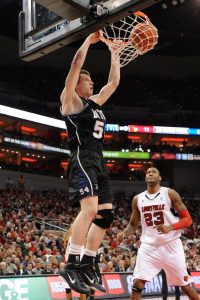 You led the state of Indiana with 14.4 RPG as a senior at Connersville High School after ranking #2 in the state with 3.9 BPG as a junior: what is your secret for being a great rebounder and what is your secret for blocking shots? I do not know that I have any secrets or anything along those lines but I think the reason for the rebounding may be twofold. I was taught well about the importance of long rebounds and being able to read where the ball is most likely to come off the rim. This is a skill that can be practiced: the more you work on it, the more you can develop an ability to quickly predict where it is most likely to bounce off the rim. I think this can make any player a better rebounder. In my opinion it is a balance of position/anticipation. In high school I was (believe it or not!) a superior athlete compared to most of the guys I went up against, which I think is a big part of blocking shots. I have not been a shot blocker since those days but blocking shots is at least 80% timing: the rest is about reading the player and knowing his tendencies (such as whether he is right/left-handed or what his go-to move is).
You were the 1st top-100 recruit in Butler history: what made you choose the Bulldogs, and what makes Brad Stevens such a great coach? I had decided that I wanted to stay close to home so as an Indiana kid Butler was an immediate front-runner. When it came down to it I just loved the culture there. The camaraderie between the coaches/players was better than any other place I went to. It was a program that was clearly on the rise so even though I was going to a "mid-major" school there was no doubt that we could compete with the top teams in the nation. Coach Stevens and my class actually started together. In my opinion he was the best coach in the country for multiple reasons. Fundamentally, he understands the game extremely well. For example, all you have to do is check his record when he has a long period of time to prepare for a game or watch the plays he draws up out of timeouts and see how often they are successful. Even with his past success he is always looking for things he can do better and consulting people who he respects. He made me a bigger believer in the importance of having a defensive mindset and being tough. He is not a yeller but is an effective motivator nonetheless, which some people probably do not realize. His calm demeanor has been highly publicized, which is vital in critical situations. In a sense he is the total package.
In 2008 you were named conference Newcomer of the Year: how were you able to come in and contribute right from the start? I was lucky to come in with a very experienced team that actually began the year by starting 5 seniors before I joined the starting lineup midway through the season. This extremely talented team had great chemistry, as it was coming off a Sweet 16 appearance the previous year. This could have been an intimidating/difficult situation but I had great senior leadership from day 1 that really helped prepare me for what I would need to do.
In the 2008 NCAA tourney you scored 4 PTS in a 5-PT OT loss to Tennessee: how on earth were you a #7-seed despite being ranked 11th in the country?! I think that was a big surprise for all of us on that 2008 team. I had never been through a Selection Sunday but I remember it being pretty relaxed: we had won our conference tourney and were expecting to be a #4 or #5 seed. When they announced that we were a #7 seed I remember many of the guys just being shocked and clearly frustrated. I am not sure that I will ever fully understand it…but a couple of years later we went to the title game as a #8-seed. Regardless of your seed it is about winning 6 games in a row, but that did seem like a disrespectful move by the selection committee.
In 2009 you were named conference POY/All-American: what did it mean to you to win such outstanding honors? That was a pretty big honor to win POY in our conference because there were some other deserving players: from a statistical standpoint it probably was my best year. However, I think I understood as well as anyone that this is a "team" award. As a post player I have to be put in a position to be successful and that credit goes to the great team of young players who were around me that year. The Academic All-American award was probably a bigger honor to me personally because the academic side was harder than the basketball side. It means a lot to me since this was something that took a great deal of work.
In the 2009 NCAA tourney you scored 22 PTS before fouling out in a 4-PT loss to LSU: were you getting sick of facing SEC teams every March? Ha ha: yeah! It seemed like this was a big problem every time Butler got to the tourney. The year before I came in the team played eventual champion Florida arguably as well as anybody before falling in the 2007 Sweet 16. Of course it had happened in previous tourneys as well but LSU was just better than us that day. We had a young team and it might have shown because we played catch-up all game long after getting off to a really slow start.
Take me through the 2010 NCAA tourney:
You scored 3 PTS in a 2-PT win over Murray State: could you tell at the time that freshman Isaiah Canaan (who had four 3PM) was going to become a star? The thing I remember was that we played a team with 5 guys who each averaged 9-10 PPG. They were extremely balanced and very difficult to plan for but Canaan was 1 of their most aggressive players even as a freshman. I think that he was as aggressive/strong as any player in that moment, which was impressive for a young player. I am not surprised that he became as good as he is because of what he showed that day.
You scored 9 PTS in a 4-PT win over #1 seed Syracuse: how is your mentality different when facing a #1 seed in the tourney compared to facing any other seed (if at all)? Honestly, 1 of the great things about Coach Stevens is that he prepared us for each team the same way.  When we were playing a #12 or #13 seed he showed us how strong they could be…but also how we could beat them. It was the same with a #1 or #2 seed that we would be playing in the next 2 games. While #1 seeds are hyped up by everyone else, we were not surprised by our ability to win because of the way we were prepared to play and win the game.
You scored 4 PTS in a 2-PT win over Michigan State in Indianapolis: how much of a home-court advantage did you have, and what are your thoughts on fouling your opponent when you have a 3-PT lead in the final seconds of a game (which worked out successfully for you that night)? I think it was quite a big home-court advantage with the percentage of fan support we had, but from what I recall the fans were pretty far removed from the court.  It was more of a dull roar when things happened, not the sharp/piercing atmosphere that you get inside a normal gym. From my experience, I think fouling with just a few seconds left has a higher percentage of success than just taking your chances on defense. If you have a team that you trust to make the smart foul and then make strong block-outs, I would advise fouling anytime you are in that situation with under 7 seconds left in the game. Any more time that that on the clock may put you in a position to lose the game if the FTs do not work in your favor.
You scored 11 PTS in a 2-PT loss to Duke in the title game: how do you think your life would have changed if Gordon Hayward's half-court shot at the buzzer that hit the backboard had gone in (instead of bouncing off the rim)? I am not really sure, but I have heard over and over from many people who lived through it that things are never the same afterward. Things were pretty crazy for us after the game in terms of appearances/interviews: I cannot imagine what it would have been like had we actually won. However, the biggest thing is that while people tend to forget who finished 2nd, they rarely forget the winner.
Take me through the 2011 NCAA tourney:
You scored 15 PTS including a tip-in at the buzzer for a 2-PT win over Old Dominion, then scored 16 PTS including a FT after Nasir Robinson fouled you with 0.8 seconds left to clinch a 1-PT win over #1 seed Pitt: where does that rank among the best weekends of your life? From a basketball standpoint that 1 ranks right up there with anything I have ever experienced. More than just the personal experience, it was the overwhelming emotion of being able to win 2 really tough/tight games against a pair of very tough/physical teams. The fact that we did not have to go home and watch the tourney was nice, and the way we won may have spearheaded our team to play even better the rest of the way.
You scored 14 PTS in a 3-PT OT win over Florida: what did Coach Stevens tell your team to change its luck at the FT line from regulation (10-20) to OT (7-7)? I do not remember Coach Stevens ever addressing the FT shooting during that game, but rather staying calm/confident throughout our ups and downs. He seemed pretty prophetic after he kept telling us that if we got a few stops that we were going to make the plays we needed to get back in the game. Once that actually happened and it went into OT, we all began to believe that we would win the game. Perhaps that confidence carried into OT and made our FTs go in…or maybe it is because I did not shoot any of them myself!
You scored 7 PTS in a loss to UConn in the title game: do you attribute your team's atrocious FG% (an all-time title-game worst 18.8%) to a cold shooting night, or the Huskies' amazing defense, or something else? I am not really sure but I think it was a combination of both. The Huskies were long/strong at almost every position and provided some tough match-ups for us when we were on offense. We played a great game defensively and would have held them under 50 PTS if we did not have to foul at the end. It was not like they took away every open shot we had, but I think we never got comfortable all night long and for that their defense deserves credit.
You hold the Horizon League record for career FTM/FTA: what is your secret for being a great FT shooter? I think the way to become a great FT shooter is largely about repetition. I know many guys who have an "ugly" form and I have been told that my own form is very unorthodox.  However, when you practice and do the same thing over and over the repetition makes it much easier to make FTs under any situation (whether it is a pressure situation or not, whether you are in a familiar gym or not, etc.).
You began your pro career in Greece and currently play for Hapoel Tel Aviv in Israel: what is the biggest difference between pro basketball and college basketball, and what do you hope to do in the future? The game is played much differently from a tactical standpoint. The 24-second shot-clock really changes the way the game is played. The pressure is also on such an elevated level: teams are ready to make changes and think the team is falling apart after only 1-2 losses. It is an impatient world, but amid this added pressure I think it also creates better and more focused players.