With the 2018 NCAA tourney tipping off next month, we will spend this month taking a walk down memory lane with a choice collection of coaches who are celebrating an awesome anniversary this year. From an upset of the top-ranked team in the country in the 1958 tourney (60th anniversary) through a 12 vs. 5 upset in the 2013 tourney (5th anniversary), these legends have all carved out a little piece of history in past Marches. We conclude our series with a look at Hall of Fame coach Mike Montgomery. He first became a head coach in 1978, and between stops at Stanford/Cal he had 31 winning seasons in his 32 years as a college head coach. He won more than 650 games, made 12 NCAA tourneys, and was inducted into the College Basketball Hall of Fame in 2016. HoopsHD's Jon Teitel got to chat with Coach Montgomery's son John about the 5th anniversary of his father's 2013 NCAA tourney upset of UNLV and his dad's influence on John's own decision to go into coaching.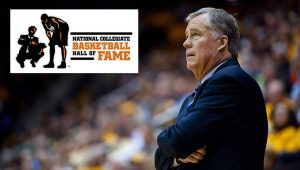 In the 1991 NIT title game as head coach at Stanford, your dad had all 5 starters score in double-figures in a 6-PT win over Oklahoma: what do you recall about the legendary 9-PT possession late in the 1st half (Andrew Vlahov made 2 FTs, then John Patrick made 4 FTs after Sooners coach Billy Tubbs' double-technical/ejection, then Kenny Ammann made a 3-PT shot to turn a tie game into a 35-26 Cardinal lead)? I was only 8 years old at the time so I do not remember much but I do remember how great it was to win. I remember some of the players very well: Vlahov was a senior from Australia who was hurt during the regular season but came back to play in the postseason. I remember how disappointing it was a couple of years earlier when the team had a 2-PT loss as a #3-seed to Siena, but winning the NIT in 1991 was exhilarating and a jump start to the success of the Stanford program.
Take me through the 1998 NCAA tourney:
Arthur Lee scored 26 PTS in a 2-PT win over Rhode Island: how nervous were you when Tyson Wheeler stepped to the line for 3 FTs with 5 seconds left? That was 1 of my favorite games as a fan: I was crying tears of joy after the game! We were down quite a bit with a minute to go but had a big steal/dunk to help break through and make it to the Final 4. I do not think that team was even close to 1 of my dad's best teams but it was a memory that will last a lifetime. I remember Mark Madsen's celebration after the huge steal that led to the dunk: it is still symbolic of March Madness.
Jeff Sheppard scored 27 PTS in a 1-PT OT win by eventual champion Kentucky: how close did he come to pulling out the win? Pretty darn close! The Wildcats had to play their best to win that game even though nobody gave us a chance to beat them. It could have easily gone our way and we were playing so well that I think we would have won the title over Utah if we had gotten by Kentucky. It was crushing to lose.
In a 4-week stretch during the winter of 2004, Nick Robinson made a 35-foot runner at the buzzer in a 3-PT win over Arizona and Matt Lottich made a 3 while falling out of bounds at the buzzer to cap an 8-PT scoring run in the final 20 seconds/beat Washington State/improve the team's record to 26-0: how much of a coach's success do you think is based on skill vs. luck? 1 of my dad's greatest strengths was the preparation that came with being detail-oriented, which is exactly how you get lucky. I remember watching the Arizona game in my dorm room in college: we did not deserve to win that game but Josh Childress made a huge 3 in the corner and then Robinson made 1 of the greatest shots in Stanford history! You need some luck to go 26-0: it is hard to win in Pullman so to make that shot showed their unity as a team and how much they liked playing with each other. They were as cohesive as can be and knew each other's strengths. Many of those guys have gone on to become coaches after learning what it takes to win as players.
He was named Pac-10 COY 4 times from 1999-2004 and twice named national COY: what did it mean to him to win such outstanding honors? He won those awards because he had really good teams with multiple appearances as #1 seeds in the NCAA tourney. 1998 was the breakthrough year and then they became the top dog in the Pac-10 and 1 of the best teams in the country. He is proud of those awards: I was there when he got the John Wooden Lifetime Achievement award, which was a big deal for him because Coach Wooden was his role model. We do not talk about awards a lot but it was still a thrill.
In 2004 he was named head coach at Golden State: what is the biggest difference between coaching in college vs. coaching in the pros? His experience was pretty mixed. He is best at putting together a team by putting players in positions to be successful.  When you coach professionals who are making more than you are for 82 straight games it is a bit tough to come into that culture as an outsider. It is challenging to get your players to listen to you and buy in, especially when you are losing. However, I do not think that he would trade that experience for anything.
In 2008 he became head coach at Cal: why did he take the job, and how did his Stanford friends react to the news that he was joining their arch-rival? There were 2 reasons: he wanted 1 more positive experience in coaching after some unfinished business in Golden State and he also wanted to coach alongside me and help me out. The Bay Area is our home and Cal had a pretty good roster coming back that year: if Ryan Anderson had come back to school then I think that we would have been a top-4 seed in the NCAA tourney.
In the 2013 NCAA tourney, Allen Crabbe scored 19 PTS in a 3-PT upset of #5-seed UNLV: how much of a home-court advantage did the Bears have while playing in San Jose, and what made their zone defense (which saw the Rebels miss 16 straight shots in the 2nd half) so effective? Playing 1 hour from home was nice and we had a pro-Cal crowd. We had played UNLV earlier that season and lost so we knew that we had to do something different that March. Our game plan was to play a zone defense and I do not think the Rebels were expecting that. The crowd often cheers for the lower seed in March anyway so I do not know how much of a factor they were, but the Rebels' offense got a bit stagnant against our zone.
He only had 1 losing season in 32 years as head coach at Montana/Stanford/Cal: how was he able to be so successful for more than 3 decades? That 1 season was in 1992-93: they were awful. They played in the Maui Invitational and lost to D-2 Chaminade in the 7th-place game: it was interesting to be in the locker room and hear some words that I had never heard before! He did a great job of building programs: it was pretty incredible. Obviously you need to have some good players and he was great at recruiting players and evaluating who would fit into his smash-mouth system. He was really good at red-shirting young big men and then helping them develop into good juniors/seniors. He always got the most out of his players and his teams always overachieved.
In November of 2016 he was inducted into the College Basketball Hall of Fame: where does that rank among the highlights of his career? I remember him choking up when he told me about it: I knew that it meant a lot to him because I have rarely heard him get emotional like that.
You are currently an assistant coach at Hawaii: how much of an influence was your dad on your own decision to become a coach? He was a huge influence: I am a coach because of him. I remember growing up when other kids said they wanted to be a firefighter/doctor/etc., but I always wanted to be a college basketball coach. I was a ball boy who got to go into the locker room and attend every game/practice. His players were great role models to me and I listened to all of his press conferences even if they were only on the radio back then. I want to impact young players' lives and be successful on the court, which is the root of coaching. It is not an easy profession and it has changed a lot over the past few decades in terms of things like social media/salaries. It has become a completely different deal: a lot of guys get into it now for the money/fame/glory. He is an old-school blue-collar guy who came from nothing. His dad was an AD and they were both inducted into the Long Beach State Hall of Fame, which is pretty special.