Last month the Women's Basketball Hall of Fame announced the 7 members of its Class of 2018: Ceal Barry, Rose Marie Battaglia, Chris Dailey, Mickie DeMoss, Chamique Holdsclaw, Katie Smith, and Tina Thompson.  Coach Ceal Barry got her start in coaching at Cincinnati, but made a name for herself at Colorado.  In 20+ years on the sideline for the Buffaloes she won more that 400 games, 4 Big Eight COY awards, and became the 1st coach in conference history to go undefeated in league play.  After retiring from coaching in 2005 she joined the administration in Boulder, where she currently serves as senior associate athletic director for internal relations/senior woman's administrator.  HoopsHD's Jon Teitel got to chat with the brand-new Hall of Famer about upsetting a #1 seed in the NCAA tourney and winning a gold medal at the 1996 Olympics.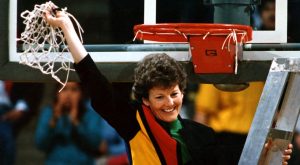 You played basketball/field hockey at Kentucky: which sport were you best at, and which sport did you enjoy the most? Good question! I scored more in field hockey because I was a center forward and the wings centered the ball to me as we ran down the field and approached the goal. I was better in basketball during my first 3 years at UK. However, by the time I was a senior the younger players had better basketball skills due to improved coaching for girls at the high school level in the early 1970s. I loved both sports but it was basketball that I was most excited about. Field hockey was a sport I enjoyed because it was a fall sport: it kicked off the new year and helped me get in shape for basketball.
After 2 years as a graduate assistant at Cincinnati you were named head coach in 1979 and proceeded to have 4 straight winning seasons: how were you able to make such a smooth transition from grad assistant to head coach? During my final year at Kentucky I had a really good head coach named Debbie Yow, who is currently the Athletic Director at NC State. Debbie is the younger sister of Hall of Famer Kay Yow and was also a tremendous college basketball coach. When I took the job at Cincinnati I modeled myself after Debbie in behavior/leadership as it related to the team. I also had just returned from 5 weeks of working summer basketball camps for Billie Moore on the West Coast. Billie was the 1976 Olympic women's basketball coach who won a silver medal in Montreal. I soaked in all of the drills she used, watched her work with post players, picked her brain at lunchtime, etc. She was definitely an older mentor who took an interest in me. I was 100% committed to doing a great job since I was so young and they were willing to take a chance on me.
In 1983 you were hired as head coach at Colorado: why did you take the job, and were you nervous after starting 16-40 during your 1st 2 seasons? I took the job because Boulder was beautiful, which clearly made it an easy place to recruit women athletes to. CU was a very good school academically, which fit my core values for recruiting academically-motivated student-athletes. Lastly, CU had just joined the Big 8 Conference, which sponsored a 14-game round-robin schedule for women's basketball in 1983-84. I was upset that we were 16-40 during my first 2 years. I never had a losing season at Cincinnati so this was a different challenge. I knew that I had to change the character of the program after my first 2 years there.
You turned things around and in 1989 your team became the 1st in conference history to go undefeated in league play: how was your team able to stay focused for 14 straight games? That team had a unique blend of skill, athleticism, brains, personality, and leadership. To win 14 in a row (including 7 on the road) you have to rely on different amounts of each quality depending on the situation. Most of all it was about focus/readiness. By the final few weekends the media took over the motivation aspect so all I had to do was keep them healthy and have a good scouting report. The whole state of Colorado wanted us to go undefeated!
In the 1993 NCAA tourney you had a 13-PT win over #1 seed Stanford: how were you able to pull off the upset of the defending national champ, and did the Cardinals seem out for revenge when they beat you by 16 PTS the following March? We matched up really well with Stanford in 1993. Our players had a quiet confidence that we would win that game. It had to do with defensive matchups and that 1993 team was the best defensive squad that I ever coached. They were committed, experienced in playing our defense, and not afraid of pain down the stretch. They were super-mentally-tough as a unit and very cohesive. When we drew Stanford in the Sweet 16 on their home floor in 1994 I knew that they were going to be out for revenge…and they were!
You were named Big 8 COY 4 times from 1989-1995: what did it mean to you to win such outstanding honors? I think that when you are coaching you kind of dismiss those honors at the time because you do not want to get caught up in ever thinking that you did it alone…because you did not! Assistant coaches, trainers, players, strength coaches: they all pitched in and functioned at a really high level in their respective roles. I tried to be humble about those honors because our team goals were really the things that were fun for everyone connected to the program and I did not want our players focused on individual honors.
In the 1996 Olympics you were an assistant to Stanford head coach Tara VanDerveer for team USA: what did it mean to you to win a gold medal, and where does that team (including Lisa Leslie/Dawn Staley/Sheryl Swoopes) rank among the greatest in the history of the sport? It was such an honor to be asked by Tara to be on the staff of the 1996 Olympic Team. It was a tremendous experience to be part of a team that was so focused on winning the gold medal. That whole experience of being an Olympian was a special time. I think that team, because of the Olympics being in Atlanta that summer, and with some of the all-time greats participating (Staley, Swoopes, Teresa Edwards, Katrina McClain, etc. being part of the roster), and the WNBA being in its infancy, was a historic group.
In 2005 you made the transition from coach to administrator, and you currently work as senior associate athletic director for internal relations: how does coaching compare to administrating, and how long do you plan on sticking around for? Coaching is a lot more fulfilling because you are making an immediate and very direct impact on a student's life. They emulate you, follow your lead, and do what you ask…for the most part. With that being said, it is a huge responsibility for a coach to fill that role and be responsible for the direction of young lives. I loved that part of mentoring and teaching kids how to win in both basketball/life. Administration is slower, less connected to student-athletes, and as SWA (Senior Woman's Administrator) you are not the final decider. You are a part of a team but not the head coach. However, the stress of being in charge does not fall on your desk.
Your teams had well over a 95% graduation rate and you coached 85 Academic All-Conference student-athletes: how much importance do you place on academics? On our team it was always academics first. I knew that none of my players would make a good living playing pro basketball in the United Sates. It was my responsibility to make sure they understood the value of going to class, keeping up with their class assignments, and being mature in their decision-making as it related to being a CU student. We had a team goal of carrying a cumulative GPA greater than 3.0. We had a rule that you could not move off-campus unless you carried at least a 2.5 GPA after 2 years of being on the team: you had to earn your way off-campus by the time you were a junior. It was important for our team members to be smart players and in general smart/interesting conversationalists.
A couple of weeks ago you were selected to the Women's Basketball Hall of Fame: how did you learn about the news, and where does it rank among the highlights of your career? The Executive Director of the Women's Basketball Coaches Association (Danielle Donehew) called me while I was in my office at CU. I did not tell anyone for a while because I wanted to think about it/reflect on it alone before the word got out. The experience of the induction weekend with family/friends will be the highlight of the honor.